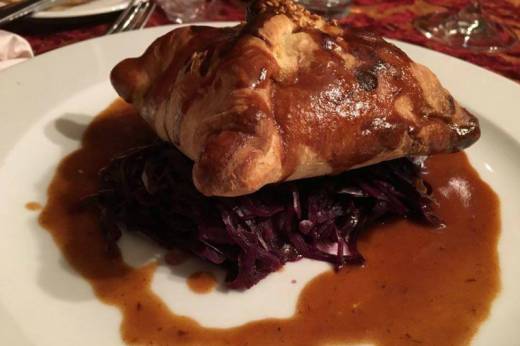 850 din
impression
One evening we decided to treat ourselves with a dash of luxury, so we went to the Little Bay restaurant. There is a good reason why this restaurant is the real jewel of the Belgrade hospitality industry, and more about the atmosphere and our experience in you can read here, so we do not repeat ourselves.
From a rich menu, we chose something that seems us the most interesting and that we've never tried before - "Pithivier of duck confit " or duck in a pastry. Honestly, we were wondering if this meal belongs amongst the main dishes or it should be in the starters section of the menu.
When the meal was served, all our doubts fell into the water - the portion was so extensive and nutritious that it represented a very strong lunch and more than enough dinner.
We got a large triangular pastry made of leafy dough served with aromatic red cabbage. At first sight it seemed to be perfectly baked, and the first bite justified it. Duck gives this crispy meal a juiciness, and the flavors intertwine in a fantastic fusion. It's seasoned just as right so it doesn't disturb the delicate harmony of taste, and the red cabbage is so good that we've licked our plates.
Great dish, for every recommendation!