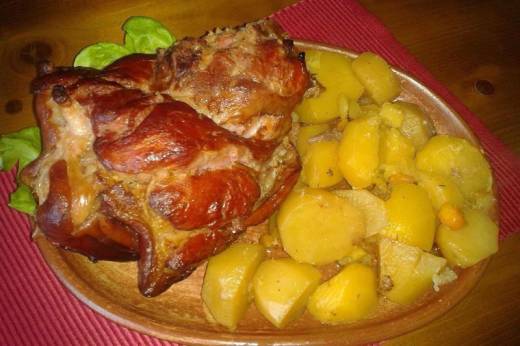 1290 din
impression
It seems incredible that last week the temperature in Belgrade was below the 0 degrees.
We remember it well because we spent the whole day out and get frozen from walking through the melted snow while the cold wind was blowing in our face.
Cold and hungry, we needed something to warm up our stomach and soul.
That's why we've gone to the restaurant Sač.
As his name suggests, this restaurant specializes in dishes under the ashes (sač).
There was a lot of speculation about what to order, and the waiter interrupted our indecisiveness by recommending a smoked pig thigh.
To warm up and to better feel the atmosphere of this place, we've ordered the local rakia made of plum as an aperitif.
Its sharp and full flavor additionally opened our appetite, and our dish arrived just at the right time.
A vast piece of meat surrounded by baked potatoes looked plane, and it didn't give the impression of anything special.
Until we tried it.
The meat was so soft that it melts in the mouth, and we never tasted more flavored potatoes.
It's amazing what kind of charm baking under the ashes provide, and especially when it's done by the masters of that trade.
The dish is designed for two people and the portion is really big. It was even too much for two, but it was so delicious that we could not stop eating. We've overloaded our stomachs a bit, but these were sweet tortures worth every bite.
In this case, the saying "More is less" it makes every sense. It's amazing how this simple dish with just a couple of ingredients can be so delicious. Any addition would disrupt this harmony of taste.
When you want good meat under the ashes, smoked pork thigh in the restaurant Sač is certainly our warm recommendation.