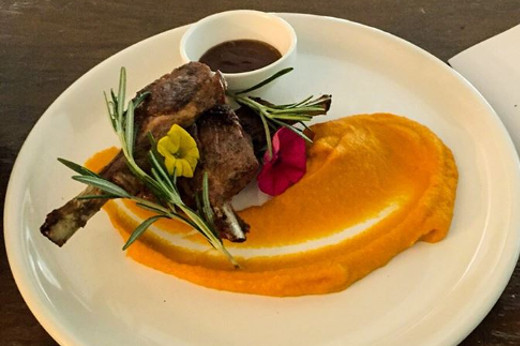 2811 din
impression
We've been listening a lot about restaurant Tesla. How great the ambiance is, how food is simply excellent, so we decided to check it out.
That's why we went to street Karađorđeva 21, where this restaurant is located.
Our fascination with this ambiance requires a special text, so you can read our impressions of the restaurant here.
As soon as we settled down, a kind and welcoming waiter brought us a menu. It's interesting as the restaurant itself and very eclectic. You will find many unusual combinations on it, and we decided to try a lamb chops with carrot puree.
We chose it precisely because we never ate mashed carrots, so we decided to give it a chance, although it doesn't sound very appealing.
The food arrived very quickly. It was so nicely arranged that we were sorry to try it, and we especially loved the flower that refreshed the whole plate. Nevertheless, irresistible scents were lurking, and hunger prevailed, so we dig in into this work of art.
The lamb chops were prepared perfectly, and the meat was so soft that it melted in our mouth. Soaked and beautifully spicy, it's really a real treat for a hungry stomach. We were afraid that the taste of mashed carrots will spoil the taste of this wonderful piece of lamb, but we try it out. And then, total surprise!
Unbelievable, but mashed carrot goes better with lamb than anything we've tried so far. The creamy structure and refreshing taste fit nicely with flesh lamb. It's safe to say that this dish completely knocked us off our feet and its quality totally justifie its price.
Restaurant Tesla and his excellent chefs will turn your world upside down and will open new horizons of gourmet cuisine.