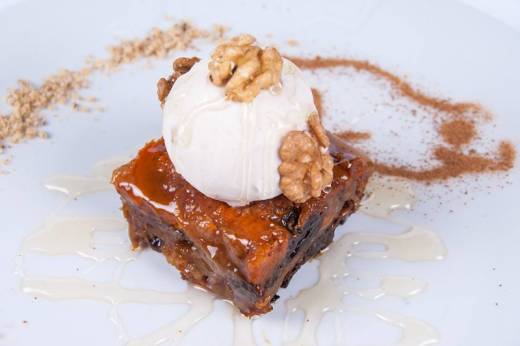 390 din
impression
After a superb lunch at the restaurant Žabar, we decided to check whether their sweets are as good as other dishes.
For dessert we ordered a gateau, that is served only in this restaurant, with the charming name of Baka Dara.
This cake is an old recipe, and mother of the owner of restaurant Žabar, Dara Poznanić, gave a personal touch in its design, and it's named after her.
It consists of pumpkin, dried prunes covered with meadow honey, apple, sprinkled with cinnamon and served with walnuts and a ball of ice cream.
The appearance of the dessert is so alluring that we have already eaten it with our the eyes before we even tasted it. At the first bite, it was clear that this is a real sweet masterpiece - the taste is simply divine. A delightful blend of pumpkin and apple are perfectly complemented with the cinnamon, and dried prunes give a mild, sweet-sour flavor that highlights all tastes.
All in all – this is a perfect dessert that all sweet lovers must try at least once.