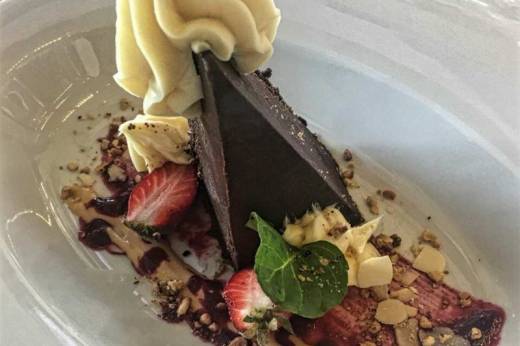 400 din
impression
Warm weather and sunny days are perfect for enjoying the afternoon lunch at the restaurant with a nice garden. Intrigued by the newly opened restaurant Despacito, we decided to visit it and see for ourselves its quality.
This restaurant has great advantages over restaurants located in New Belgrade - a great parking for all guests and a pleasant garden.
In addition, the restaurant has a great service and a beautiful ambiance, but more about it you can read here.
We took advantage of the nice weather and settled in a thick shade od the garden surrounded by fragrant flowers.
A waiter with a smile on his face immediately served us and brought the menus. Then began a real dilemma about what to order. Everything looked so perfect, so we decided to try meat dishes - turkey "Despacito" and smoked neck of the mangulica pig.
We didn't wait long to start this gastronomic adventure, because the dishes arrived very quickly. Both meat specialties are very extensive and just perfect. We just don't know which one to give priority, because both of them are really excellent.
However, the queen of this meal was definitely a dessert – Cake of the day.
Although our stomachs were full, we weren't able to resist this sweet pleasure. The Cake of the day at the restaurant Despacito is a chocolate cake that has taken us to a sweet delirium. We haven't experienced such a fullness of the taste of chocolate that melts in our mouths. Battered almonds, fresh strawberries, and yellow cream are not on the plate only for decoration - combine with a cake, they create such a fusion of taste that will delight your palate.
You just can't stop admiring this priceless combination of taste, which comes to light with every bite.
Food at the restaurant Despacito is for any recommendation, but make sure to leave room for their Cake of the day - you must try that chocolate ecstasy.