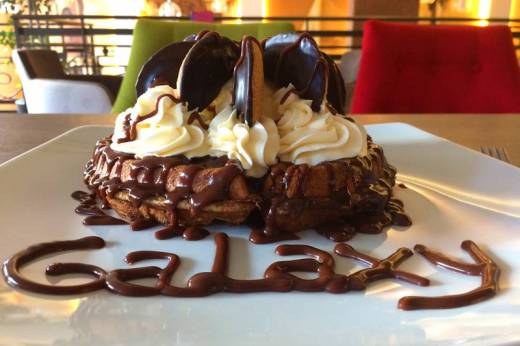 680 din
impression

If you ever feel the need for something sweet while you walk through the center of Belgrade, we know the right place for you.
You must have heard of it, but maybe you haven't visited it yet, and that's the real damage.
It is the restaurant Galaxy Creperie located in Rankeova Street No. 1.
The images of irresistible treats automatically have awakened are appetite and we had to try and see if their waffles are as good as everyone in the city claims they are.
Very interesting interior has delighted us as soon as we stepped into it, but read more about it here.
The friendly waiter immediately paid attention to us and gave us menus, and then a sweet agony started - what to order when everything sounds so good?
The choice finally fell on the Galaxy Waffle, a calorie bomb with black and white chocolate, Munchmallow, Jaffa cookies, marble balls, bananas and chocolate rollers.
The order arrived very quickly, and from the very sight of the plate, our mouth was watering.
We took the first bite and started the journey through the real galaxy of flavors.
Although this combination seems to be too sweet, you just can't stop eating it. Waffle beautifully softens the sweetness of other tastes, and all of them are so well merged into a true paradise in your language.
In a word - perfect!
Galaxy Waffle surpassed all our expectations and we recommended it to everyone. The only complaint is that the portion is too generous, and since it's so tasty, you just can't leave it until you lick a plate.
It's best to share this sugar bomb with someone special who enjoys a sweet bite.