Belgrade Restaurants with the Best View (2021)
Belgrade is a city that offers many opportunities. When you feel like dining out, there is a wide selection of restaurants offering delicious food and a fantastic interior and atmosphere.
Still, it is often difficult to make a decision, but there is one very important thing that gives great advantage to one restaurant over others. In addition to excellent food and atmosphere, the view stretching from the beautiful terraces or the restaurants is one such advantage.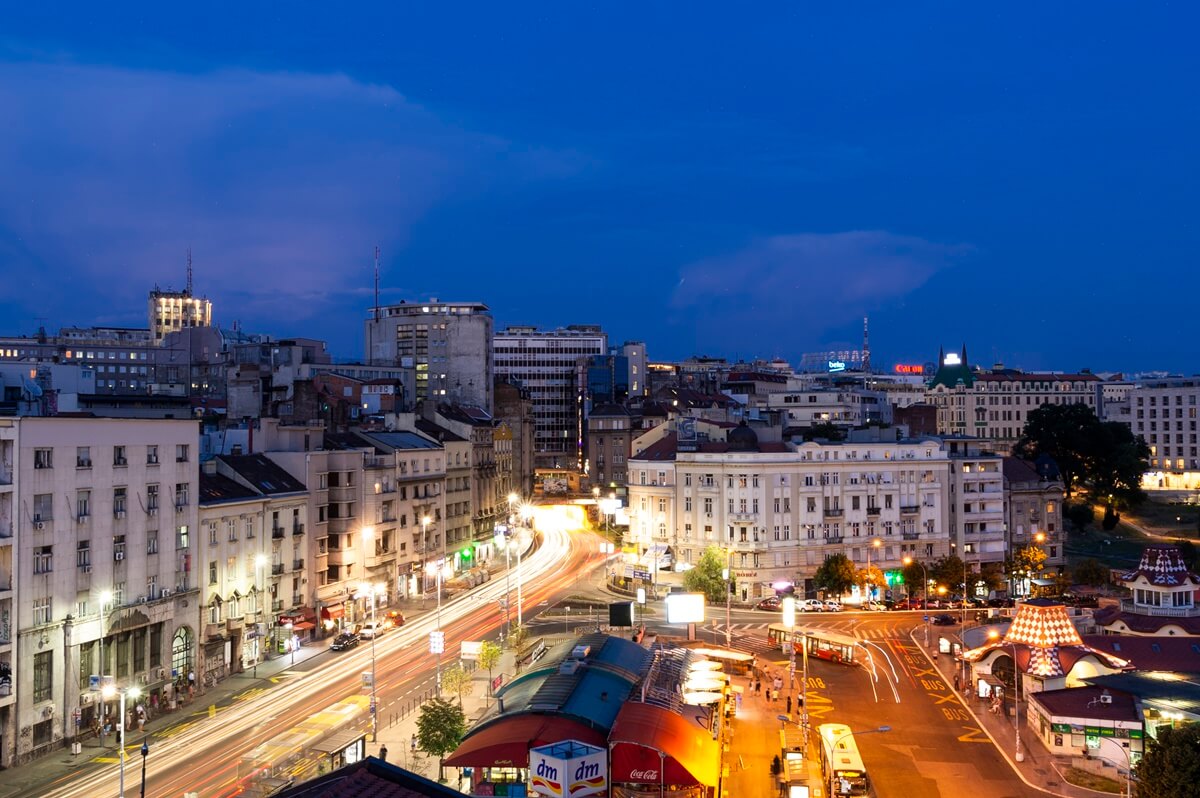 Can you think of anything better than having a delicious meal while enjoying a relaxing view of the river or the bustling city moving before your eyes as you savor every bite and moment?
These are restaurants in Belgrade which offer a unique, breathtaking view.
THE VIEW RESTAURANT 
The Belgrade catering scene has plenty to offer when it comes to restaurants that strive to provide a special experience, in addition to real gastronomic pleasure, their guests. One such restaurant recently entered Belgrade's catering scene, leaving its guests speechless after the very first visit.
The View restaurant found its place near the famous temple of St. Sava, on the seventh floor of the beautiful Kristal Hotel. Its interior is a perfect blend of elegance and simplicity, making it an ideal place to visit in any part of the day. A great venue to celebrate the most important moments in life, but also a perfect spot for business meetings.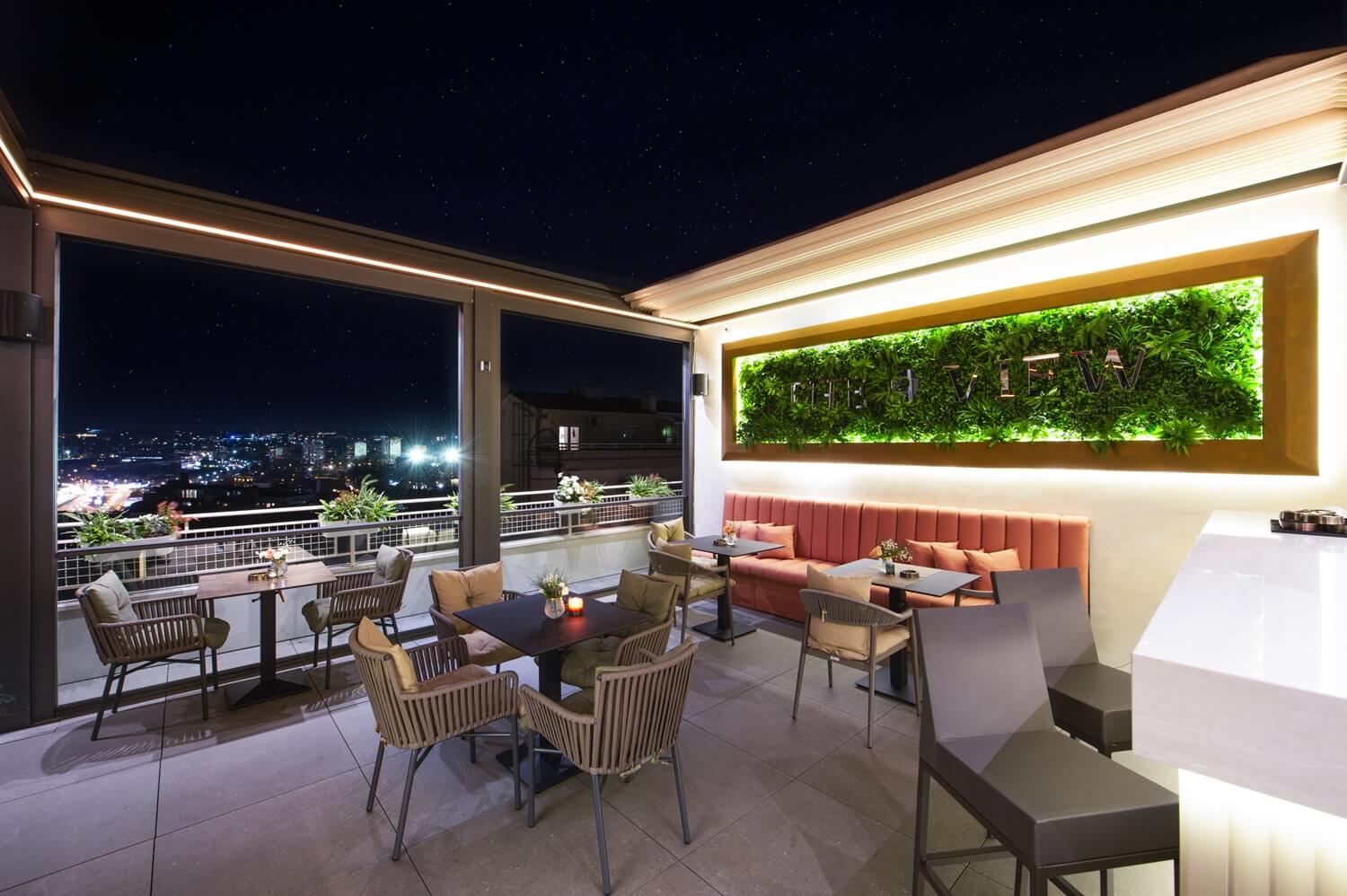 Its glass walls offer a view that stretches over into the entire city. The perfect place for a morning cup of coffee next to a view of Belgrade bathed in sunlight is an experience you won't forget any time soon. Also, when the night falls over the Serbian capital, The View restaurant is the perfect place to have a great evening.
Let yourself enjoy real culinary masterpieces and a glass of good wine. The relaxed atmosphere, friendly staff, and this simply perfect view will guarantee that you feel comfortable and relaxed.
MOKUM RESTAURANT
Mokum restaurant was opened relatively recently, placing a high standard on all well-known Belgrade restaurants. Although recently opened, it has quickly gained a lot of popularity.
It has an ideal location in the heart of the city. Located at the top of the Amsterdam Hotel, the Mokum restaurant offers a great view of Belgrade. Through its glass walls, the view stretches from Mt Avala to the Gardoš neighborhood.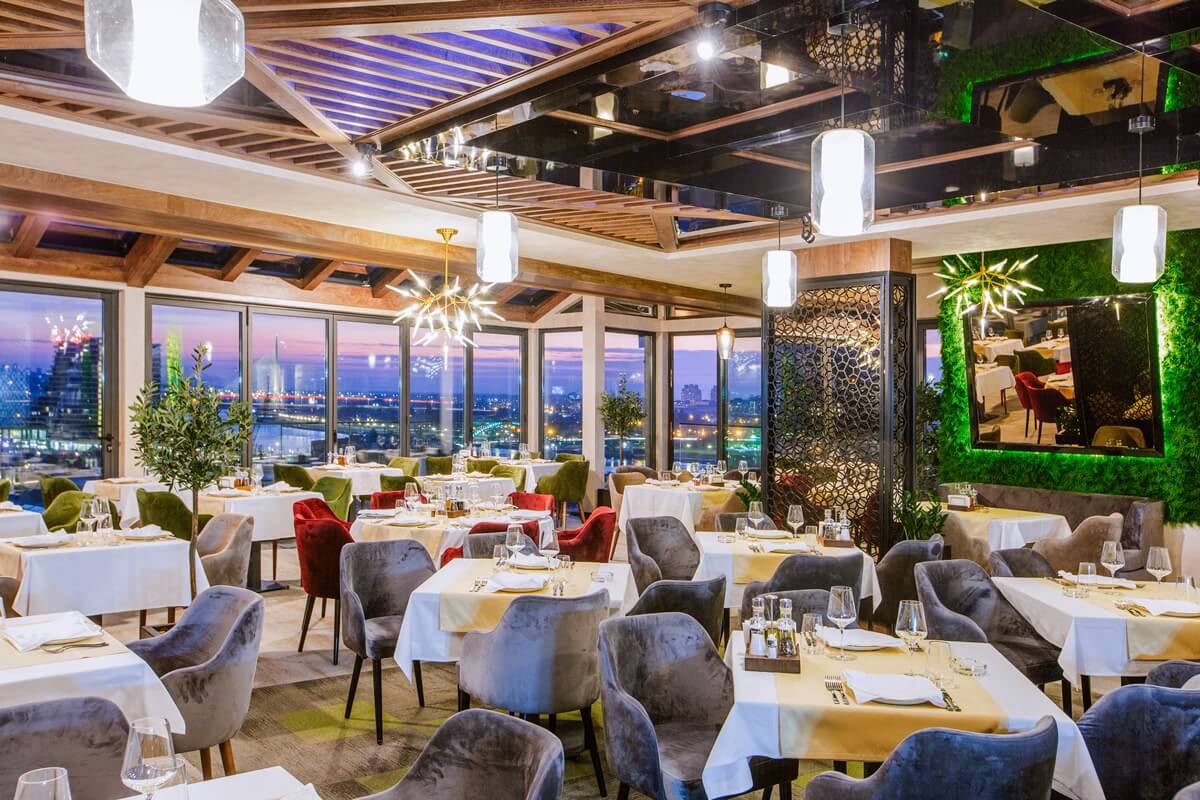 The interior of the restaurant is designed to evoke gasps of delight from all guests who visit it. In addition to the beautiful view and cozy atmosphere, it boasts outstanding food, a menu that allows everyone to enjoy themselves. The kindness and professionalism of the staff are at a high level.
The restaurant menu features a large number of international dishes, prepared by a team of highly qualified chefs.
The Mokum restaurant offers an unprecedented atmosphere to its guests at all times of the day. Throughout the day it offers a phenomenal view extending from three sides to New Belgrade and the famous Ušće, to the Temple of St Sava and Savamala, or Belgrade Waterfront from the third side.
As the day draws near, the view of the sunset from this place is spectacular. Finally, when night falls on the city, observe the city lit by night lights, and the colorful lights of the now well-known Belgrade Waterfront are a sight for sore eyes.
By coming to the Mokum restaurant, your companions and you are guaranteed an unforgettable enjoyment.
HERITAGE ROOFTOP RESTAURANT
If you are one of those guests who, in addition to great food and excellent service, like to have a magnificent view while dining, then the Heritage Rooftop restaurant is definitely the place for you.
A place of luxury and prestige that attracts a large number of passionate lovers of fine dining, the Heritage Rooftop restaurant is a way to fully enjoy the perfect blend of great cuisine, top quality drinks, and a great atmosphere.
If you want to surprise and amaze someone, and you know that they love a good view of Belgrade, bring them to this restaurant and you don't have to worry whether they will be delighted with your choice and style.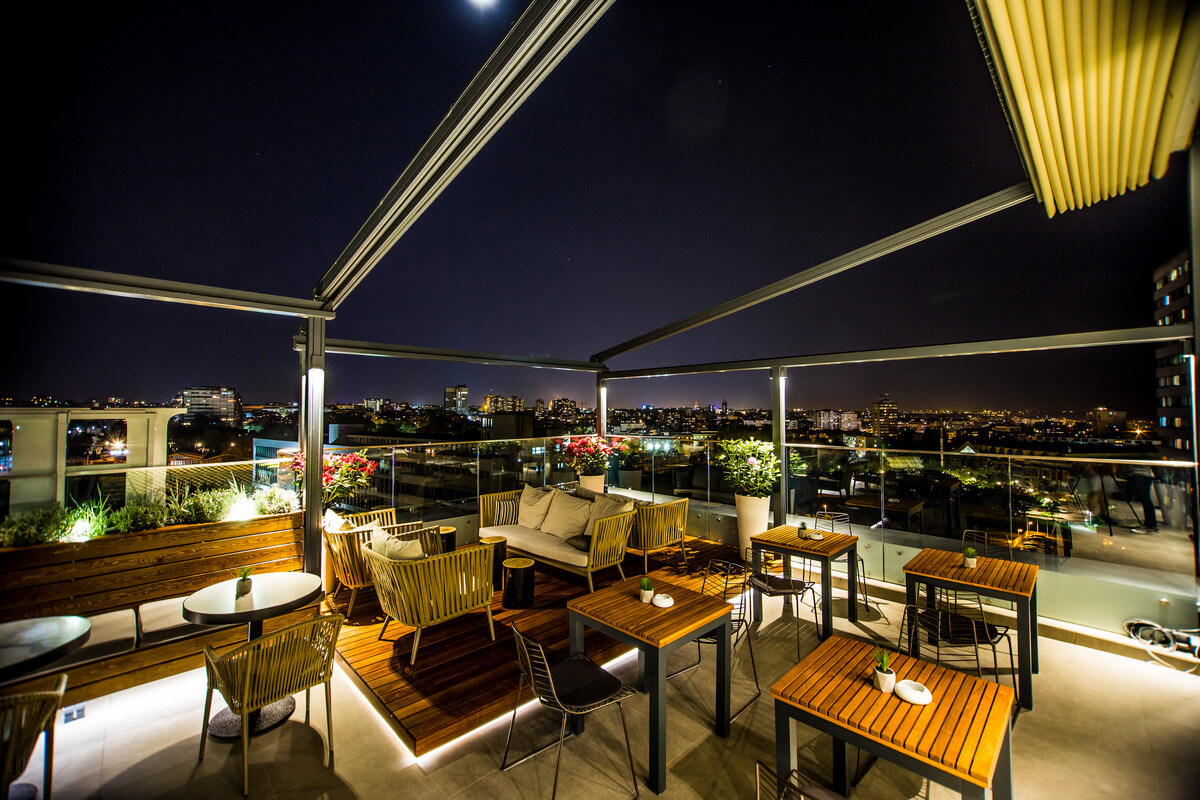 The most delicious international and local dishes are prepared by top culinary masters, who use their knowledge and skills to make magic on a plate. The magic of taste and aromas, the ultimate fulfillment of all your gourmet desires and needs. In addition to great specialties, this restaurant offers a large selection of cocktails, prepared by the skillful hands of experienced bartenders.
Whether you decide to bring your business partners, family or friends to the Heritage Rooftop, one thing is certain - this fantastic place will totally win you over. It is justifiably one of the most beautiful restaurants in Belgrade and at a restaurant at the very top of the city's gastronomic scene.
SAVANOVA RESTAURANT
Savanova restaurant is located in one of the most famous and beautiful parts of Belgrade, on the Sava Promenade. There is a fantastic view of the river from this spot, and you will have the opportunity to enjoy Savanova's beautifully landscaped garden at all times.
Whether you decide to take a short break from your daily routine and relax with your favorite drink or if you need a place for a perfect business lunch, one thing is certain - Savanova restaurant will meet all your expectations.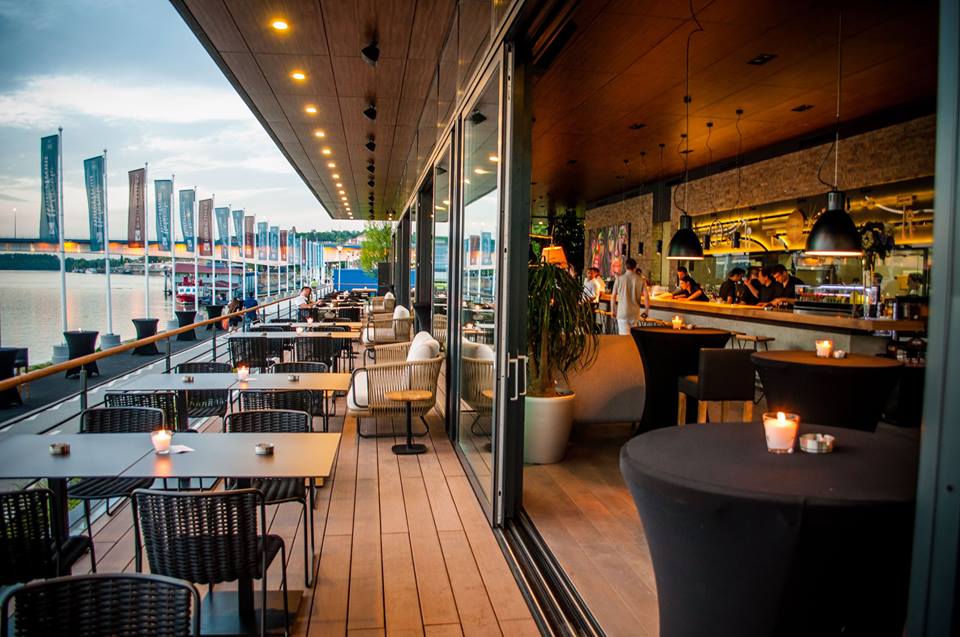 There is a large number of international specialties on the menu, and in order to make your meal complete experienced caterers are here to offer you a wide range of drinks, so everyone can find something that suits their tastes. In addition, this restaurant offers a pleasant atmosphere and positive energy that gives everyone the opportunity to relax and fully enjoy themselves.
Furthermore, this restaurant provides top music entertainment on Fridays and Saturdays with the performances of the highest quality musicians and positive vibes that will remain in your memory for a long time. For this reason, everyone who comes to the Savanova restaurant is always happy to come back.
KALEMEGDANSKA TERASA RESTAURANT
A restaurant that has been defying the weather for years, fully integrated into its surroundings, the Kalemegdanska Terasa restaurant is a haven for all lovers of good food. Tucked in between the walls of the famous Kalemegdan Fortress, this restaurant has a lot to offer.
Since it was founded back in 1930, the restaurant has become a place where true lovers of good food and of something special that not every restaurant in Belgrade has to offer - a beautiful view from the spacious and beautifully decorated terrace - gather. On warm summer days, find the perfect spot in the garden of the Kalemegdanska Terasa restaurant where you can enjoy the view of where two largest rivers in Serbia, the Sava and the Danube, meet.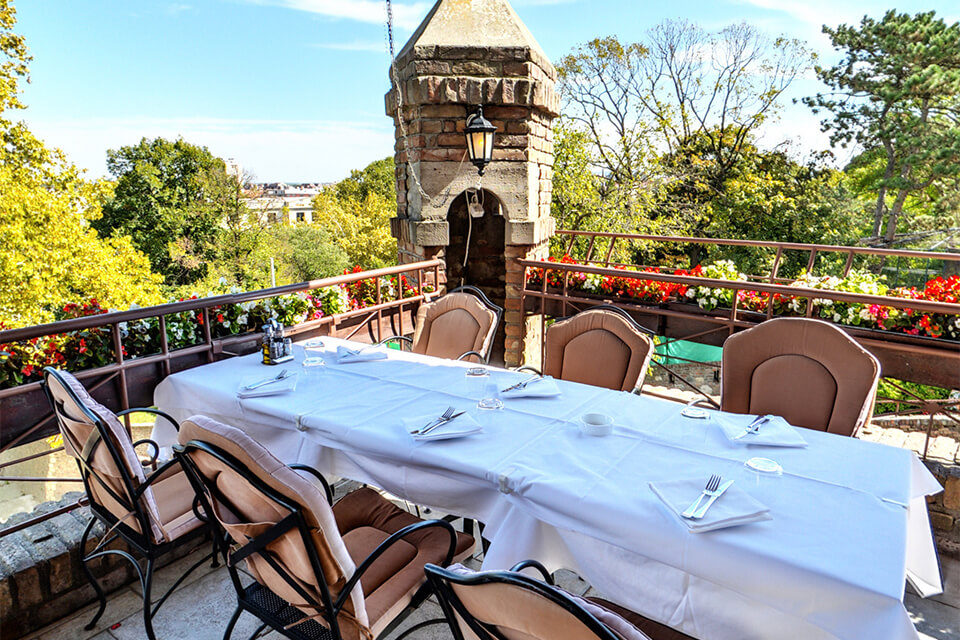 Whether you want to take a short break after learning about the history and traditions of the Serbian people while strolling through the famous Kalemegdan Fortress, or if you came to enjoy delicious meals at this restaurant, one thing is for sure – no one leaves Kalemegdanska Terasa restaurant feeling unsatisfied.
Everything is perfect at the Kalemegdanska Terasa, from delicious international and local dishes to professional service and, of course, the perfect atmosphere.
On the menu of this famous "city restaurant," as it was called in the 1930s, there are dishes of Serbian cuisine, which were created by a combination of influences of various peoples passing through our territory.
In order to make the menu more diverse, dishes of European and Mediterranean cuisine are also included in the menu, so there is something for everyone.
SKYLOUNGE BAR & RESTAURANT
Skylounge bar is a Belgrade restaurant that provides to all its guests the opportunity to enjoy a breathtaking view of the city, on the beautiful Slavija Square. This lavish restaurant has found its place on the 8th floor of the famous Hilton Hotel, where it welcomes all true hedonists and those who know how to live life to the fullest.
In this restaurant, you will be able to relax in a pleasant atmosphere and enjoy a large number of real gastronomic delicacies. Top culinary masters with years of experience guarantee that every ingredient that enters their kitchen is of the highest quality. When you add love - a miracle seasoning - to all of this, what do you get? - Perfection.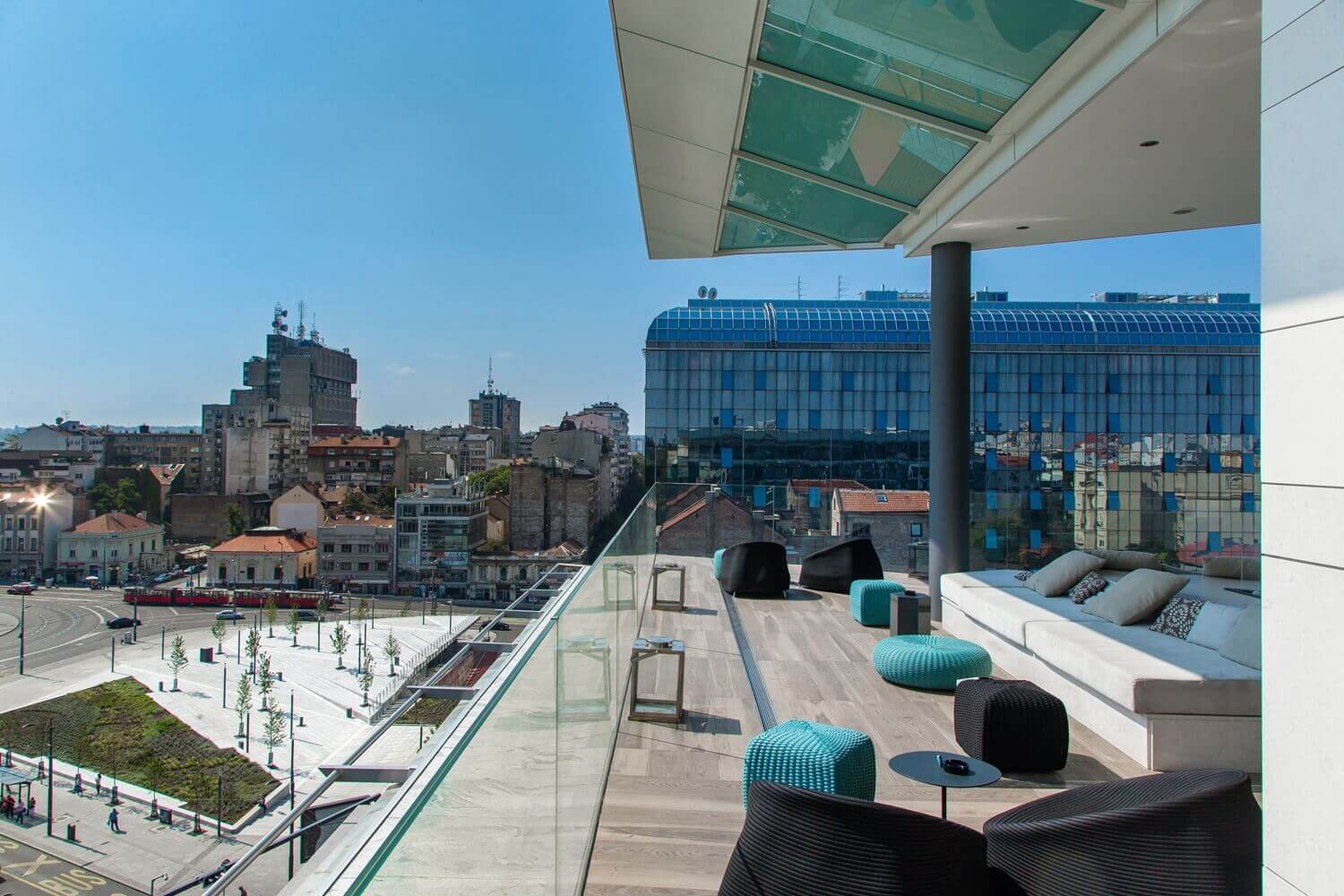 On warm summer days, Skylounge allows its guests to enjoy a view of the sun-bathed city from the beautiful terrace of this restaurant. The view is also spectacular in the cold winter days when the guests can gaze at the snowflakes gently falling on the city. Either way, whatever time of the year you choose to visit, whatever time of day, we are sure of one thing... you will enjoy with all of your senses.
LANGOUSTE RESTAURANT
Langouste restaurant is a place that moves the boundaries of gastronomy and offers a special and unusual experience of food and enjoyment. Located in the old town, near the famous Kalemegdan Fortress, it offers its guests the opportunity to enjoy one of the most beautiful views, views of the Sava and the Danube.
Choose a table by the window and enjoy your food while watching boats and speedboats glide along the swirling surface of these two beautiful rivers.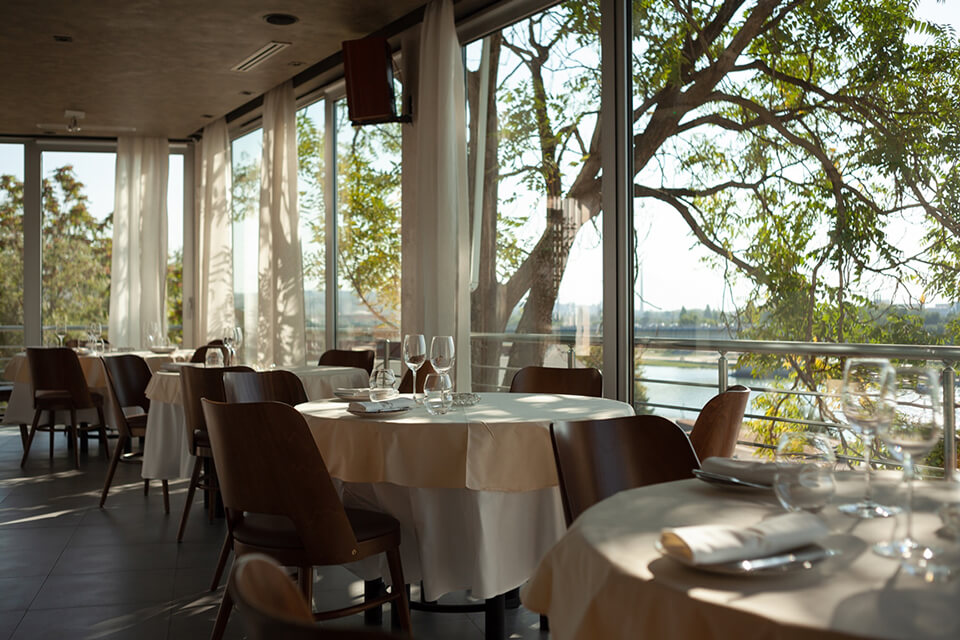 A team of best chefs, led by world-renowned Michelin star winner, chef Guillaume Iskandar, creates art served on a plate for Langouste restaurant guests every day. The highest quality ingredients are his inspiration, which in his favorite space, the kitchen, he turns into small masterpieces. Except for the taste, you will also enjoy the fantastic plating of each of his dishes.
Do something different and experience the new Belgrade culinary scene. Trust us, you will not regret it. Langouste restaurant will become your favorite place where you will always be happy to spend your precious free time.
AMPHORA RESTAURANT
When you want to relax and enjoy an exclusive setting right on the shores of one of Europe's largest rivers, the Danube, there is an easy way to fulfill your wish. Simply come to the Amphora restaurant.
It is one of the most beautiful places in Belgrade, which offers a perfectly decorated large terrace from which you can enjoy watching the river, but also a variety of international dishes.
Located on the most beautiful part of the Danube, at Hotel Yugoslavia, the Amphora restaurant offers its guests a modern and elegant setting suitable for a relaxing lunch with friends, family, but also for business conferences, meetings, and various other celebrations.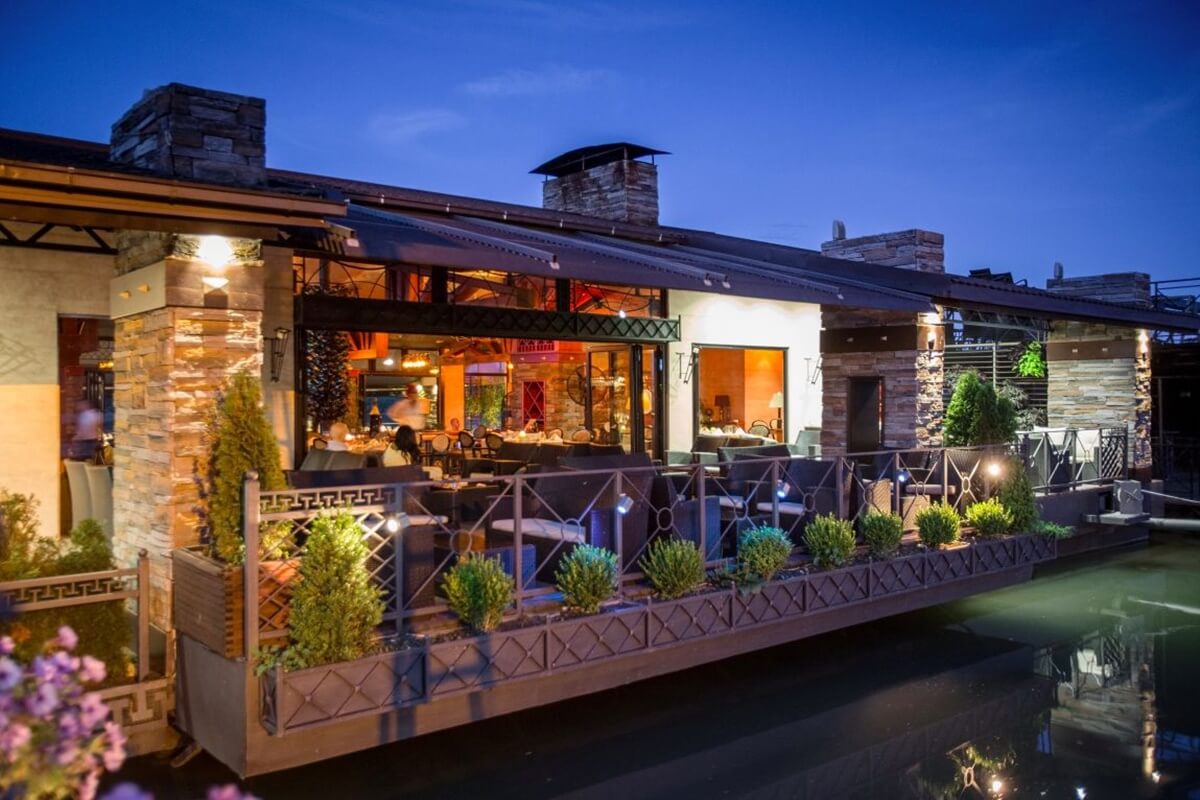 The Amphora restaurant menu offers a great variety of local and foreign dishes as well as a rich wine list. Whether you are a meat-lover or if you prefer fish, any specialty that comes out of this restaurant's kitchen will far exceed your expectations. Try a dish called "Chef's Pike Perch" and see for yourself that it will be the most delicious thing you've tasted so far.
With the right wine or drink of your choice, spend the afternoon or evening in the perfect atmosphere and we are sure that the Amphora restaurant will become one of your favorite restaurants in Belgrade.
MAGAZA RESTAURANT
The Magaza restaurant is a place ideal for true hedonists and those who want to become one. Among numerous Belgrade restaurants, this one really stands out.
Top caterers poured their desire to truly please all senses into every part of this restaurant. In addition to superb service, great food and drinks, this restaurant also boasts an unbelievably beautiful view of a breathtaking river.
Located in one of the most beautiful parts of Belgrade, the famous Concrete Hall, Magaza restaurant welcomes its guests with its doors wide open.
In order to increase the pleasure of all of its guests, the top team of culinary masters has endeavored to make the Magaza restaurant's menu truly diverse, rich and to offer everyone the opportunity to enjoy every bite. If you also want to try wonderful dishes, indulge in total gastronomic delights and understand what hedonism is like, stop by this fabulous restaurant and let it awaken all of your senses.
Here you will find a blend of modern and traditional Serbian dishes so that each guest will have the opportunity to enjoy the magic of the chosen dish. In addition, there is a rich drink menu, which will complement your selected dish and let you indulge in exceptional culinary delights. When night falls and covers the city, you will have the opportunity to listen to great live music right at the Magaza restaurant.
SENT ANDREA RESTAURANT
If you are looking for a place that offers a perfect view of the river, authentic and high-quality fish meals then Saint Andrea restaurant is the perfect choice for you.
For many years legendary stories have circulated about it, and its good reputation is preserved by top culinary masters, who make sure that every dish that comes out of their kitchen is simply perfect.
Situated on the Zemun Quay, Saint Andrea restaurant boasts two beautiful gardens located just off the Danube. The pleasant breeze and the abundance of colorful flowers create a pleasant and comfortable atmosphere that you can enjoy for hours.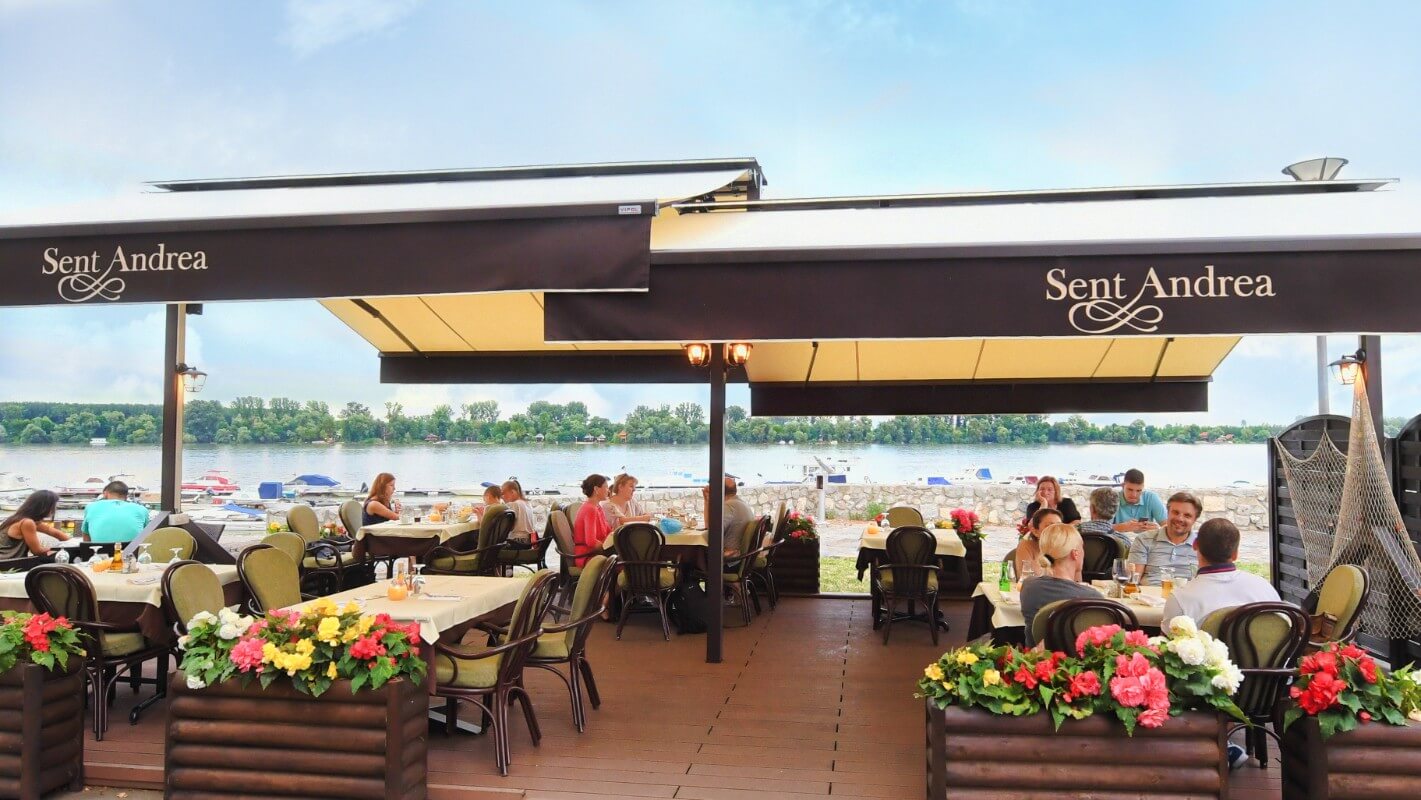 Right from the fishing boats, only the finest pieces of fish from the Adriatic Sea are delivered every day for the guests of Saint Andrea restaurant. Enjoy the unique flavors of fish and delicious seafood and enjoy every bite. Complete the taste symphony with a selection of wines from the rich wine list offered by this restaurant.
And while the food melts in your mouth, relax and enjoy the nature, let your thoughts flow, let your emotions come to life because problems are much more easy to solve and the best decisions are easier to make with good food.
FARO RESTAURANT
The love of food is one of the most sincere types of love there is. If you are also a true lover of good food, then you must already be familiar with the Faro restaurant. This restaurant was created by nurturing the biggest passion, the passion for quality Mediterranean and fish specialties, and it can offer plenty to its guests.
The spacious terrace offers a relaxing view of the river and introduces the guests of the Faro restaurant to complete nirvana. The gentle breeze offers refreshment during the hot and humid days in the summer. With quality meals and a rich drink list, this restaurant guarantees a good time.
If you are not a fan of fish, however, you will still not stay hungry.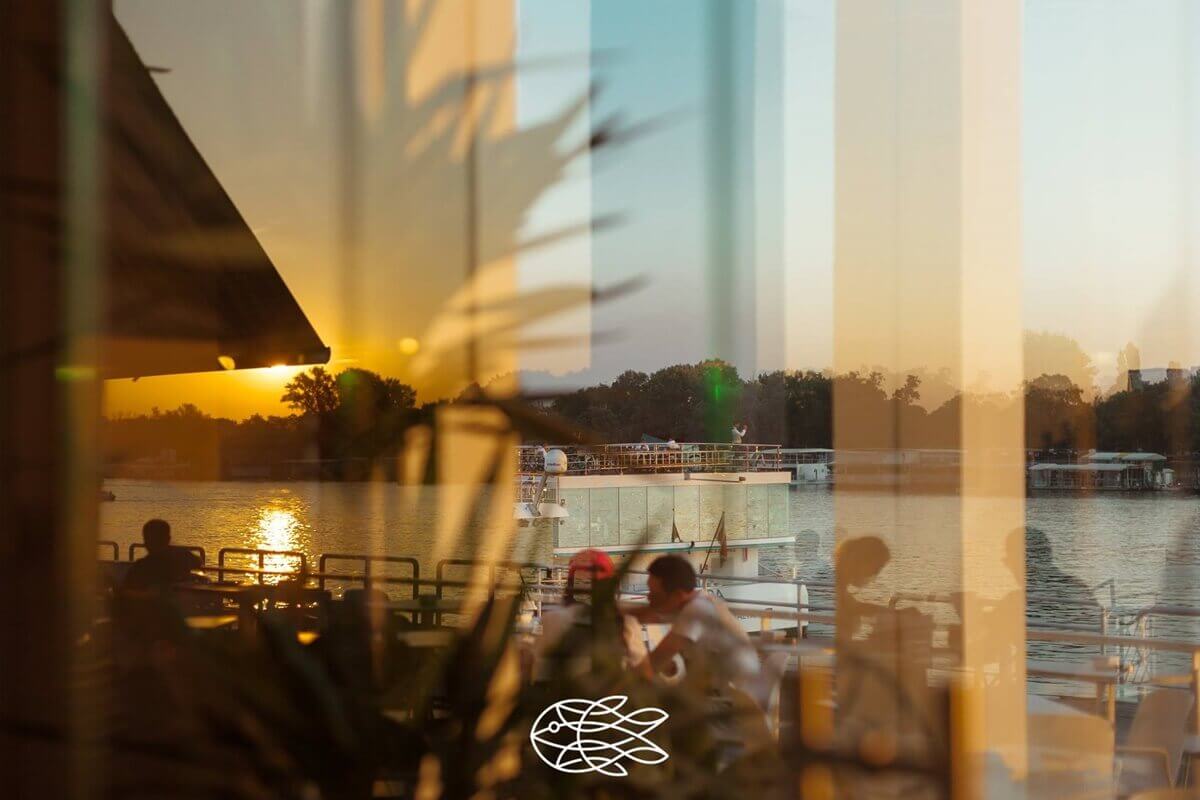 Look for meat, delicious pasta and risotto on the Faro restaurant menu. A large selection of grilled vegetables, as well as specialties such as tartar beefsteak, are just some examples of what this diverse menu has to offer. The only thing you have to do is to enjoy yourself. Everything else will be taken care of by the best culinary masters and the friendly staff of the Faro restaurant.
MIRADOURO RESTAURANT
The Miradouro Restaurant is an exceptional place on the Belgrade hospitality scene. With its excellent cuisine and beautiful setting, it is rightfully one of the best restaurants in the city.
Situated on the Sava Promenade, the Miradouro restaurant is only a few steps away from the beautiful Sava River. It is located between two bridges, offering a fantastic view of the peacefully flowing river.
If you want to relax and enjoy great Portuguese food tailored to our tastes then this is a must-visit place.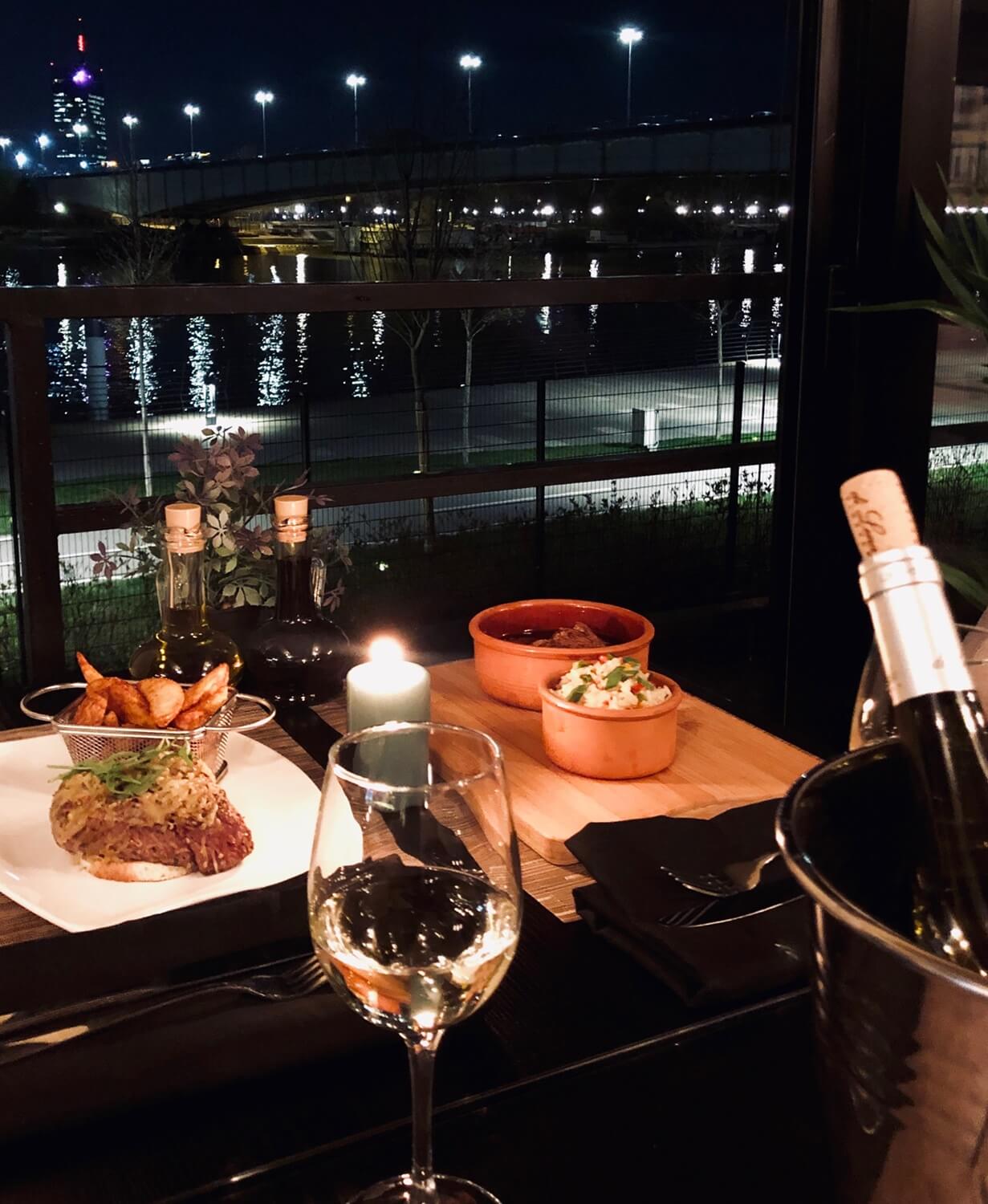 Top caterers, who use their experience and culinary skills to turn food into a real fantasy on a plate, prepare excellent specialties. The perfect blend of colors, different foods, and flavors in every dish awakens all the senses and brings you extraordinary gastronomic pleasure. Each bite of food melts in the mouth and contains a handful of flavors and aromas. Do not miss the opportunity to try new dishes, perhaps this is the place where you will find inspiration for some of your future meals. Come enjoy the beautiful view, delicious food, and perfect atmosphere. At the Miradouro restaurant, the focus is placed on the maximum enjoyment of each of its guests.
LAVASH RESTAURANT
A really refreshing establishment when it comes to the Belgrade hospitality scene. Finally, Belgrade has a restaurant which offers a combination of two seemingly incompatible sides, the Balkans and the Middle East. Located in the popular part of town, the famous Concrete Hall, the Lavash restaurant offers its guests the opportunity to enjoy an incredible view of the river.
Immerse yourself in a true enjoyment that is reflected not only in the exceptional ambiance and positive energy that this restaurant has but also in the combination of two completely different cuisines. On the one hand, you have traditional Balkan dishes, on the other, spices and dishes from the Middle East. Everyone who tried this unusual combination knows that it is very tasty and appealing.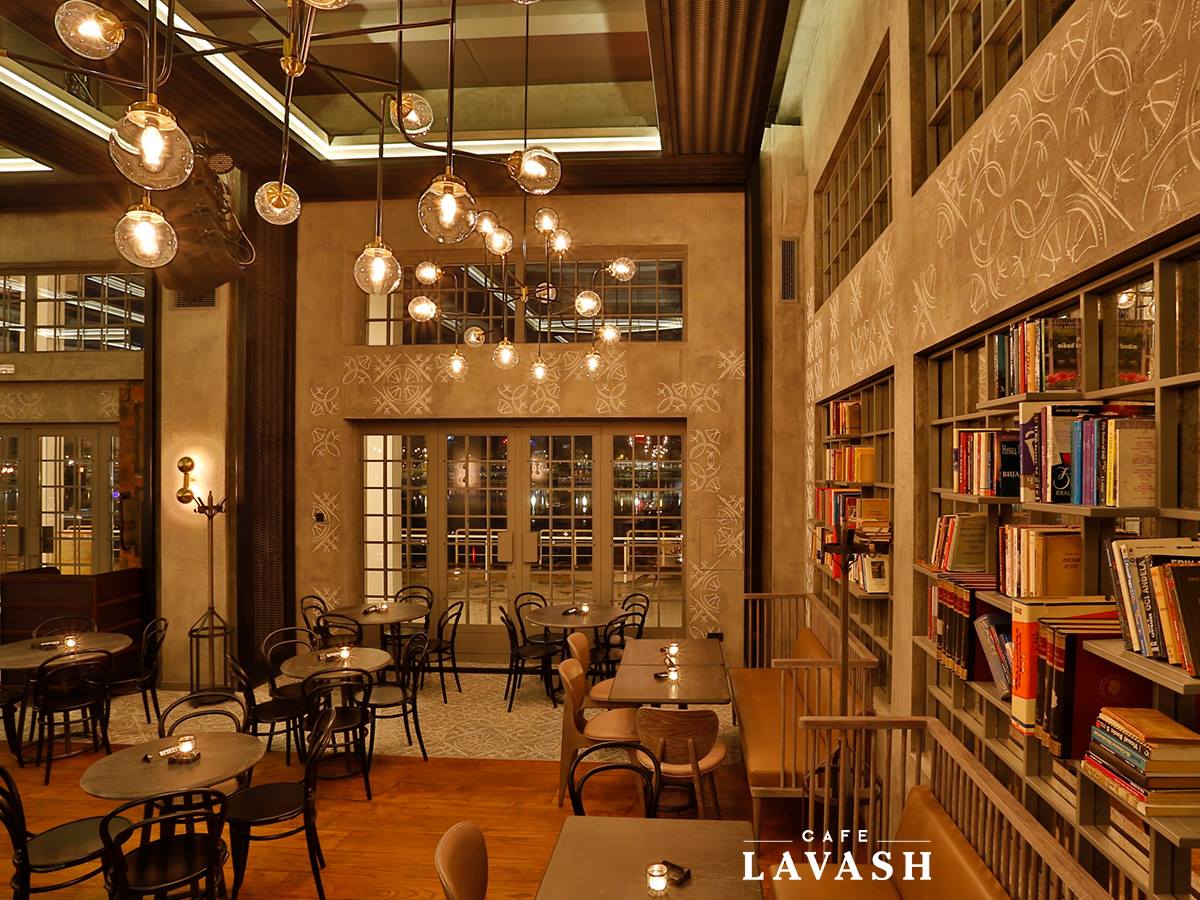 The culinary masters are responsible for the perfection that comes out of the kitchen of the Lavash restaurant every day. Do not miss the opportunity to enjoy the aroma of the orient, the taste of the Balkans and the relaxing homely atmosphere of this beautiful restaurant.
A blast of colors will whet your appetite so that you will enjoy every bite. The perfect blend of lighting, a community bar, and a modern library will make you feel like you've traveled far... All this is at your fingertips, much closer than you thought, in the perfect setting of the Lavash restaurant in the beautiful Concrete Hall in Belgrade.
ŠEST TOPOLA RESTAURANT
A restaurant with a 6 decades-long tradition awaits you in the natural shade of six poplar trees, as its name suggests (Šest Topola – Six Poplar Trees in Serbian). Newly decorated, it welcomes its guests into a true domestic atmosphere.
Located on the banks of the Sava River, among the poplars, it boasts one of the most beautiful gardens in the city. In the immediate vicinity of the restaurant, there is a large free parking for all guests of the restaurant, so this is another reason why you should choose the Šest Topola restaurant for a family, business lunch or a dinner with friends. Enjoying the food and nature in the warm summer months is a winning combination.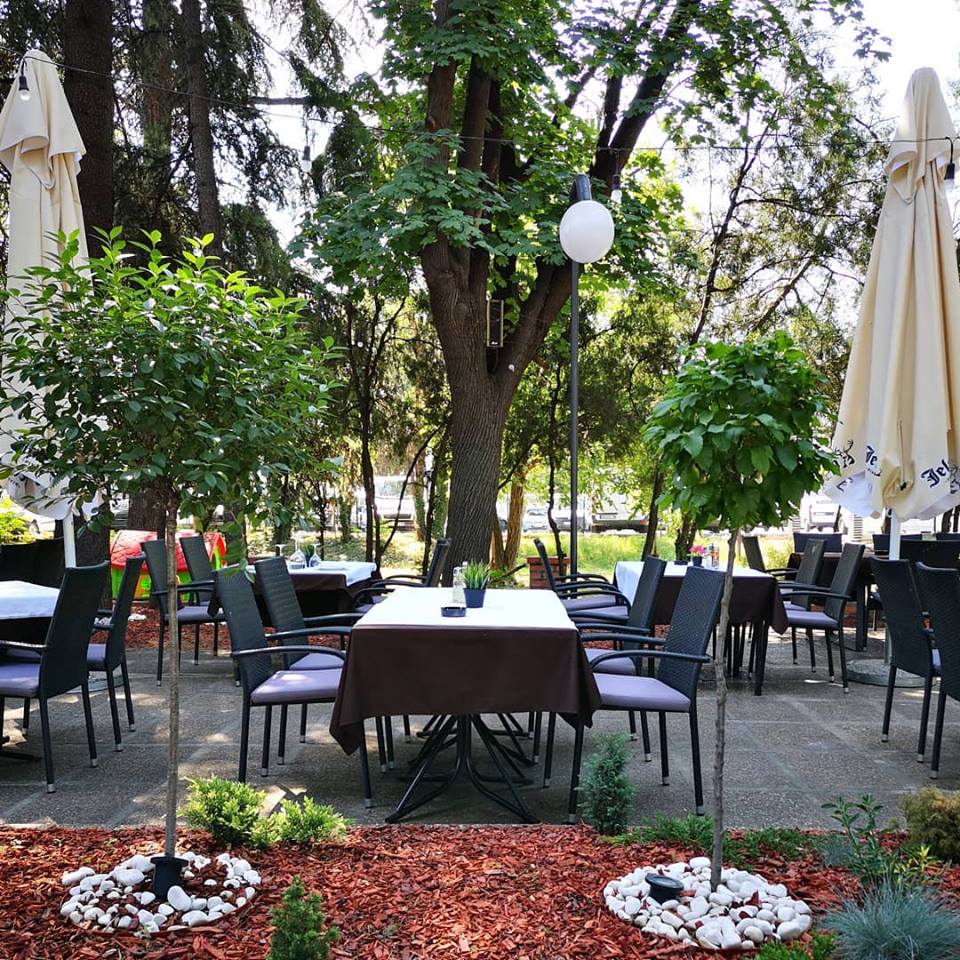 The restaurant offers a large selection of traditional healthy dishes prepared by renowned chefs. Every ingredient that enters its kitchen must be of the best quality, fresh and delicious. Plenty of attention is also paid to serving food so that it all comes together in a way you will not be able to resist its numerous dishes.
We are sure that after the first visit, the Šest Topola restaurant will become one of your favorite places on Belgrade's gastronomic map.
ŽABAR RESTAURANT
Žabar restaurant is a place on Belgrade's gastronomic scene that boasts more than 20 years long tradition. To justify the trust of its loyal guests, this place strives to keep up with the upcoming trends while still retaining something that has been its feature ever since it was opened - the quality and taste of the dishes coming out of its kitchen.
Located on the Kej Oslobodjenja, this restaurant is open every day. In order to make its guests feel as comfortable as possible, the restaurant's interior and spacious terrace overlooking the river are impeccably decorated. After ordering your favorite meal, relax and enjoy the view of the ducks floating carelessly on the peaceful surface of the beautiful Danube.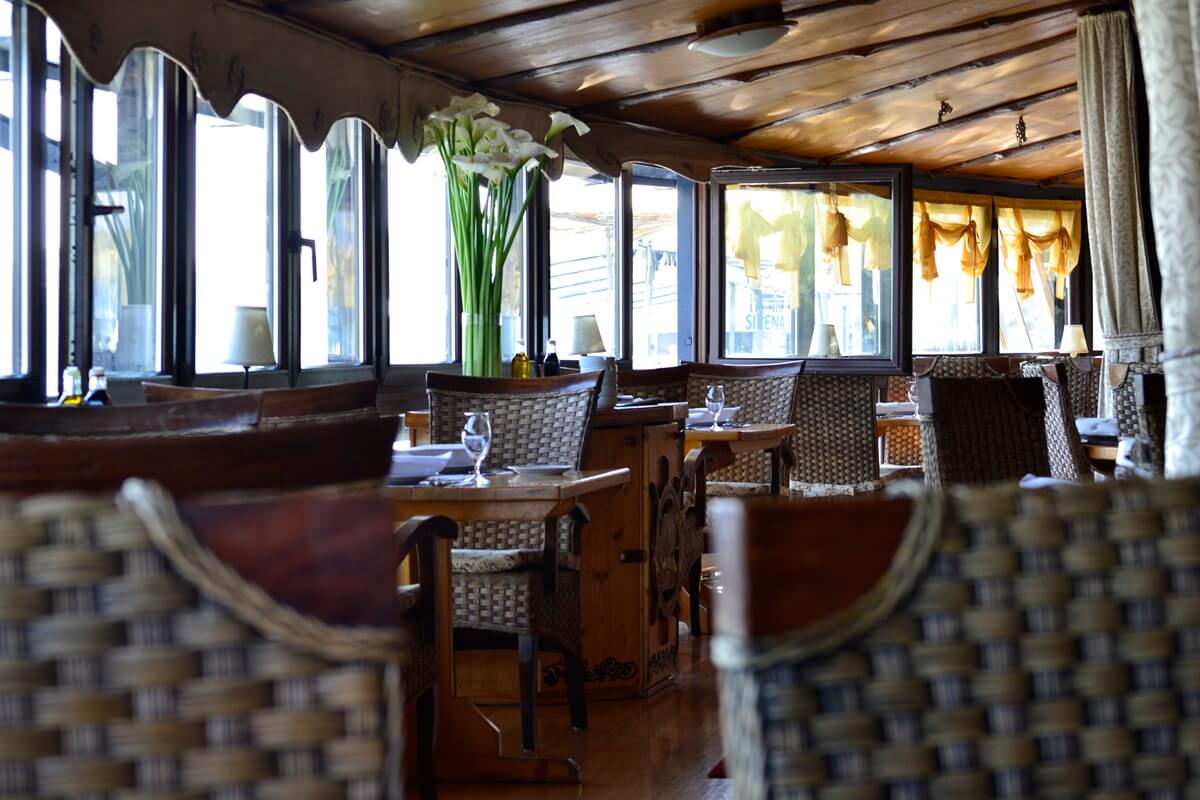 Nothing is left to chance at the Žabar restaurant. Each ingredient is chosen and prepared with special care, the dishes are also perfectly plated. Top chefs strive to make each dish a special story. Each one will bring a smile to your face and a gasp of pleasure when you taste it.
Enjoy a divine hedonistic journey through world cuisines without having to go anywhere ... Just come to the Žabar restaurant and let the fantastic flavors and aromas seduce you. Enjoy.
AMSTERDAM RESTAURANT
For many years, the Amsterdam restaurant has been welcoming its guests at one of Belgrade's most beautiful locations, right on the banks of the Danube River. The fantastic view from the gorgeous terrace will draw you in the very first time you step into this beautiful Belgrade restaurant.
An elegantly decorated space that can be compared to some of the most elegant restaurants in Belgrade, with a beautiful and stylish terrace, makes the Amsterdam restaurant a great place to spend an afternoon with your family, friends or business partners.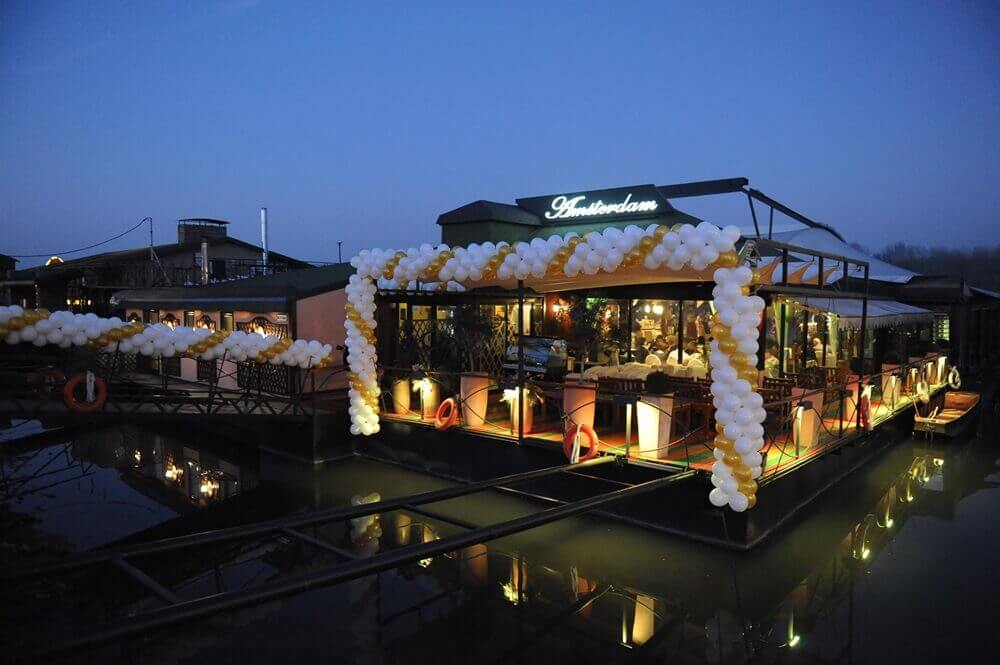 A wide variety of international dishes prepared by top chefs can be found on its menu. When preparing the dishes, chefs make sure that every ingredient is as nutritious as possible and that it combines perfectly with all the other ingredients. In addition, the friendly staff is always ready to meet any demands related to service or food.
Due to its elegant interior, superb service and excellent restaurant location, it is a frequent choice for celebrations such as weddings, gala dinners, and corporate celebrations. In addition to delicious food, you will have the opportunity to spend time outside and enjoy the fresh air and a view not many restaurants in the Serbian capital have.
Relax and enjoy, and everything else will be taken care of by experienced and professional staff who are well known to regular guests of the Amsterdam restaurant.
TAVERNA JAKOVLJEVIĆ 
Taverna Jakovljević is a restaurant located on the bank of the Danube, which offers a pleasant interior and a beautiful view from its landscaped summer garden. The peace and quiet, the sounds of nature and the quiet flow of the river will relax you, and all your senses will be stimulated by the fascinating scents coming from the kitchen of this restaurant.
If you are a fan of fresh fish or delicious grilled dishes then the Amsterdam splav is the perfect choice for you. Whether it's a family lunch, afternoon coffee or a night out, this is the place for everyone.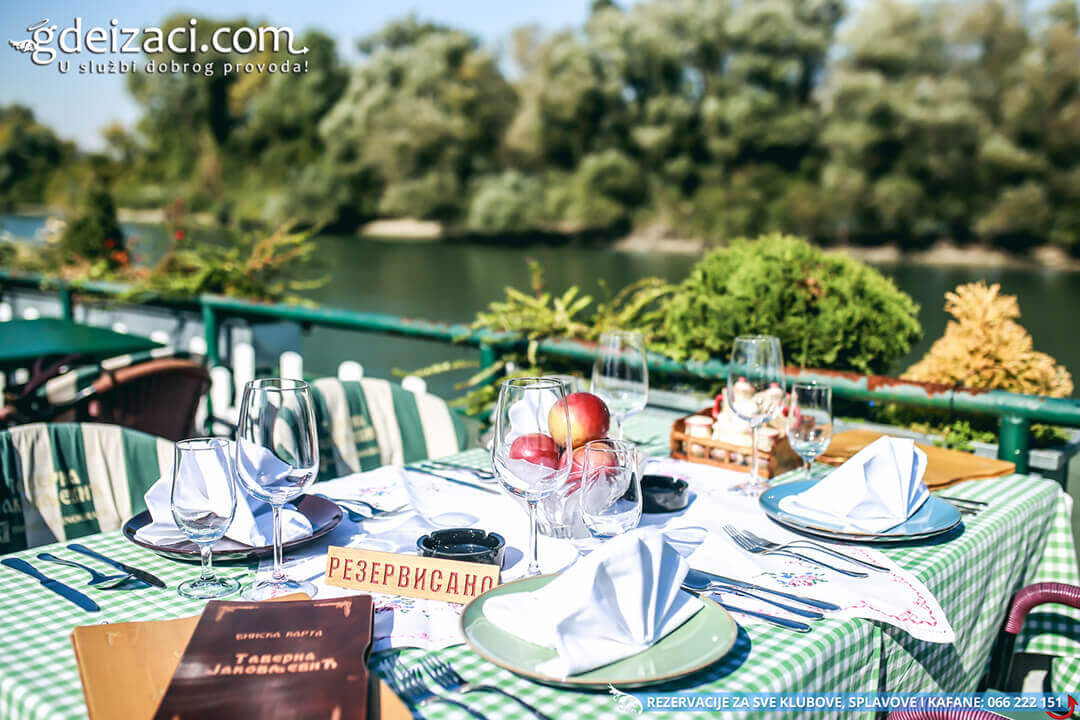 With the spirit of old taverns, great music, and food as our grandmothers used to make, it is a great combination for a break from daily chores and chaos.
The entire restaurant is decorated in an antique style, and almost everything is made of wood. Countless details add to the homey atmosphere that cannot be seen everywhere. The friendly staff is always available to fulfill all of your wishes and requests.
When you want to relax in peace and quiet and enjoy perfect food and view of the river, come to the restaurant Jakovljević and see why it is a favorite place for true lovers of good food and nature.
RESTORAN KOD KAPETANA
A restaurant that preserves the spirit of past, bohemian times, situated at the very end of the Zemun Quay, on the bank of the Danube River, and which invites you to enjoy its pleasant domestic ambiance with all of your senses. If you haven't guessed yet, we are talking about the famous Kod Kapetana restaurant. All true lovers of seafood and fish specialties are well aware that this restaurant is the place to come if you don't want to leave anything to chance.
The spacious garden with fantastic river view is a favorite gathering place for people who like to spend a pleasant morning, afternoon or evening in a peaceful atmosphere. Whether you choose to enjoy your favorite beverage or spend a few pleasant hours dining with friends or family, one thing is certain - your satisfaction will be guaranteed.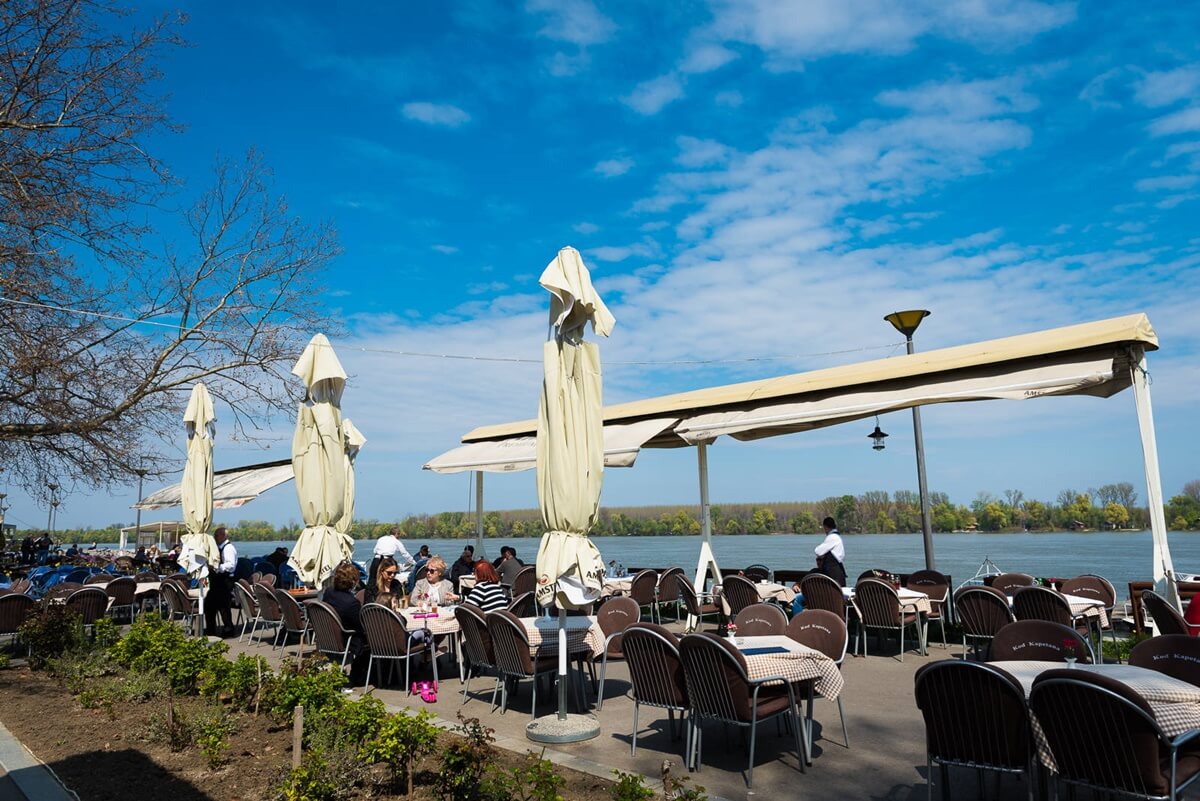 If you like fish and seafood, be sure to try prawns, sea bass, scorpionfish, and other delicious specialties, but if you are a fan of fishes caught locally, then there are catfish, perch, carp as well as many delicious river and sea fish stews. Finally, enjoy some of the delicious desserts that experienced chefs prepare for all guests of the Restoran Kod Kapetana.
PLATANI RESTAURANT
Belgrade is a fast city. People often need a respite from their many commitments, which become all the more complicated with the warm summer days and when the sun is scorching. Still, there is an ideal place for those who like to enjoy the most beautiful view of the river, good food, and natural shade.
The Platani restaurant is nestled beneath the treetops of centuries-old trees. With large branches and leaves, they create a shade in which hot days will become a thing of the past. With a glass of cold drink and perfect specialties, you will enjoy with all of your senses. The spacious terrace, which gathers a large number of guests every day, is a paradise that you will not be able to resist.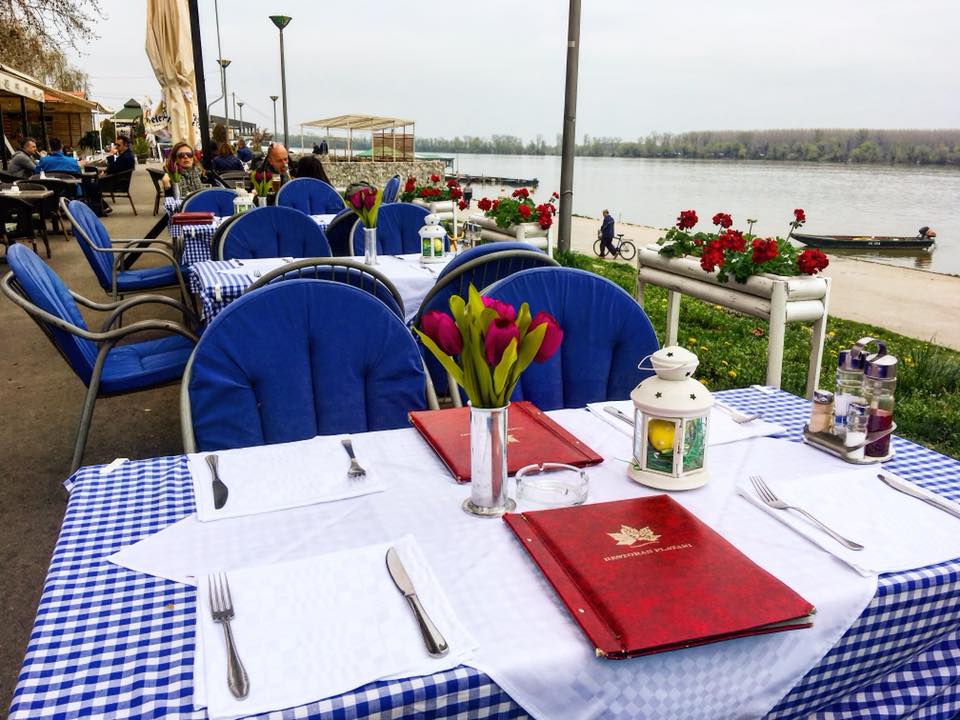 Year after year, the Platani restaurant has been offering more and more to its guests. Attending to their needs, this restaurant has included a large number of international dishes on its menu. Choose what works best for you, and top chefs will make sure you enjoy with all of your senses. The Platani restaurant menu has a large number of fish or meat dishes prepared with black truffles, which make it unique because they are not served in every restaurant.
When you combine the opportunity to enjoy a beautiful river view and perfect meals, you will need nothing more. Even the biggest gourmands recommend the Platani restaurant as the number one spot for complete culinary enjoyment.
TAG RESTAURANT
When you hear the words Tag restaurant, you probably remember the nightlife and crazy parties that made this place famous. Still, it is so much more than that. Tag restaurant is much more than a splav where great parties take place. It is a picture-perfect restaurant where you can enjoy the perfect afternoon coffee or lunch with family and friends.
Its location on the Sava Quay makes it possible for this restaurant to offer a perfect relaxing view of the river. A small number of restaurants on the Belgrade catering scene offer this kind of view. The beautifully landscaped terrace attracts true lovers of enjoyment, making it possible for them to comfortably settle in and enjoy with all of their senses.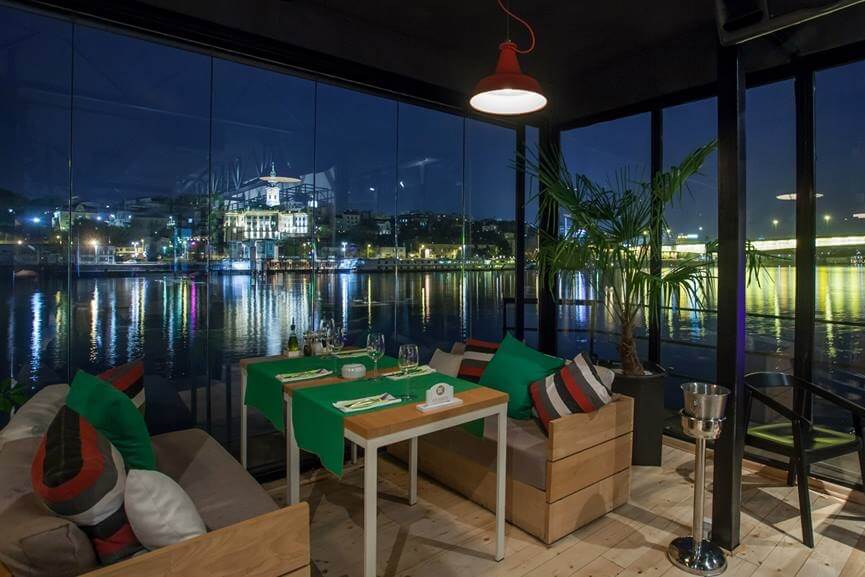 Tag restaurant takes great care about which ingredients it uses and how it prepares the dishes to preserve as many nutrients as possible. In addition to the classic restaurant menu, this restaurant also offers a sports or fitness menu that is intended for everyone who loves and wants to look nice and healthy. Still, the Tag restaurant would not be what it is if it didn't have the delicious gourmet specialties enjoyed by those with a slightly bigger appetite.
Since the terrace of this restaurant is very spacious, it has two parts, one closed and the other open, so it does not matter if the weather is bad because you can enjoy all the charm that the Tag restaurant has in store just for you. Indulge and become a true hedonist. This is the only thing that is expected of guests who come to this perfect Belgrade restaurant.