TOP 10 best restaurants by the river in Belgrade
Two beautiful rivers, fantastic nature and superb cuisine are just a part of what awaits you when it comes to the Belgrade hospitality scene. Some of the most beautiful restaurants, located on the banks of the Sava and Danube rivers, have a lot to offer to their guests. In addition to a diverse menu where everyone can find food and drinks that suit their tastes, there is a beautiful view in which all of your senses will enjoy, as well as superior service that will meet the criteria of even the most demanding guests.
If you want to enjoy some of the famous Belgrade restaurants located on the banks of the Sava and Danube in a pleasant atmosphere and with excellent food then these are the restaurants you have to visit.
SAVANOVA RESTAURANT
Savanova restaurant is located on the banks of the Sava River, on the famous Sava Promenade. All lovers of nature and what it offers have the opportunity to enjoy the excellent gastronomic specialties that this restaurant has to offer to its guests, along with a relaxed atmosphere and pleasant breeze blowing through the beautifully decorated terrace of the Savanova restaurant.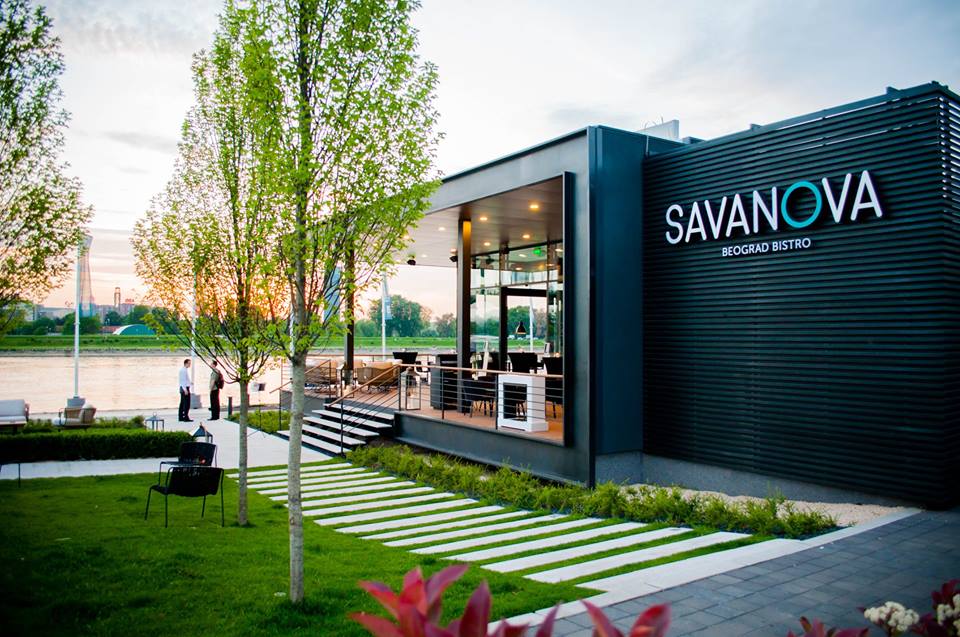 A well-trained team of top culinary professionals pays a great deal of attention to the selection of the highest quality ingredients, and special care is taken to ensure that all nutrients are preserved in the best way so that guests receive the highest quality dishes. In addition to enjoying delicious meats, vegetables, and other delicacies, here you have the opportunity to enjoy quality local and international drinks and desserts that will melt in your mouth. The youngest guests can enjoy an outdoor playroom.
And when night falls on the city, this beautiful restaurant comes to life with whole new energy and splendor, so under the clear sky, you have the opportunity to watch the twinkling city lights. We believe that this kind of picture will be something that will remain in your memory and will make this restaurant your favorite place in Belgrade both during the day and night.
TEMPERAMENT RESTAURANT
Enjoying the magic of the river has never been more within reach, as an elite restaurant Temperament opened right near you, offering something more to its guests than any other restaurant in the city. Situated in the famous Belgrade Concrete Hall, this restaurant is a true oasis of peace and tranquility just meters from the beautiful river.
With its exceptional ambiance, it quickly won over all true hedonists and lovers of good food.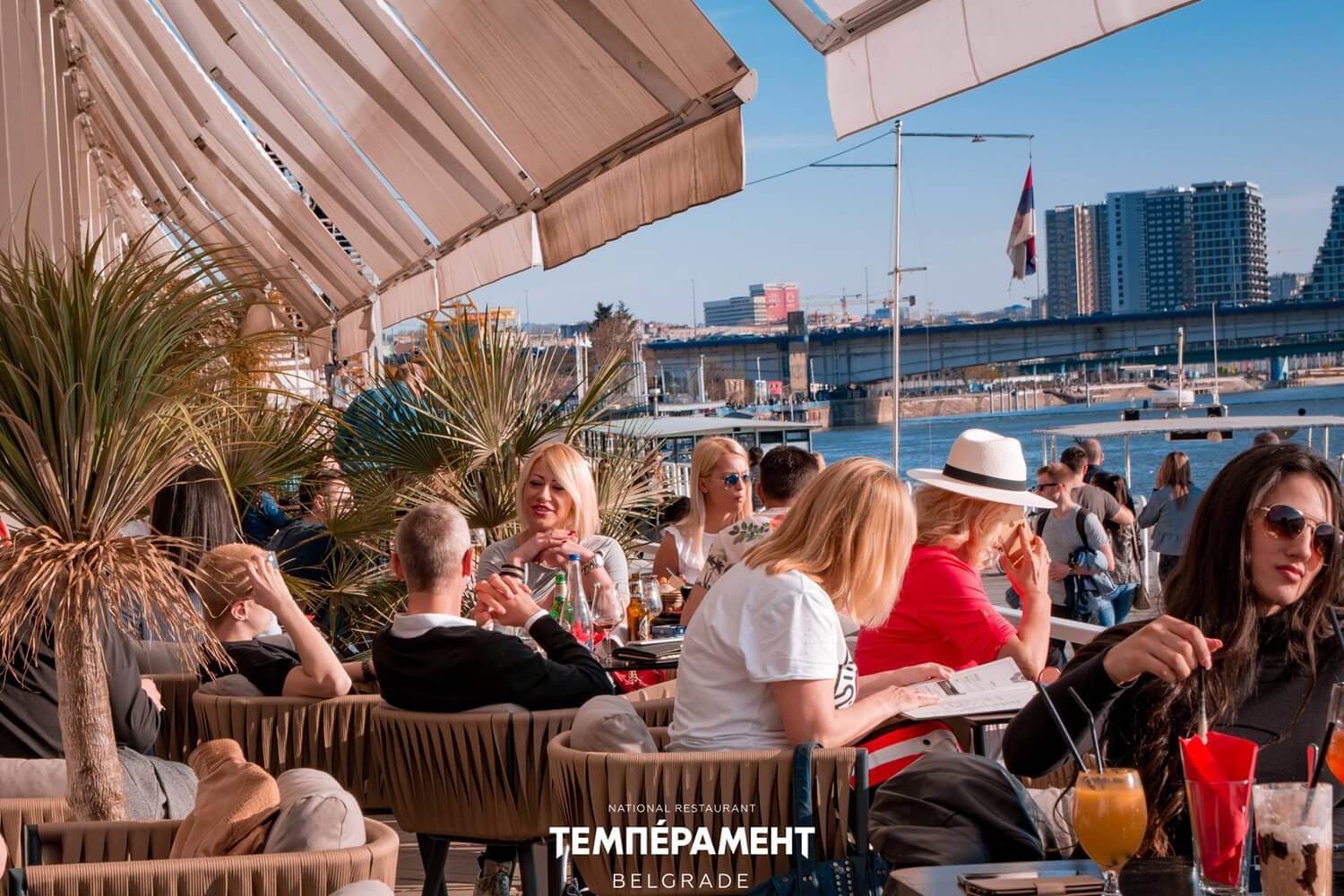 Temperament restaurant deserves to be at the top of Belgrade's hospitality scene for many reasons. The rich menu of this luxurious restaurant contains only the finest flavors, and top professional chefs are here to make every dish is a small masterpiece. From the selection of ingredients, through the preparation and decoration, everything is of the best quality. Each dish is prepared with special care, to make guests truly satisfied and fulfilled. Here you have the opportunity to enjoy, in addition to great food, a relaxed, welcoming atmosphere, and a breathtaking view.
Whether you choose to spend an enjoyable afternoon or evening here with friends, family or business partners, one thing is certain - Temperament restaurant will fulfill all your expectations.
AMPHORA RESTAURANT
Amphora restaurant is a really special place on Belgrade's gastronomic map. The interior of the restaurant is so interesting that many guests are left speechless on their first visit to the restaurant. The unusual appearance of the Amphora restaurant sets it apart from other similar places. Elegance and style are visible at every turn, but this does not diminish the sense of comfort and homely atmosphere of this fantastic place.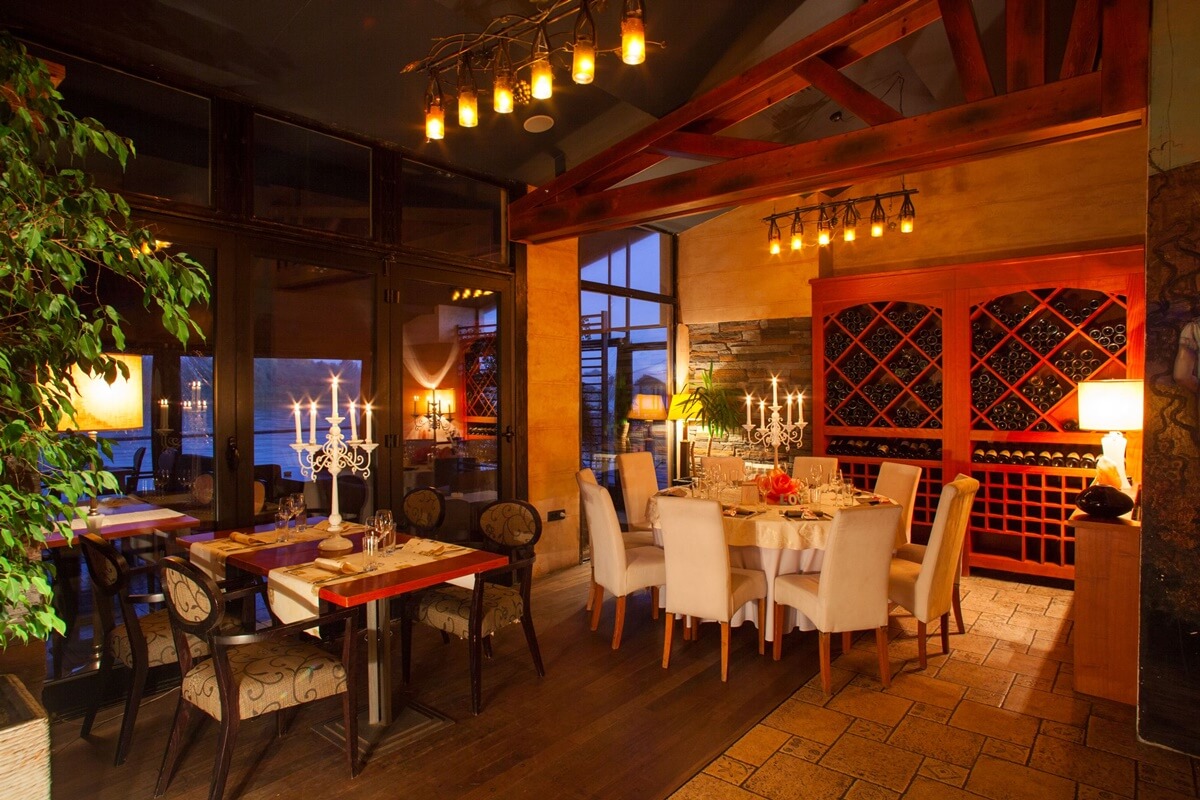 In the middle of the restaurant, there is a famous sculpture of wine bottles that looks like an upside-down Christmas tree. It extends to the ceiling and with its appearance really makes this restaurant stand out. In addition to its unusual appearance, the Amphora restaurant boasts a rich menu with a large number of fish specialties, as well as numerous Italian and international dishes. If you like desserts, here you will have the opportunity to enjoy some of the enchanting desserts that will awaken all your senses.
And that's not all... The Amphora restaurant offers a fantastic view of the river, both from the restaurant itself and from the phenomenally decorated terrace. Flowers, peace, quiet and relaxing music deliver a sense of complete nirvana, which is what only a small number of Belgrade restaurants can provide. This is why Amphora is the perfect place for you.
SENT ANDREA RESTAURANT
If you like restaurants that resemble little taverns found right on the seashore, then this is the right time to get acquainted with the beautiful restaurant called Saint Andrea. Located on the famous Kej Oslobodjenja in Zemun, it offers a stunning view of the Danube. This restaurant also brings together true lovers of fish and fish specialties.
With its elegant interior full of marine details, this fantastic restaurant captivates at first glance. When you add the most beautiful Mediterranean music, you get a feeling that you have traveled to some warmer climate. On the menu of this fantastic restaurant, there is a large number of perfect fish specialties, and fresh olive oil-based salads will entice you to take a bite.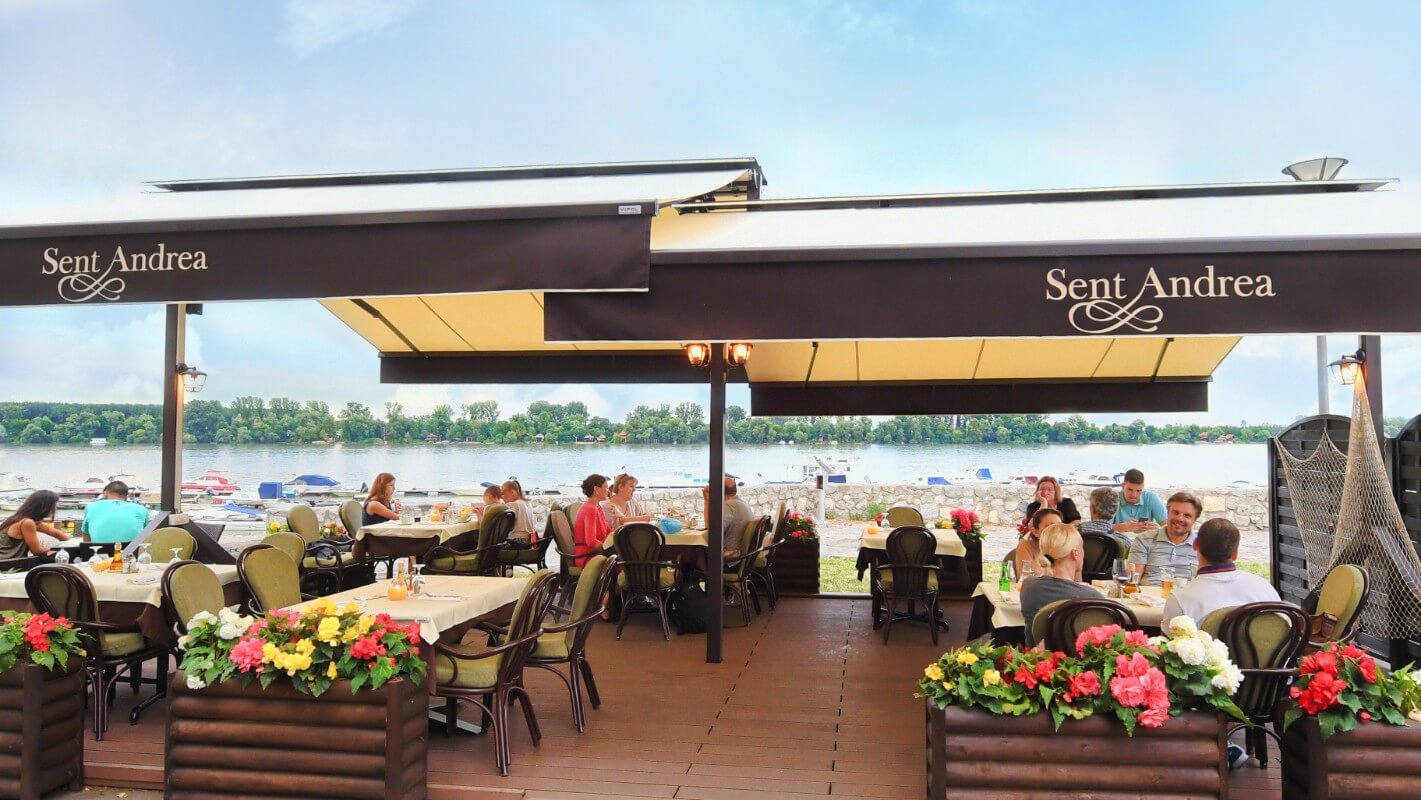 If you are not sure which the famous fish dishes you should try, the friendly staff of Saint Andrea restaurant is at your disposal, ready to fulfill all your requests at any time. What makes this restaurant really special is the fact that it only uses fresh fish, brought directly from the fishing nets of Adriatic boats.
So, if you are a fan of the sea, fish, and anything that reminds you of the Mediterranean, it is the perfect time to visit the Saint Andrea restaurant and indulge in a true gastronomic journey.
TORO GRILL RESTAURANT
The Toro Grill restaurant is a perfect place for all true lovers of good food. And when is the best time for a real culinary feast... after a long relaxing walk, of course. If you like this perfect combination we have a great suggestion for you. The Toro Grill restaurant is located on the beautiful Zemun Quay, where it offers its guests top international specialties, excellent service and a fantastic view of one of Europe's most beautiful rivers, the Danube.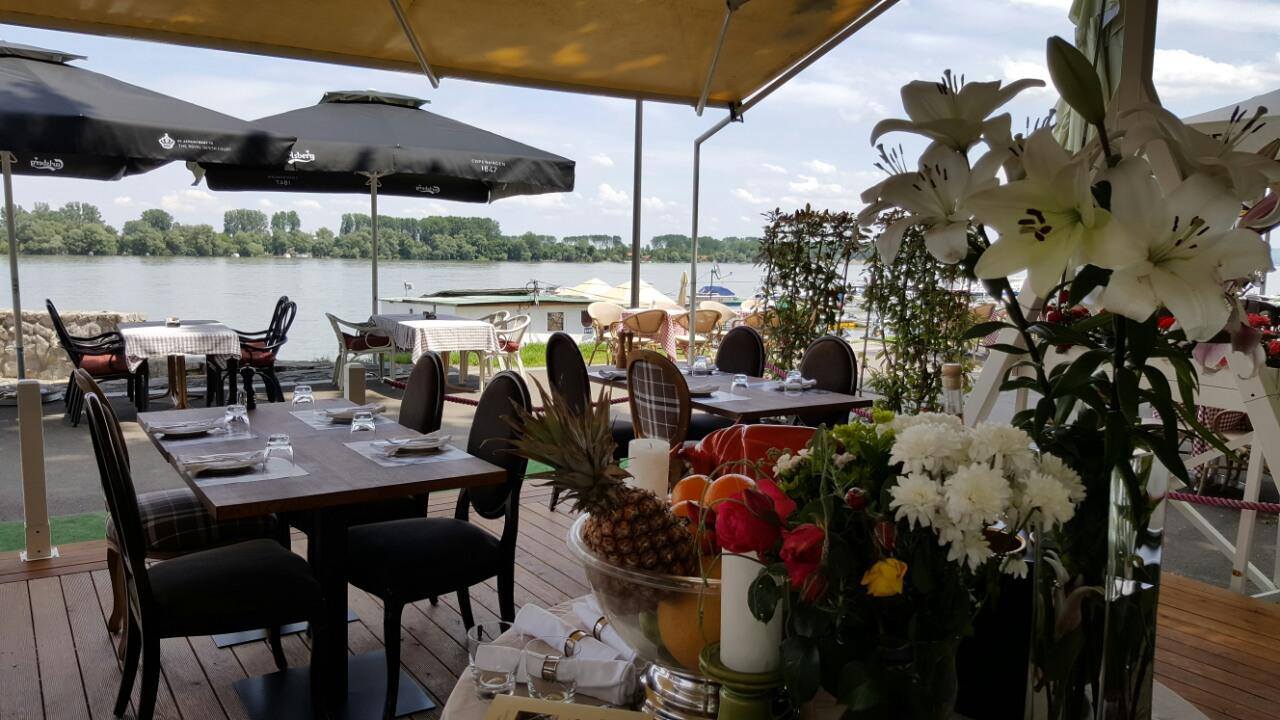 Whether you are looking for a restaurant with a warm homely atmosphere or you want an intimate lunch for two, this is a restaurant that will meet all your criteria. In addition to relaxing lunches and dinners, Toro Grill offers a professional service that is great for business lunches. All in one place, from great specialties to the superb atmosphere and a river view... Everything at Toro Grill is simply top-notch.
Look no further, come to the Toro Grill and experience a true symphony of taste, scents and enjoy with all of your senses. This is what sets this restaurant apart from the wide selection of ​​other similar Belgrade restaurants.
MIRADOURO RESTAURANT
Many Belgrade restaurants boast excellent interiors and a fantastic atmosphere, but what sets the Miradouro apart from others is its perfect location and a beautiful river view. Located on the Sava Promenade, this restaurant is a great place for all lovers of nature who, after a long walk, like to take a break, drink some coffee or enjoy delicious meals that this restaurant has to offer to its guests.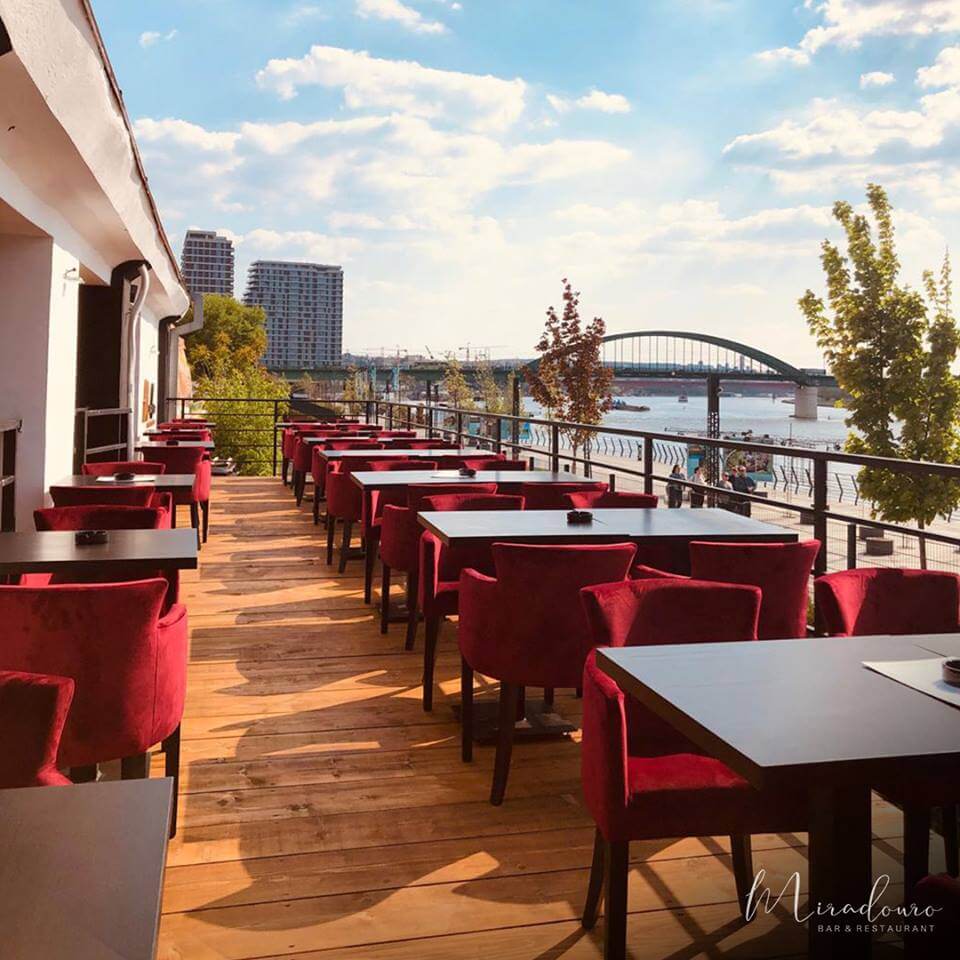 The Miradouro restaurant is located between two bridges, Branko's and Railway Bridge, and is known for its exceptional cuisine and a fantastic view of the Sava. Whether you decide to take a short break or relax with your family, friends or business partners and enjoy great food, the Miradouro restaurant gives you the opportunity to enjoy with all of your senses on its spacious terrace. You can try the famous Serbian specialties, but also Mediterranean delicacies. In addition to great food, this restaurant offers quality drinks with a rich wine list that has over 70 different types of wine.
And in order for your enjoyment to be truly complete, excellent caterers have made sure to provide great music entertainment from Thursday to Saturday. The Miradouro restaurant features the performances of well-known local and foreign bands, so this is a great place for both daytime and evening entertainment.
MAGAZA RESTAURANT
The Magaza restaurant is a restaurant made for enjoyment. Located on the beautiful riverbank, in the famous Belgrade Concrete Hall, it is a true hedonistic paradise.
Everything in it is made to provide maximum enjoyment to its guests, and what sets it apart in the catering map of Belgrade is the perfect blend of excellent food, superb service, and the best nightlife. So you can relax completely, because if your visit to this restaurant runs long and lunch turns to dinner, after dinner you can enjoy the best music.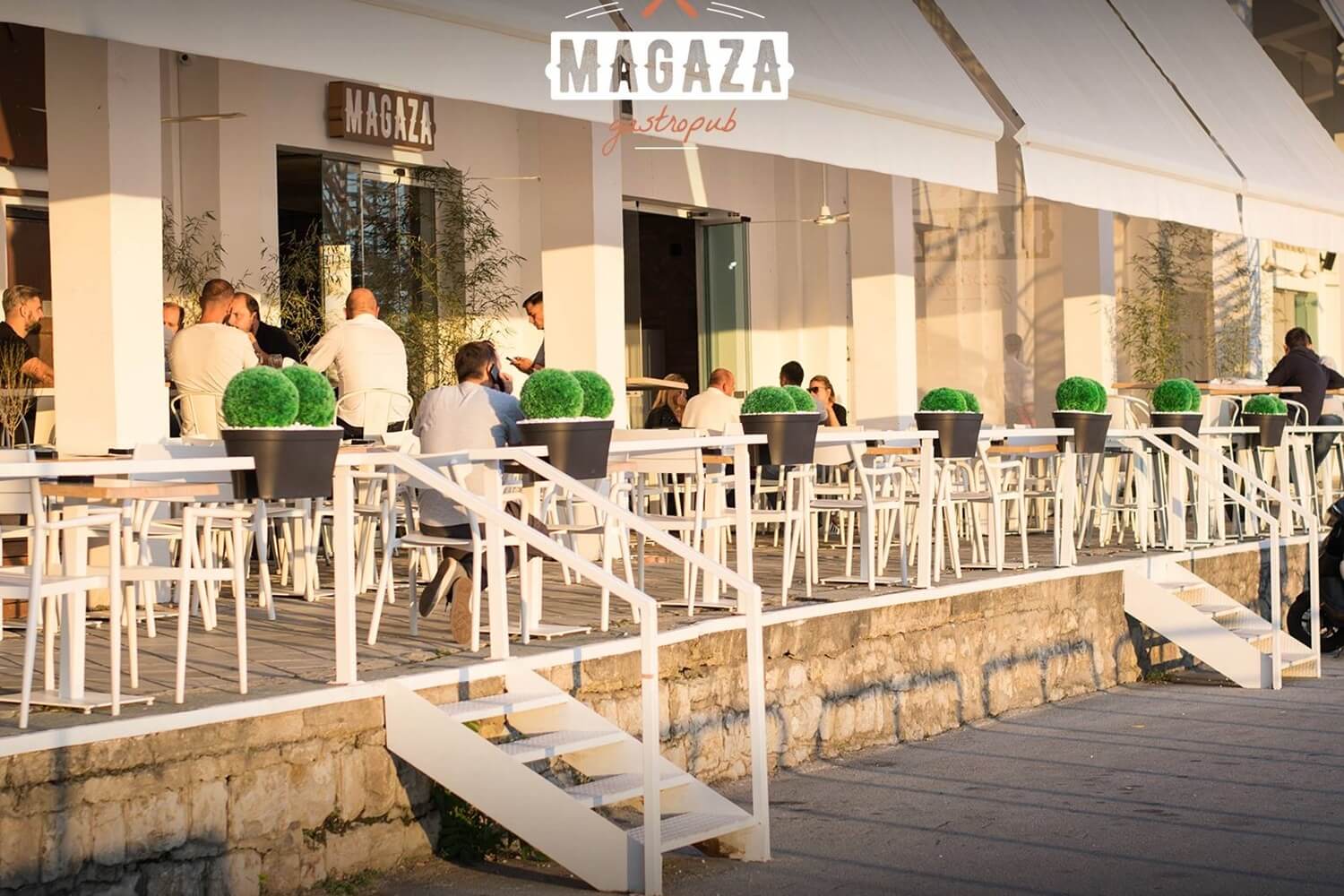 Settle comfortably, look at every detail, and then order some of the delicious international specialties and indulge in true culinary magic. Top chefs with years of experience strive to make every dish simply perfect, and the combination of spices and the highest quality ingredients will awaken all your senses. After a delicious meal, try some of the desserts that will melt in your mouth and give your body extra energy.
You can enjoy all this and much more on the beautifully decorated terrace of the Magaza restaurant. We are sure that after the first visit, this place will become one of your favorites when it comes to the Belgrade culinary scene.
FARO RESTAURANT
You don't have to go far to enjoy quality meals and a beautiful interior that is reminiscent of the world-famous restaurants. Just stop by the well-known Belgrade Concrete Hall and visit the Faro restaurant.
A place with the most beautiful flavors, a place where you can satisfy your desire for seafood, fish and Mediterranean specialties. In the diverse range of Faro restaurant, anyone can find something that will open their appetite and make them enjoy every single bite.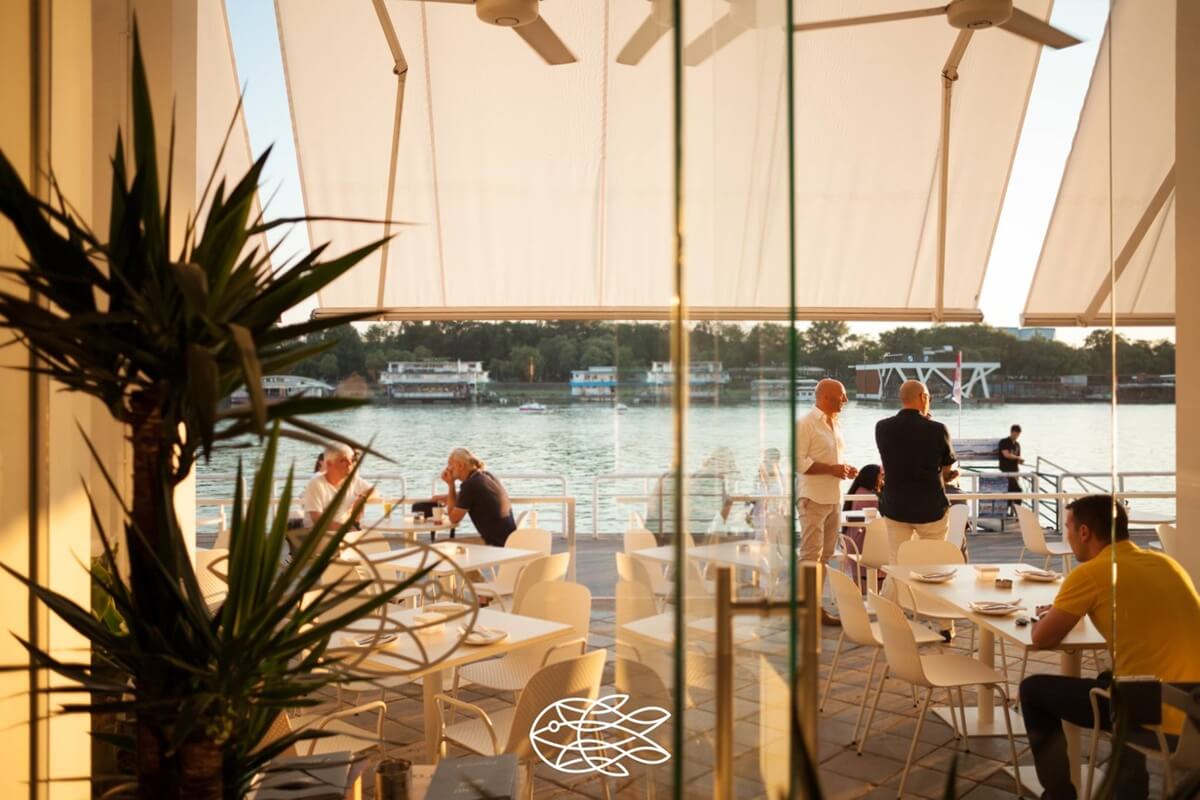 Although this is primarily a seafood restaurant, those who still prefer lamb, duck, chicken have a great reason to visit it. In addition to fish, there are other meat and vegetable specialties, as well as delicious desserts. A well-oiled team takes care of the selection and preparation of food, using their years of culinary experience to create a true oasis of enjoyment on your plate. Not only that, but the guests of the Faro restaurant can also choose many quality drinks, and experienced servers will gladly recommend some of the famous wines coming from the well-known wineries of Fruška Gora.
Relax and enjoy the extraordinary river view while savoring your favorite dishes, relaxed ambiance and cozy atmosphere.
ŠEST TOPOLA RESTAURANT
The Šest Topola restaurant is a truly special place in Belgrade's gastronomic scene. Not only because of its excellent service and superb food, but also because of the perfect location of this restaurant.
Situated on the banks of the Sava River, behind the Belgrade Fair, the Šest Topola restaurant offers something that most restaurants cannot - a natural shade beneath the poplar trees and a fabulous view of the flowing river.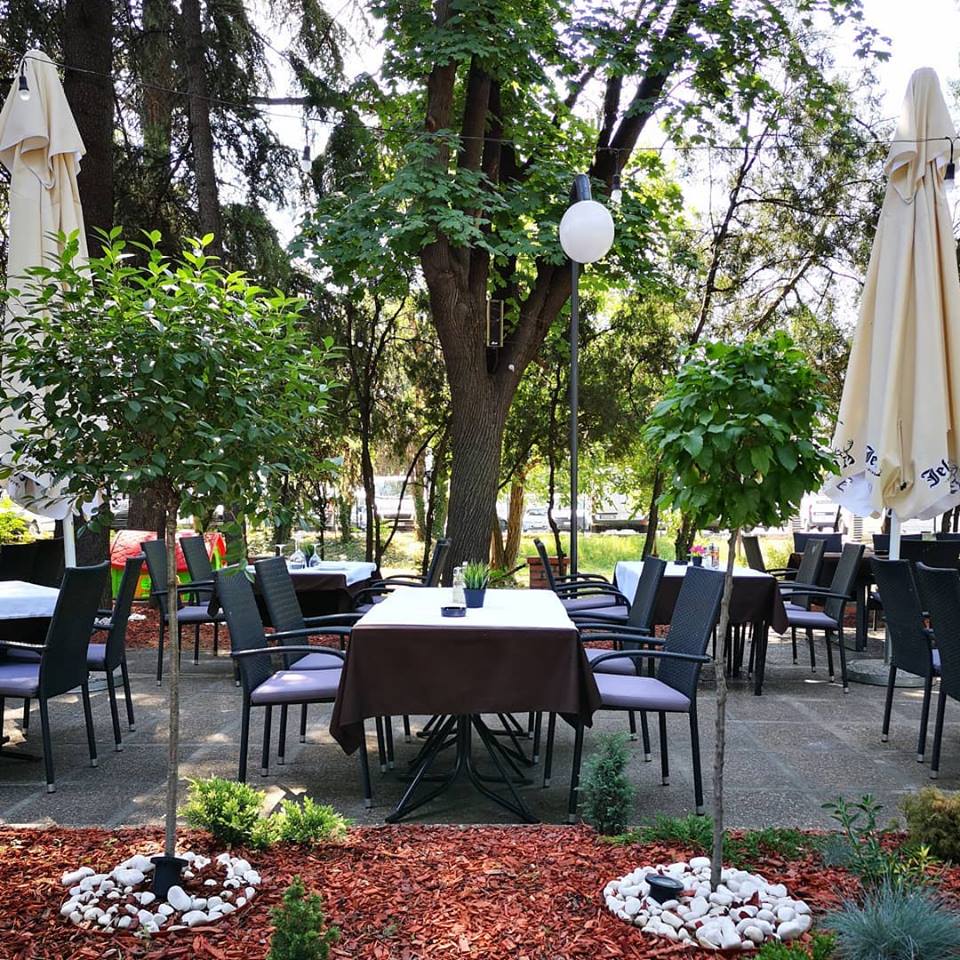 If you like local dishes and perfect fish specialties, then you won't make a mistake if you choose the Šest Topola restaurant. Experienced culinary masters strive to prepare gastronomic delicacies for all restaurant guests every day, which win them over after their very first taste. Whether you decide to celebrate some of the most important events in your life here or if you decide just to have your morning coffee, one thing is certain - everyone who visits it once will become a regular guest of this beautiful restaurant.
The perfect blend of tradition, modern elements, delicious food, and superb service have made the Šest Topola restaurant an attractive place for family, business or lunch with friends for 14 years now. Experience speaks more than a thousand words, so visit it and see why it had survived all these years.
ŽABAR RESTAURANT
Belgrade is a city that boasts many beautiful promenades that are visited by a large number of people during the summer. Still, one of them takes the number one spot, not only because of its nature and orderliness but also because it has a number of great restaurants. That is, of course, the Zemun Quay, and one of the restaurants that welcomes you there every day is the Žabar restaurant.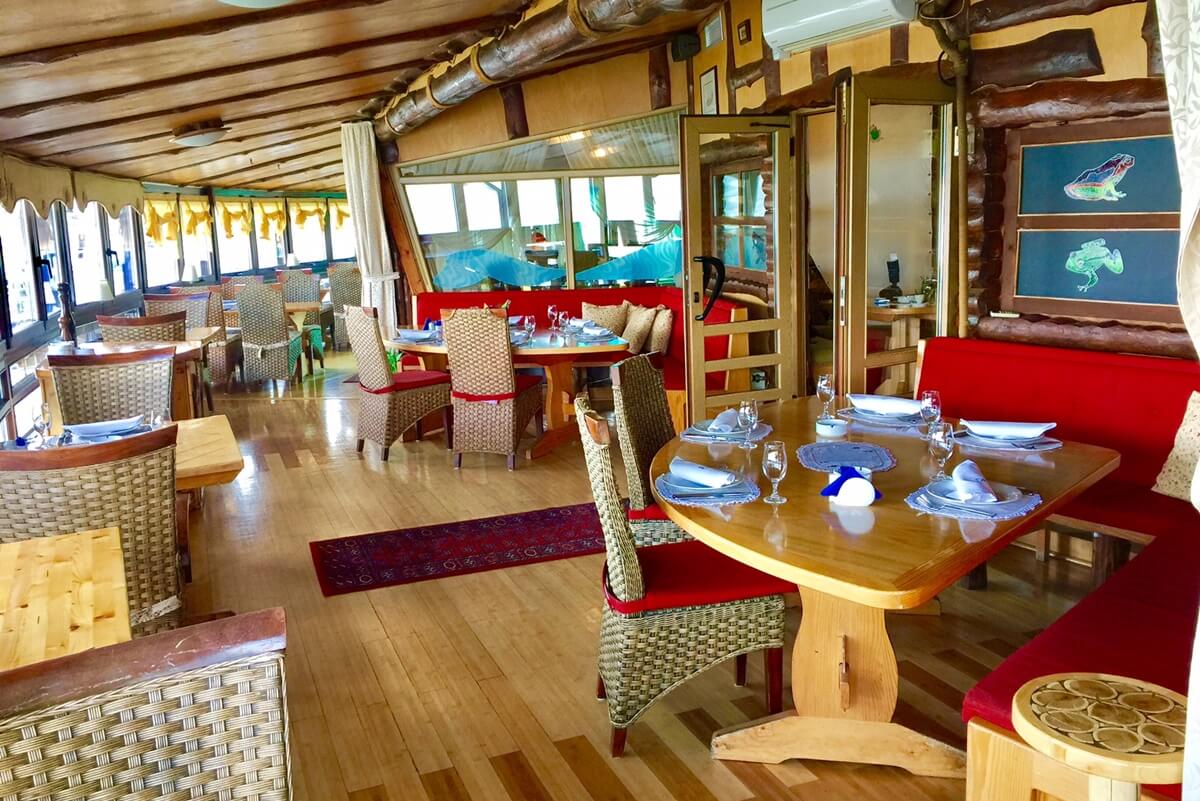 Located just behind the Yugoslavia Hotel, this fantastic restaurant welcomes its guests in a pleasant family atmosphere, with an excellent offer of international, local and fish specialties. If you are tired and want to take a short break, here you will have the opportunity to relax and enjoy the kindness of the staff, the culinary skills of the chefs and the beautiful view of the river. The unusual design and natural materials make it a place ideal for all lovers of nature, positive energy, and comfort.
For over two decades, this restaurant has been an integral part of Zemun. See for yourself the quality and taste of every dish that comes out of Žabar's cuisine and we are sure that it will become your favorite restaurant in Belgrade.