GOURMET GUIDE FOR TOURISTS: These are the most popular Serbian meals that you have to try
Serbian kichen is based on combination of the meat and vegetables. It is delicious and full of flavors. If you are visiting Belgrade, there is no better place to try tradicional recepies, because this town has all types of kitchen – nacional, internacional, exotic, vegan, and great restaurants where you can explore each one of them.
But, if you want to you Serbian experiance be complete, you have to try some of their signiture dishes. We will describe some of them for you, so you can know what to espect.
SARMA
Presenting you the most popular dish, the one and only sarma. In Serbia, everybody loves sarma, so it is a must have dish on a weddings, baptisam, slava (Serbian Orthodox Christian tradition of the ritual glorification of one's family's patron saint) and other kind of celebrations.It's made out of the Saurkaut, rice,  ground meat, and some kind of dried meat or sausages. In the autumn, the cabbage is put in the big burrel full of salt and wather. Cabbage is left for at least one month to sours. When the cabbage is ready, leaf by leaf is filled by mix of the ground meat and rice, then rooled and stuch in the pot. Dried meat, usualy bacon, or sasuage, or bouth is then spread on the sarma to give it more flavour.
In one word – perfecttion, suitable for any time of year, but especially  on the cold days.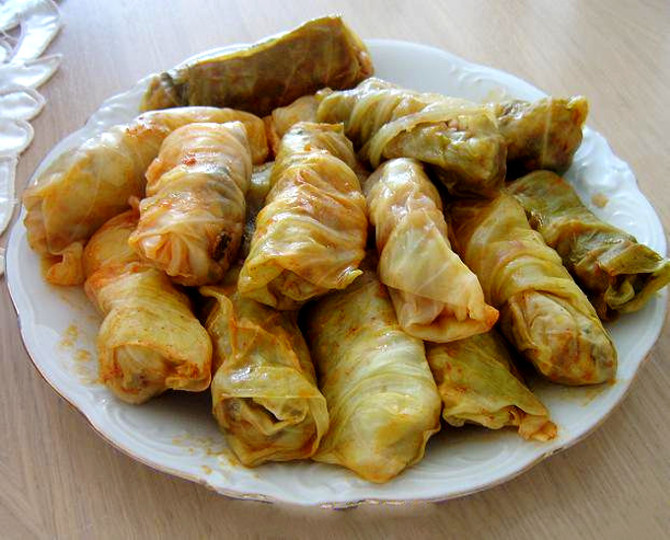 ČVARCI
This specialty is very popular in Serbian cuisine, and it's variant of pork rinds. They are a kind of pork 'crisps', with fat thermally extracted from the lard.
Čvarci are mostly a rustic countryside specialty, but these days you can find them almost in every market or restaurant. They are usually homemade, and very, very delicious.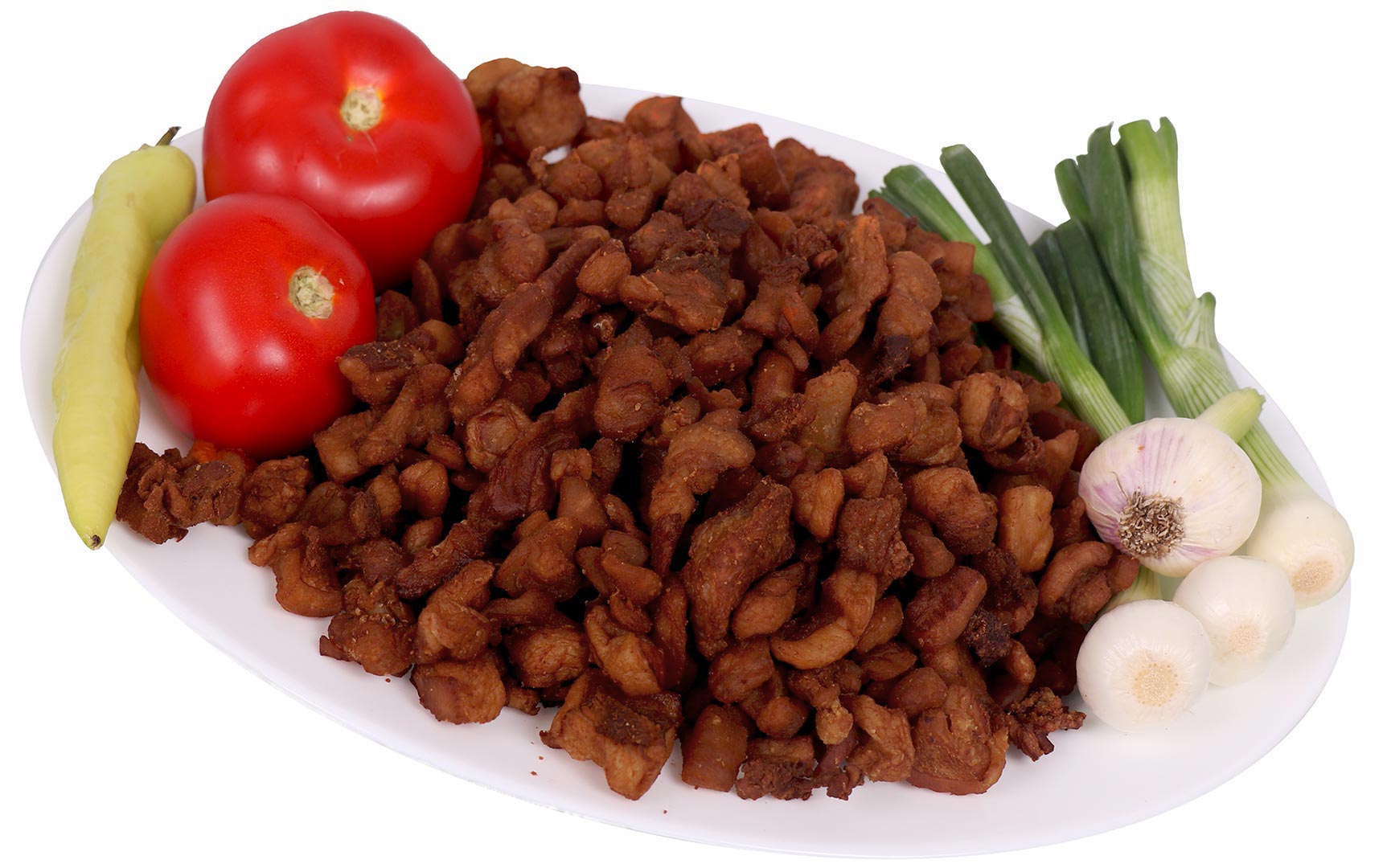 KAJMAK
Кајмак is a creamy dairy product, similar to clotted cream. It is great spread on bread, and very popular with Serbian barbecue.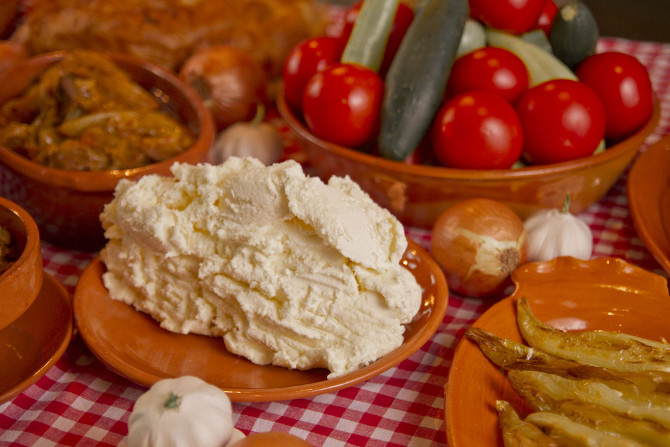 AJVAR
Ajvar originates in the Serbian cuisine, and it's a popular salad/side dish.
Original homemade ajvar is made of roasted peppers, while some industrial producers use cooked peppers, which leads to a lower quality. Depending on amount of added chili peppers, it can be sweet, piquant (the most common), or very hot.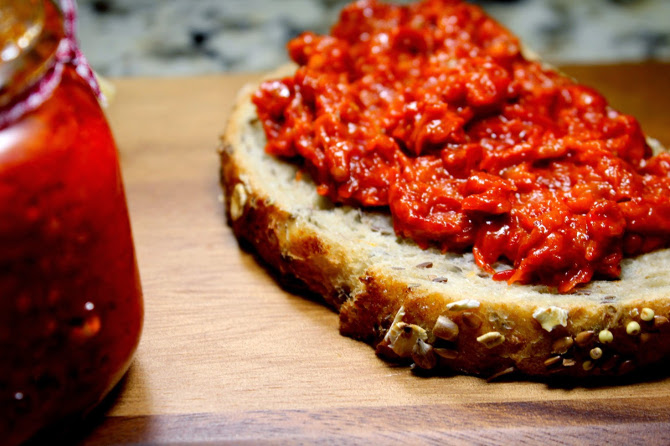 PEČENJE
Pečenje basically means roasted meat (whole roasted pork, lamb or goat). It's one of the most popular dishes in Serbia, and inseparable friend of sarma on celebrations like weddings, baptisams and especially slava.
Pečenje can sometimes be very greasy, especially when served cold, which is very common. In fact, it's more common in Serbia to eat pečenje cold than warm.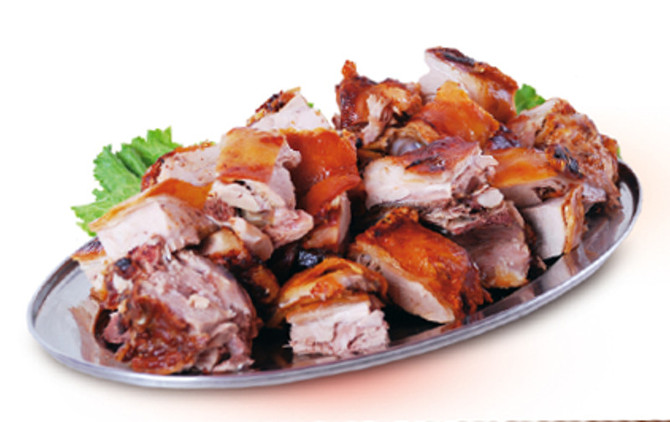 KARAĐORĐE'S STAKE
Karadjordje's steak is a dish named after the Serbian Prince Karadjordje. Because of it's shape it is also called "the girls' dream". It is a rolled veal or pork steak, stuffed with kajmak, breaded and baked (or fried). It is served with roasted potatoes and tartar sauce.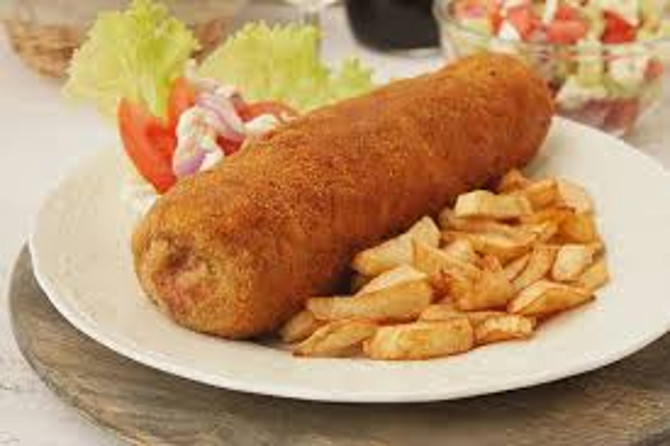 PROJA
Proja is a Serbian dish made of cornbread. It used to be popular in times of widespread poverty, mostly before the 1950's, but is now a common everyday meal. It is often mistaken with projara, a somewhat fancier variant of proja.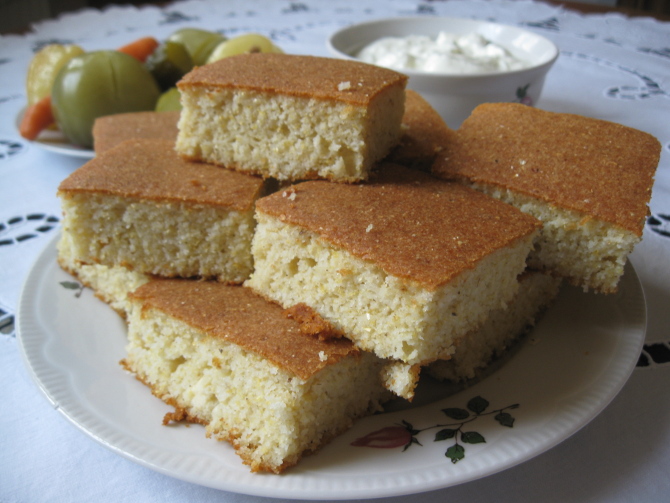 Try these specialties in the best Belgrade nacional kitchen restaurants  such as: Dva jelena, Tri šešira, Stara kafana or Pahuljica.