FOLLOWING THE BOHEMIANS STEPS: This iconic restaurants which are the soul of Belgrade
Svaki grad ima ona posebna mesta koja su tu odvajkada i bez kojih se on ne može zamisliti. Gde možete da osetite tradiciju i duh grada koji pulsira kroz zidove i oslikava minule godine. Beograd ima mnogo takvih mesta, ali neka su sa pravom nezaobilazna već decenijama. Mesta na kojima ne možete da se osetite ni staro i mlado jer su omiljena svim generacijama. To su mesta na koja ćete uvek prvo odvesti svoje prijatelje iz inostranstva, kako bi im približili bogatu istoriju Beograda čiji su neizostavni deo baš ovi lokali.
Every city has a special places that are there forever i without it you can't even imagine the 
To su:
1. RESTAURANT DVA JELENA
Restaurant Dva jelena (Two Dears) is one of the city most famous taverns  without a bohemian life in Belgrade can't be imagined. It's founded  back in 1832 and for almost two centuries is one of the most representative place in the city. Located in the heart of Skadarlija, it represents the true spirit of old-fashioned tavern which only a few other restaurants today have. In the restaurant Dva jelena you'll feel like you've traveled back in time to a simpler and happier times. 180 years of tradition in itself has preserved so many memories that represent the true little historical treasur of old Belgrade. Quality and delicious specialties of Serbian cuisine, as well as the perfect service, have made of this tavern a brand that can not be copied. The old music and bohemian ambiance are attractive tavern destination for all generations,  that do not leave anyone indifferent.
The restaurant is particularly proud of its famous guests, which made it even more famous and more recognized, among them, many artists and titans like Janko Veselinovic, Laze Kostića, Djura Jaksic, Milovan Glisic, Tina Ujevića and many others .
There are many taverns in Belgrade, but few with a soul. Restaurant Dva jelena is one of them. It is the heart of Skadarlija, woven into the very core of the old, but also an inevitable part of a new, modern Belgrade.
Location: Skadarska 32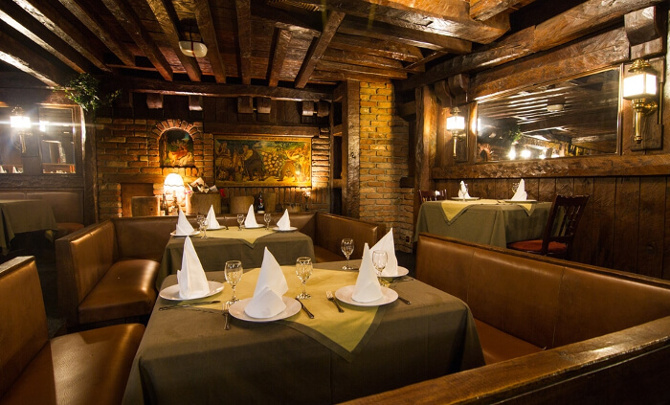 2. RESTAURANT TRI ŠEŠIRA
Tavern "Tri šešira" is definitely one of the oldest taverns (kafanas) in the bohemian quarter of Skadarlija. Opened in 1864. in a house that previously served as a craft workshop, and its trademark were three brass hat, hence the tavern name - "Three hats". When the famous Belgrade tavern "Dardaneli" was demolished in 1901., Belgrade nightlife moved to the street of Skadarlija, especially to the "Tri šešira".
Many of Belgrade's most famous writer and artists have spent a fair share of their days in this tavern. Skadarlija witnessed some great artwork being created in the past. Restaurant "Tri šešira" had the pleasure of welcoming some famous historical figures, like Djura Jaksic, Branislav Nusic, Cica Ilija Stanojevic, Tin Ujevic and many others. Nowadays we welcomed some well known public figures including Juan Carlos I, George Bush, Willy Brandt…
The restaurant is able to accommodate 184 guests indoors, and additional 80 guests in the outdoors garden. Specialities being served include warm and cold appetisers, soups and chowders, traditional grill specialities. A wide range of drinks is available including various types of rakijas (schnapps). Tavern "Tri šešira" offers you a great night program with a live tambour orchestra performance.
Location: Skadarska 29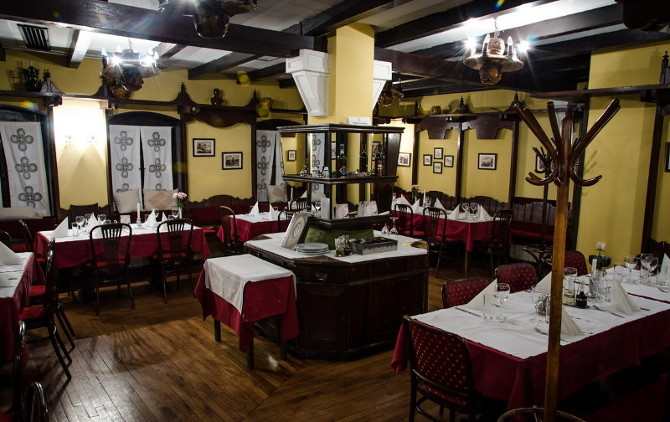 3. RESTAURANT TRANDAFILOVIĆ
True love for the kitchen and the generations that have perfected the recipes, will make you love the restaurant Trandafilović at a first bite of their delicious meals. Trandafilović is one of the oldest restaurants in Belgrade, considering  that was built back in 1929 year. It was demolished in 1961, and today's appearance was given 6 years later. Behind this restaurant and its quality stands eighty years of successful and dedicated work. The trademark of the restaurant is 150 years old and 23 meters high platan tree, which on hot days offers a thick shade and salvation from the summer heath.
Home-like atmosphere of the restaurant  is like an oasis in the bustling heart of the Vračar, in Mekenzijeva street. The story about Belgrade as it once was it's told by every detail carefully incorporated into the interior of bistro Trandafilović.
One thing is certain - if you want to try home-made plum dumplings, real local spicy kebabs, or other tradicional recepes,  then this is the place for you. Come and see for yourself!
Location: Corner od Makenzijeva and Mutapov street