The best fish restaurants in Belgrade in 2021
All lovers of good Mediterranean cuisine finally have a reason to rejoice. Belgrade finally became a place where you can enjoy the finest specialties made with fish and seafood.
In recent years, interest in Mediterranean cuisine has been on the rise. Restaurateurs recognized this need, so they are now offering a wide range of dishes that - until now - could only be found in restaurants on the beach.
If this news made you happy, the only thing you have to do is visit one of the finest fish restaurants in Belgrade and enjoy the smell and taste of the sea.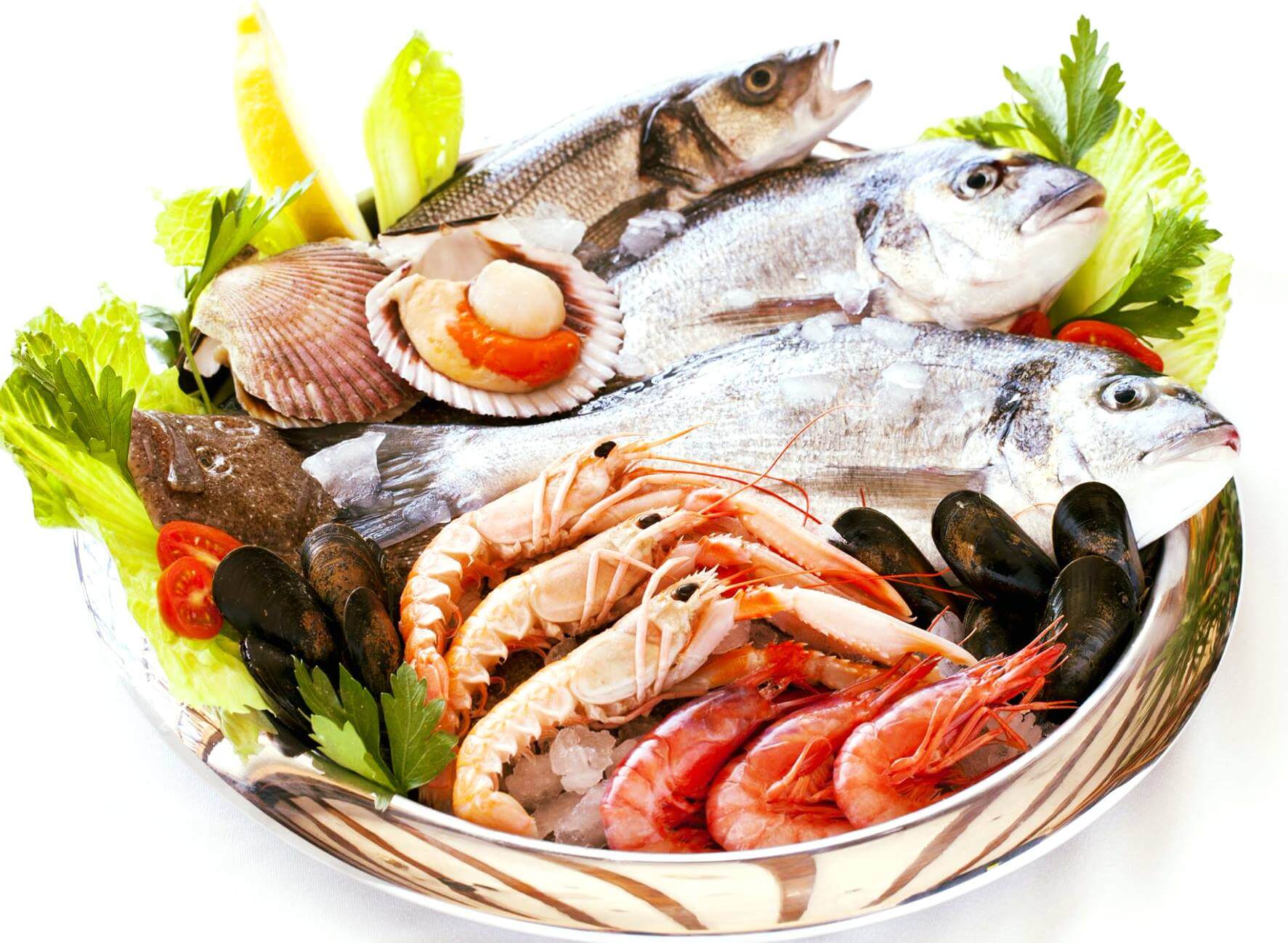 And while you are eagerly waiting for summer in Belgrade, remember all the things this season brings. One of many interesting events is the Summer in Skadarlija (Leto u Skadarliji). This manifestation is organized in the open, helping the lovers of this Bohemian district to relax and forget about the summer heat and humidity.
Belgrade nightlife is much more diverse during the summer, and numerous floating river clubs represents a great way to experience unforgettable enjoyment under the clear sky.
When you have a craving for real fish specialties, there are restaurants that will, with its ambiance and excellent cuisine, make you feel like you're on the shore of the sea. Delicious food and cold glasses of good wine are an ideal escape from everyday life. That's why we present some of the best seafood restaurants in Belgrade in which you will surely enjoy.
RESTAURANT AHH... RIBA
Restaurant Ahh... Riba is a restaurant where the most perfect fish and seafood specialties are served. The restaurant was first opened in Podgorica, the capital of Montenegro. Following many years of successful business, another restaurant was opened in Belgrade so that more people would have the opportunity to experience the taste of real seafood.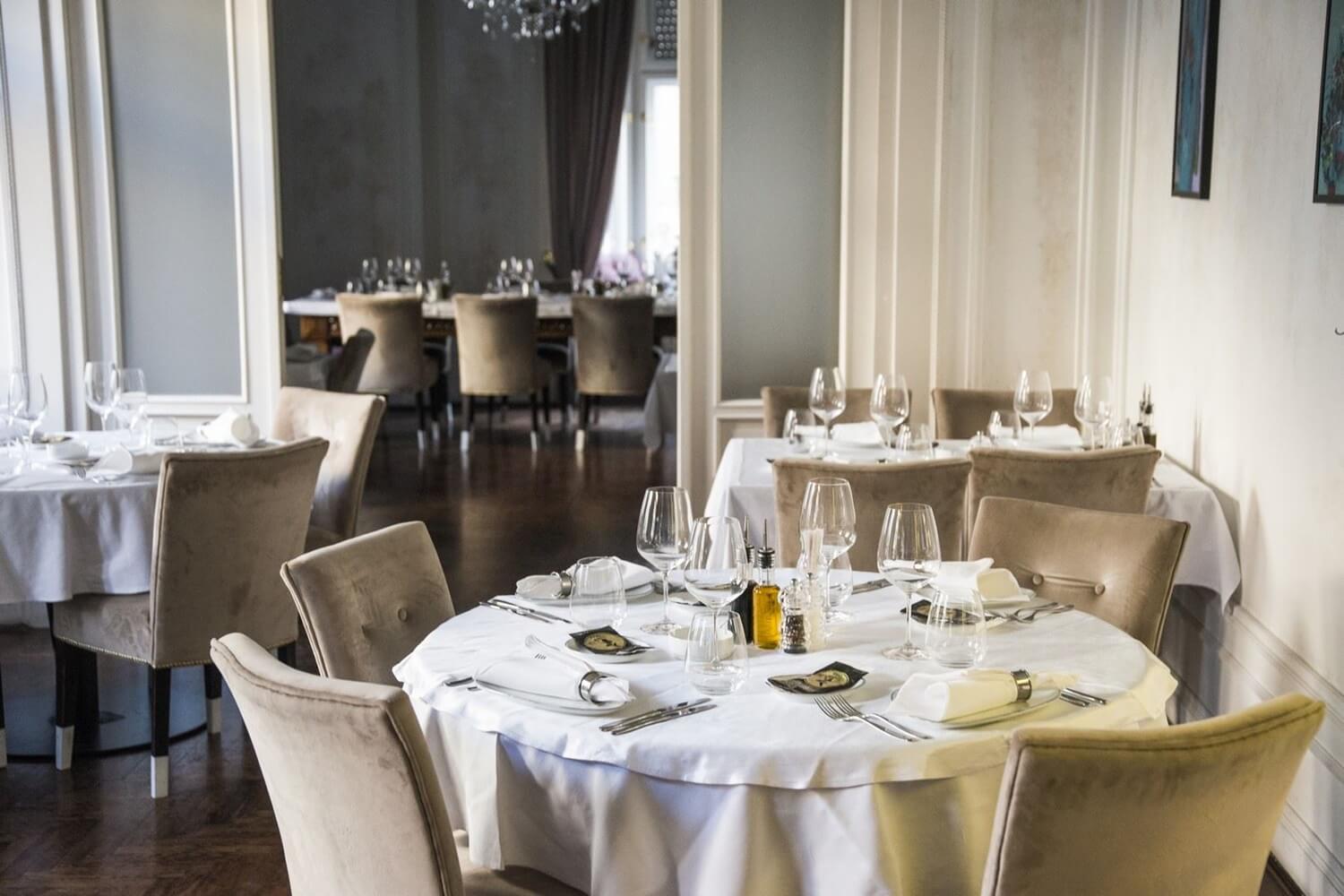 You can try tastes that will immediately evoke memories of walks along the beach in the very center of the city.
Experienced chefs prepare real culinary masterpieces by using the highest quality ingredients. Considering that the restaurant Ahh... Riba wants to provide top quality and a great experience to its guests, the restaurant's goal is to always strive for perfection.
The whole concept of Ahh ... Riba restaurant sets it apart from other fish restaurants in the city. It has a special advantage - it is in possession of a boat sailing the Adriatic Sea and catching fish which is sent directly to the restaurant. In that way, the restaurant Ahh... Riba controls the quality, origin, and freshness of its ingredients and guarantees their perfection.
Although sea specialties dominate on the menu, there are numerous kinds of pasta and a few meat dishes for those guests who do not prefer fish.
All the dishes are excellent, and we recommend the wonderful fish stew.
Sashimi with 24 kinds of fish from the Adriatic Sea is the specialty and unique delicacy of this restaurant.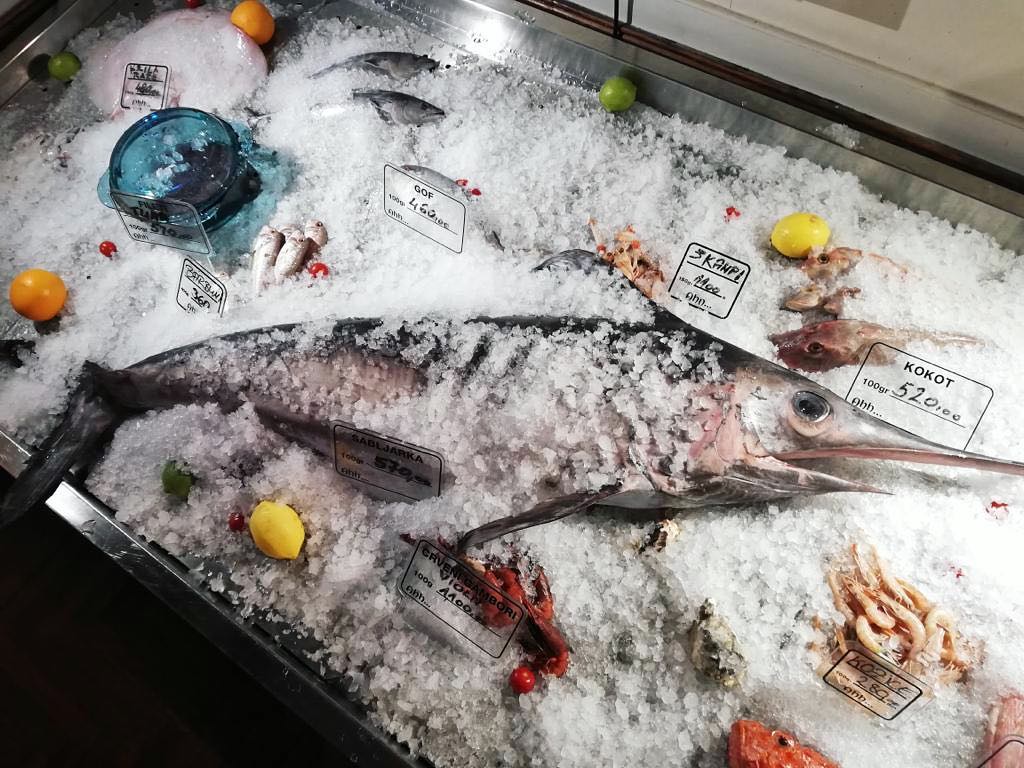 More information: Ahh… Riba Restaurant
Address: Obilićev Venac 27/2
Working hours: Every day from 11h to 01h
Reservation number: +38166002400 (Call, SMS, WhatsApp, Viber)
RESTAURANT TATA MATA
The tavern & wine bar Tata Mata represents a true delight for all lovers of fish and seafood specialties. By offering the finest fresh fish, this restaurant has become one of the best fish restaurants in Belgrade.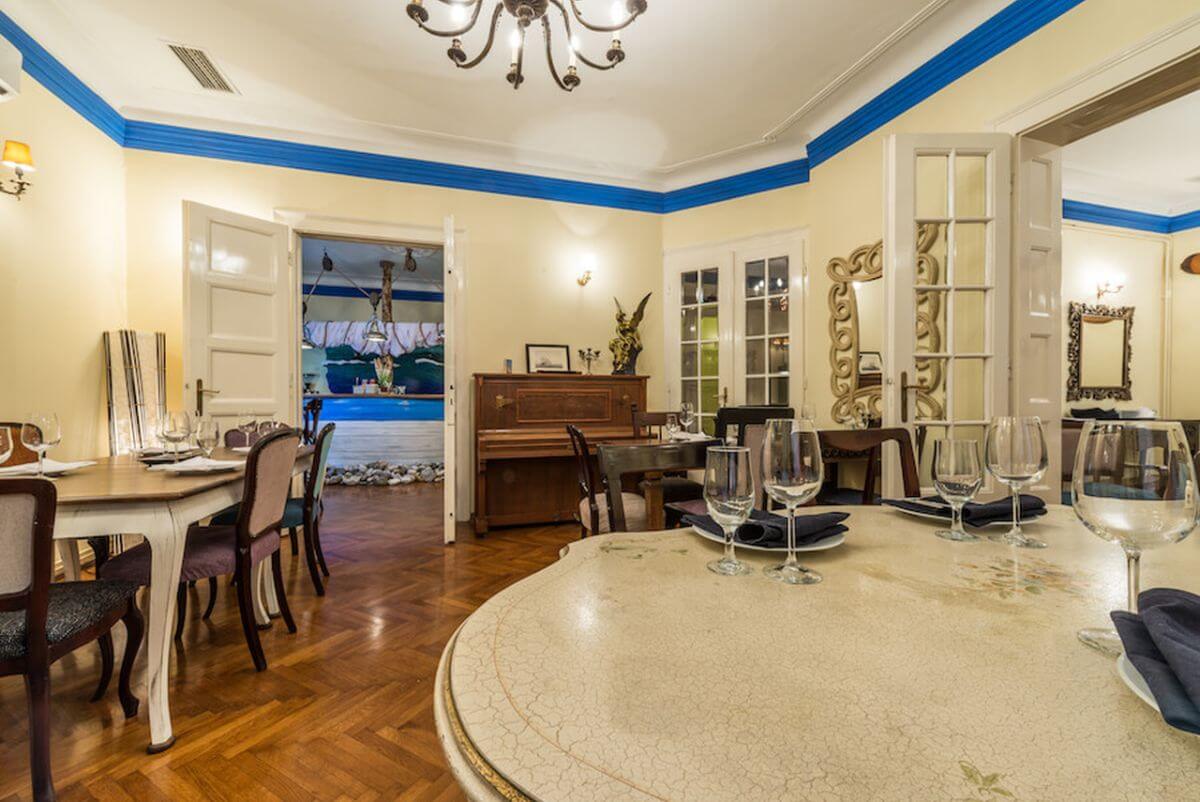 In order to enjoy the finest fish and seafood, it is not necessary for you to travel far, just go to the center of Belgrade, where a special place, located in Dalmatinska Street, awaits you. A place where you can eat the most delicious specialties like the octopus, tuna, or cod.
A large number of delicious fish specialties are prepared every day under the watchful eye of the culinary artisans at the Tata Mata restaurant. Particular attention is paid to each and every ingredient and spice so that the taste of each dish is perfect. Prepared in the best possible way, meals that come out of the kitchen of this authentic restaurant can be compared with the dishes found in famous Mediterranean restaurants.
In order for your enjoyment to be complete, there is a large selection of local and foreign wines, without which these fish specialties would not taste the same. With a pleasant atmosphere, perfectly prepared food and a true sea ambiance, every stay at the Tata Mata restaurant causes a tide of the most exhilarating satisfaction.
Make the whole pleasure even better by treating yourself, after a tasty lunch, with some of the delicious desserts that the experienced chefs prepare for guests of the Tata Mata restaurant.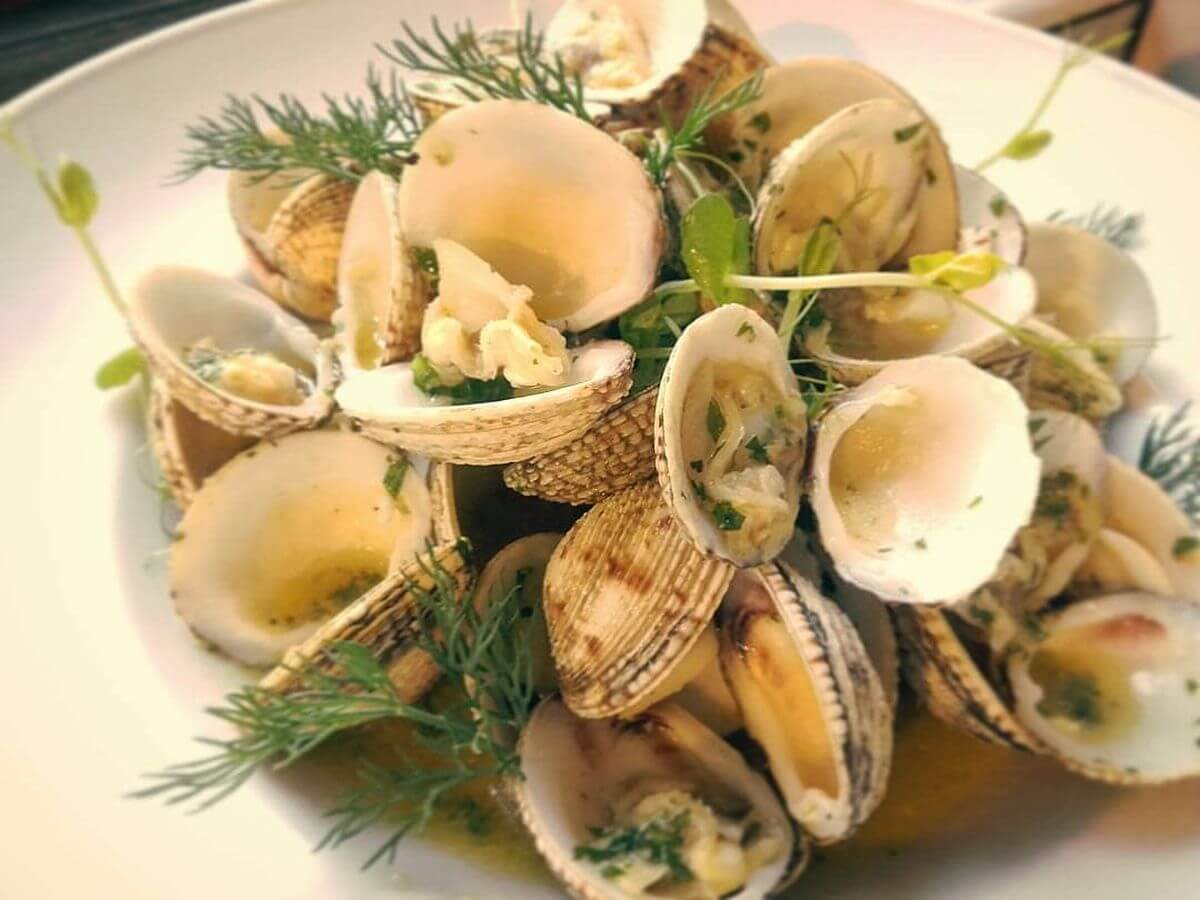 More information: Tata Mata restaurant
Address: Dalmatinska 98
Working hours: Sunday - Thursday: 12:00 - 00:00; Friday - Saturday: 12:00 - 01:00
Reservation number: +38166002400 (Call, SMS, WhatsApp, Viber)
RESTAURANT SENT ANDREA
If you want to enjoy yourself by the river, the Zemun Quay is one of the best places for that. In addition to offering many attractions for all generations, it is also the place where the best Belgrade fish restaurants are located - including the Sent Andrea Restaurant.
This restaurant is very famous for its perfect reputation. It has a high ranking on the sites that deal with the quality assessment of restaurants in Belgrade.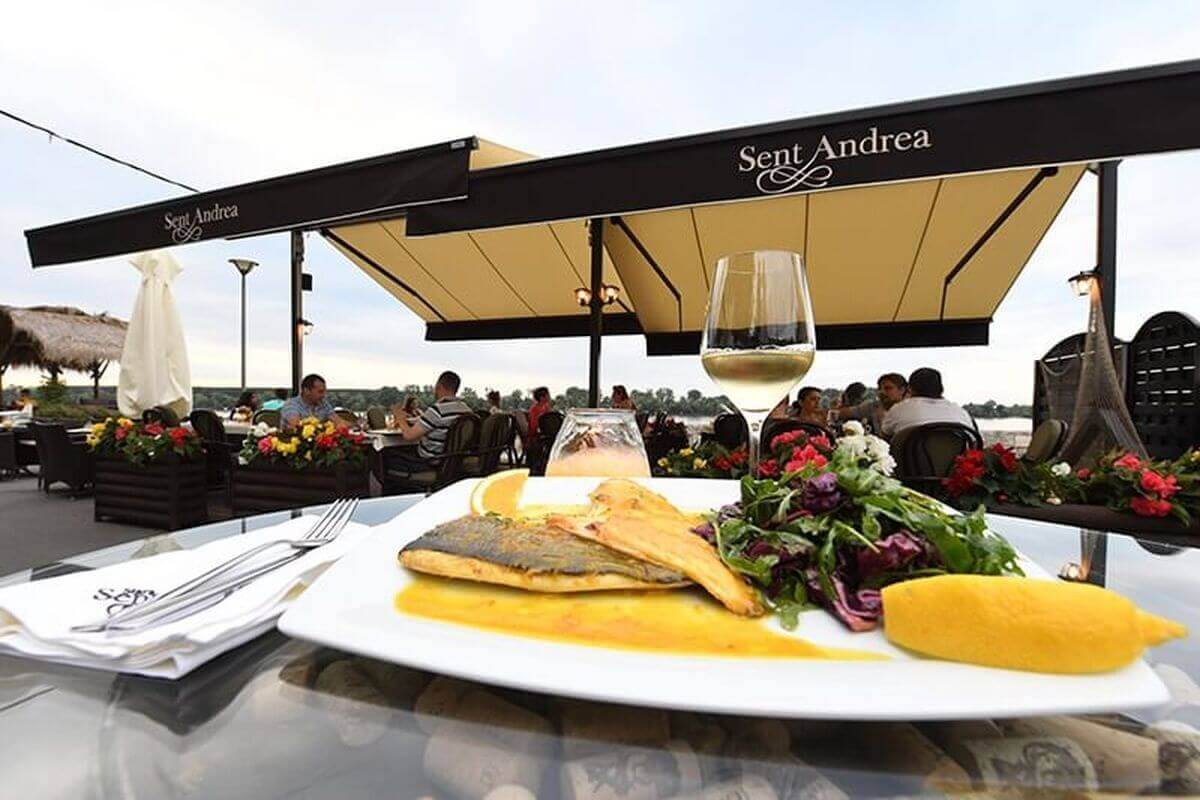 Its interior design is based on the Adriatic taverns, with a lot of interesting seaside details. Replicas of ships, fishing nets and shells perfectly complete the entire space. You will have an impression that you were magically teleported into an authentic tavern near the sea.
The Sent Andrea Restaurant also has two large gardens with a magnificent view of the Danube. The gardens are equipped with large umbrellas that provide nice shade, making the gardens an ideal place for enjoyment even during the hottest summer temperatures.
However, the excellent food is definitely the best part of this restaurant. Whenever you feel like eating seafood, you have to come here. The freshness of all seafood specialties is guaranteed, as all seafood comes directly from the fishing nets of Adriatic fishermen - every day.
Of course, in this restaurant, you can also try top quality and perfectly prepared river fish.
If you go to dinner with a large group of friends, and some of them do not like fish and seafood, this restaurant is still the ideal place for you. There is a section on the menu called "Safe Land", which contains meat specialties, additionally, a large selection of pastas is also available.
The sommelier will be at your service at any time to recommend the perfect wine for your meal from the extensive wine list. The entire staff will work hard to provide maximum comfort and to make your stay in this restaurant a really special experience.
The beautiful and interesting ambiance, impeccable service and perfect location make Sent Andrea a perfect place to enjoy and taste top-quality specialties. Reservations for this restaurant are free but mandatory since it is very popular among seafood connoisseurs.
Coal grilled bass fish is the specialty of Sent Andrea Restaurant which every fish lover needs to try. The coal gives a specific taste to the bass fish, which will undoubtedly delight all your senses.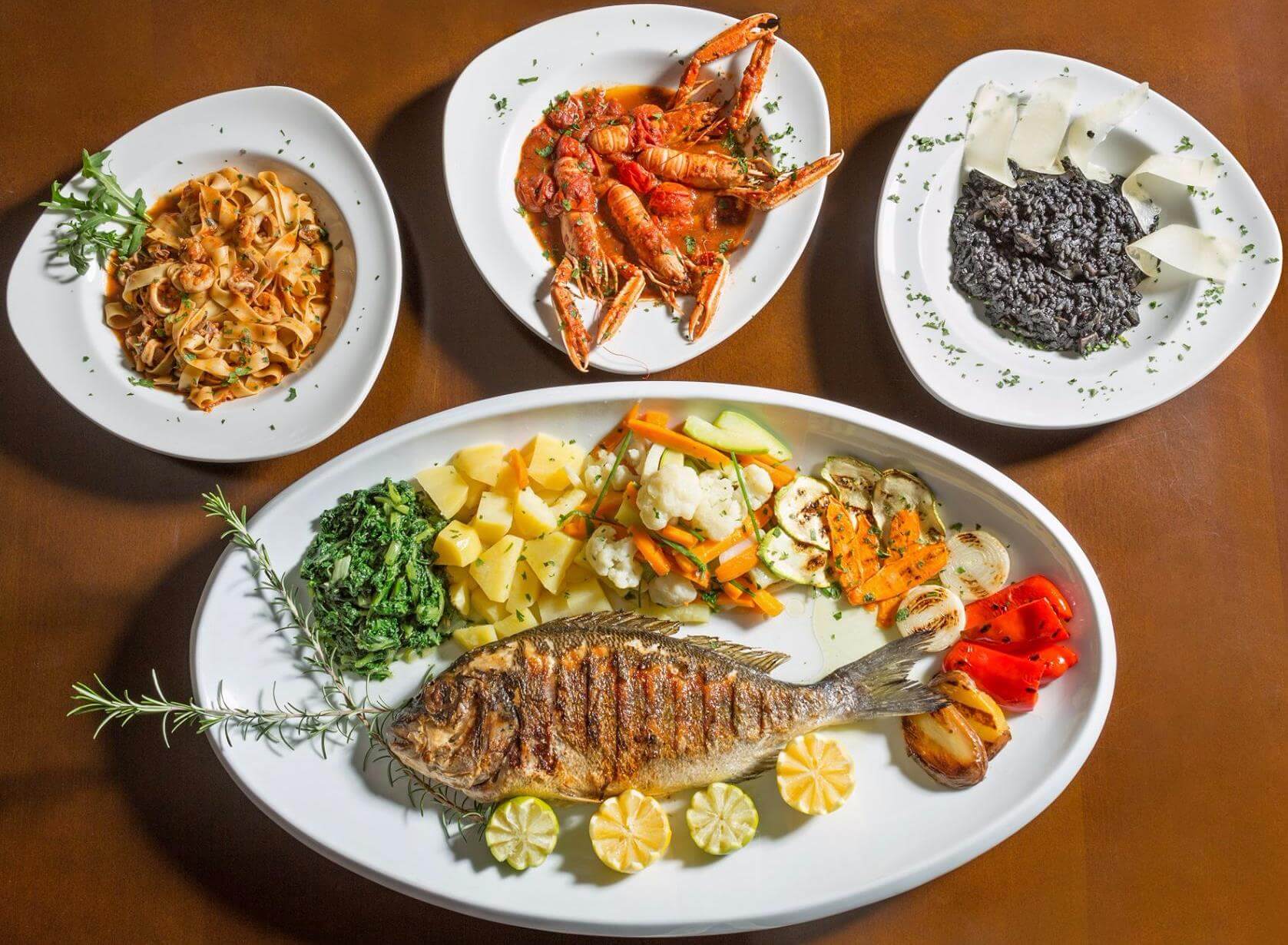 More information: Sent Andrea restaurant
Address: Kej Oslobođenja 35
Working hours: Every day from 12:00 to 01:00
Reservation number: +38166002400 (Call, SMS, WhatsApp, Viber)
RESTAURANT BEVANDA
For nearly two decades, Vračar has been proudly bragging about having one of the best places to enjoy fish specialties – the Bevanda Restaurant.
Restaurant Bevanda stands out as a place where you can always try a guaranteed fresh and high-quality fish and seafood.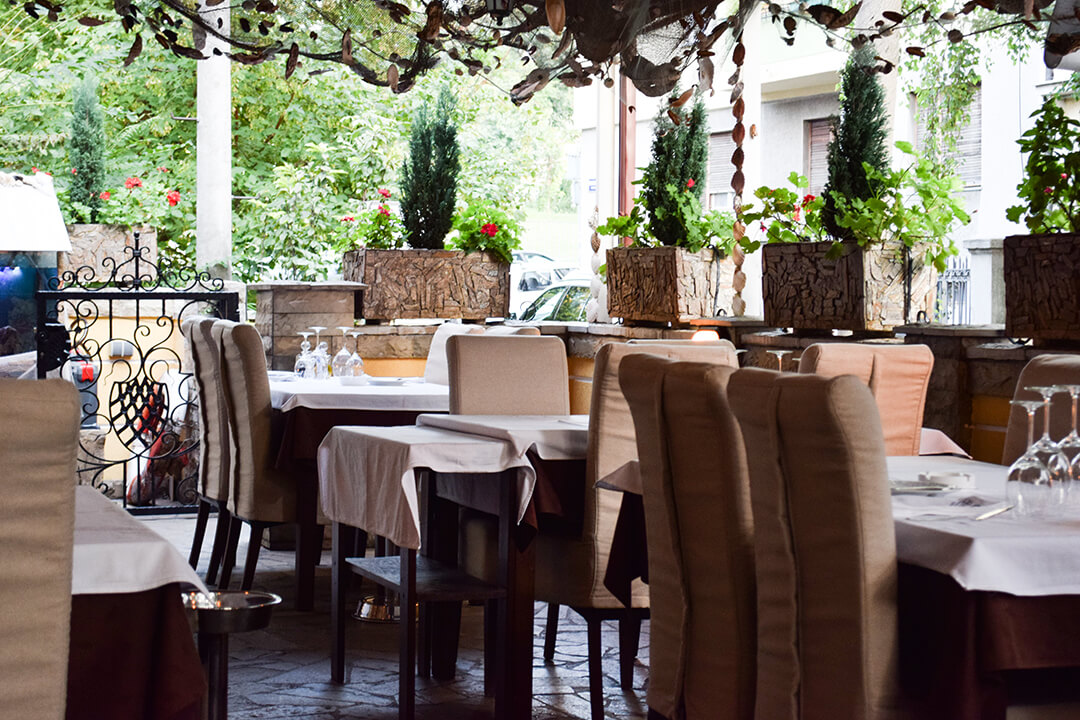 This restaurant has a homely, pleasant, and hospitable atmosphere. The ambiance was modelled after coastal taverns, and the whole space is filled with interesting sea motifs. You will always feel welcome here - whether you are visiting for the first time or if you are a regular guest. The covered garden of this restaurant offers a nice spot to relax during the warm summer days while fishing nets hanging from ceilings and other marine details give it a special charm.
Eating seafood specialties in a city that does not have sea access can sometimes be risky - so play it safe and book your place at the established Bevanda Restaurant, since all of the ingredients used here arrive daily from the Adriatic, Ionian and Mediterranean seas. Transport is carried out by plane, so you are guaranteed fresh seafood.
The Bevanda restaurant menu includes a very diverse range of seafood as well as many different types of fish. The restaurant specialty is the octopus. If you have never tasted this specialty before, taste the octopus for the first time right here. Octopus is very difficult to prepare, however, the excellent chefs of the Bevanda restaurant turn this simple ingredient into a true rhapsody of taste.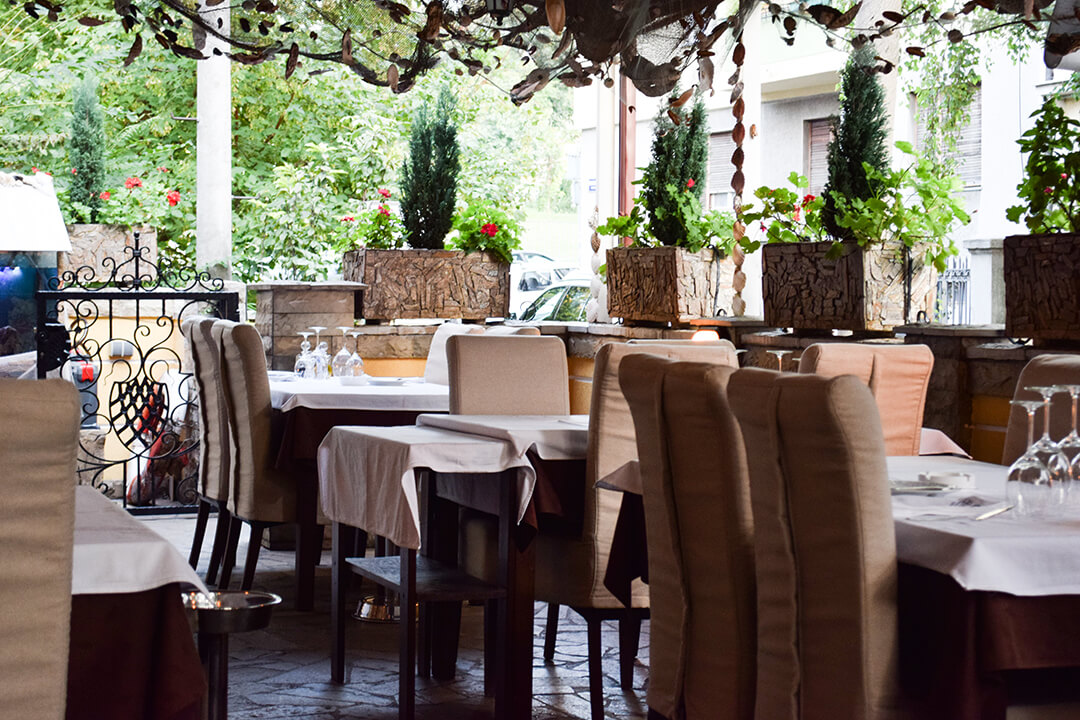 More information: Bevanda restaurant
Address: Požarevačka 51, Vračar
Working hours:  Every day from 12h to 00h
Reservation number: +38166002400 (Call, SMS, WhatsApp, Viber)
RESTAURANT PAPALADA
Papalada Restaurant embodies the spirit of the sea located in the very heart of city events. Situated in Francuska Street, this restaurant is famous for its impeccable quality and superior service.
If you are looking for a good meal with fish, you usually have to go to a restaurant next to a river, however, Papalada offers the same pleasure from a location that is easily accessible from all parts of the city.
Although it specializes in preparing numerous fish specialties, in addition to the Mediterranean cuisine, there is also a wide selection of international dishes on its menu.
All the dishes of the Papalada Restaurant are incredible, however, the black risotto, the Adriatic squid and prawns, different salads, as well as the pasta Alla Puttanesca stand out as some of its finest dishes.
This restaurant is ideal for intimate celebrations as it has a special VIP area which can accommodate up to 14 people.
Though decorated in a minimalist design, the ambiance of the Papalada restaurant exudes a pleasant and relaxed atmosphere, and its dishes are a special gastronomic delight. This is the perfect place to taste exclusive dishes like a lobster because you can be sure it will be perfectly prepared.
The chefs pay special attention to the preparation of each meal, as well as the visual aspect of the food.
One look at the plating presentation is enough to make your mouth water proving once again that visiting the Papalada restaurant is a real pleasure for all senses.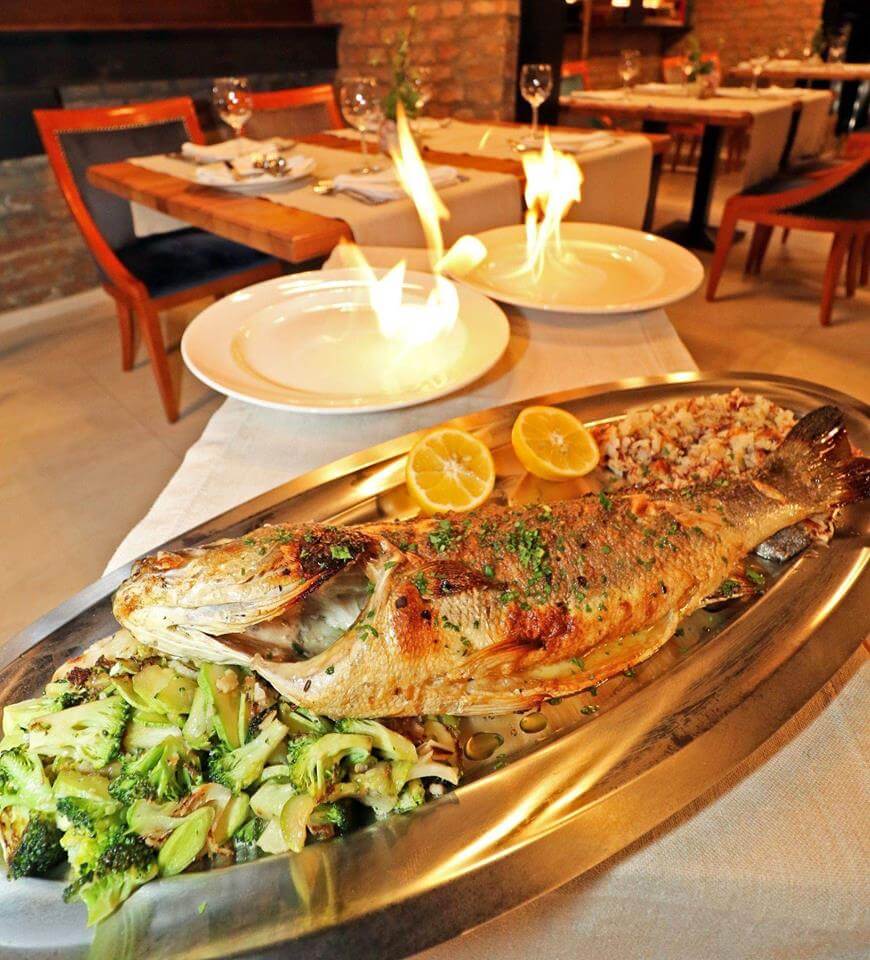 More information: Papalada restaurant
Address: Francuska Street 12
Working hours: Monday - Saturday from 10 am to 11 pm
Reservation number: +38166002400 (Call, SMS, WhatsApp, Viber)
RESTAURANT LANGOUSTE
Langouste restaurant, with its elegant interior and excellent fish and seafood specialties, joined the local catering scene almost two decades ago.
Since then, this restaurant has been one of the best in Belgrade when it comes to Mediterranean cuisine.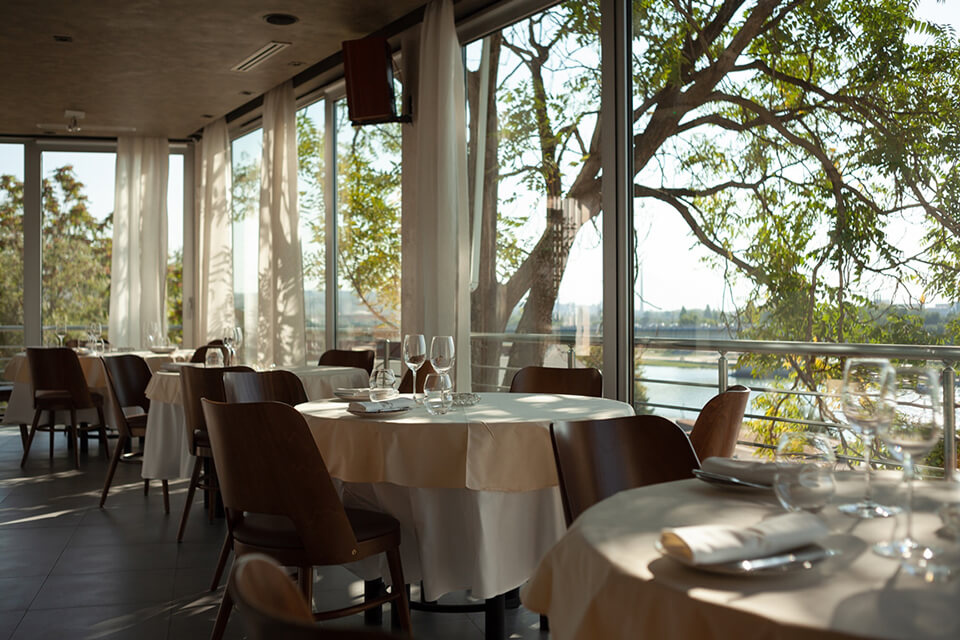 Restaurant Langouste is a place where you can find some unique dishes such as tiger prawns, lobsters, crabs... Even though it is located in Belgrade, and not by some seashore, Langouste Restaurant offers the finest pieces of fresh sea fish. In addition, there is also a wide range of quality wines, which give the fish an even better taste. Choose your favorite wine and enjoy.
The culinary abilities of some of the most eminent chefs from the region are not only evident in the preparation, but also in the perfect plating of the food, as special attention is paid to the presentation of the delicious dishes. Every dish that comes out of this restaurant is unique and appealing. And the taste... well, see for yourself.
In order to please those who have become accustomed to traditional food, some of our local dishes are included in the restaurant menu, so this is a restaurant where everyone can find something that suits their tastes.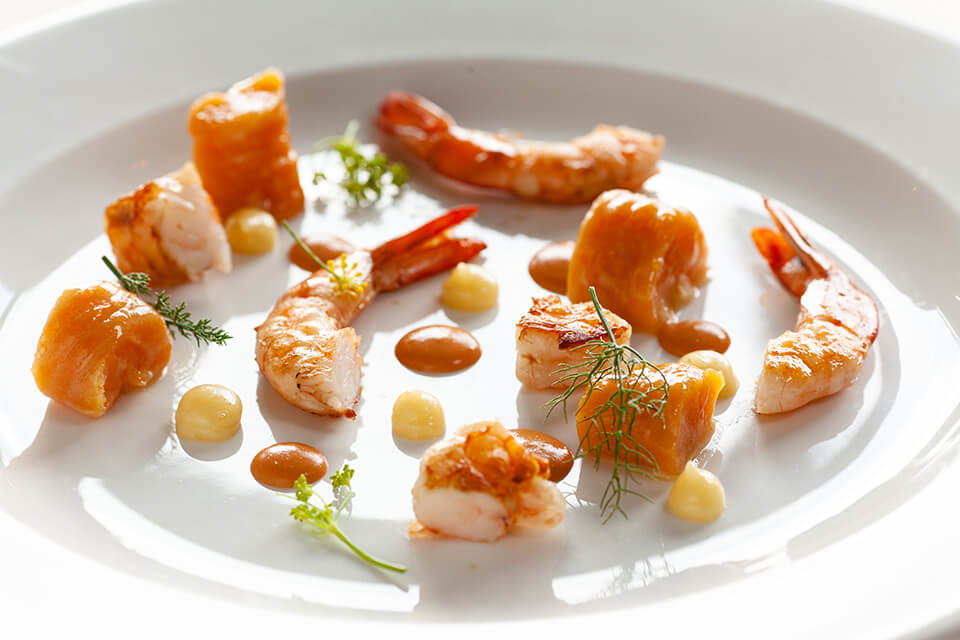 More information: Langouste restaurant
Address: Kosančićev Venac 29
Working hours: Monday - Saturday from 12h to 00h
Reservation number: +38166002400 (Call, SMS, WhatsApp, Viber)
RESTAURANT LEGAT 1903
Restaurant Legat 1903 is a place that occupies a high position on the gastronomic scale of the capital – for a good reason. The perfectly decorated interior of this restaurant makes you feel comfortable and relaxed, while the exceptional culinary abilities of its staff are displayed on each plate.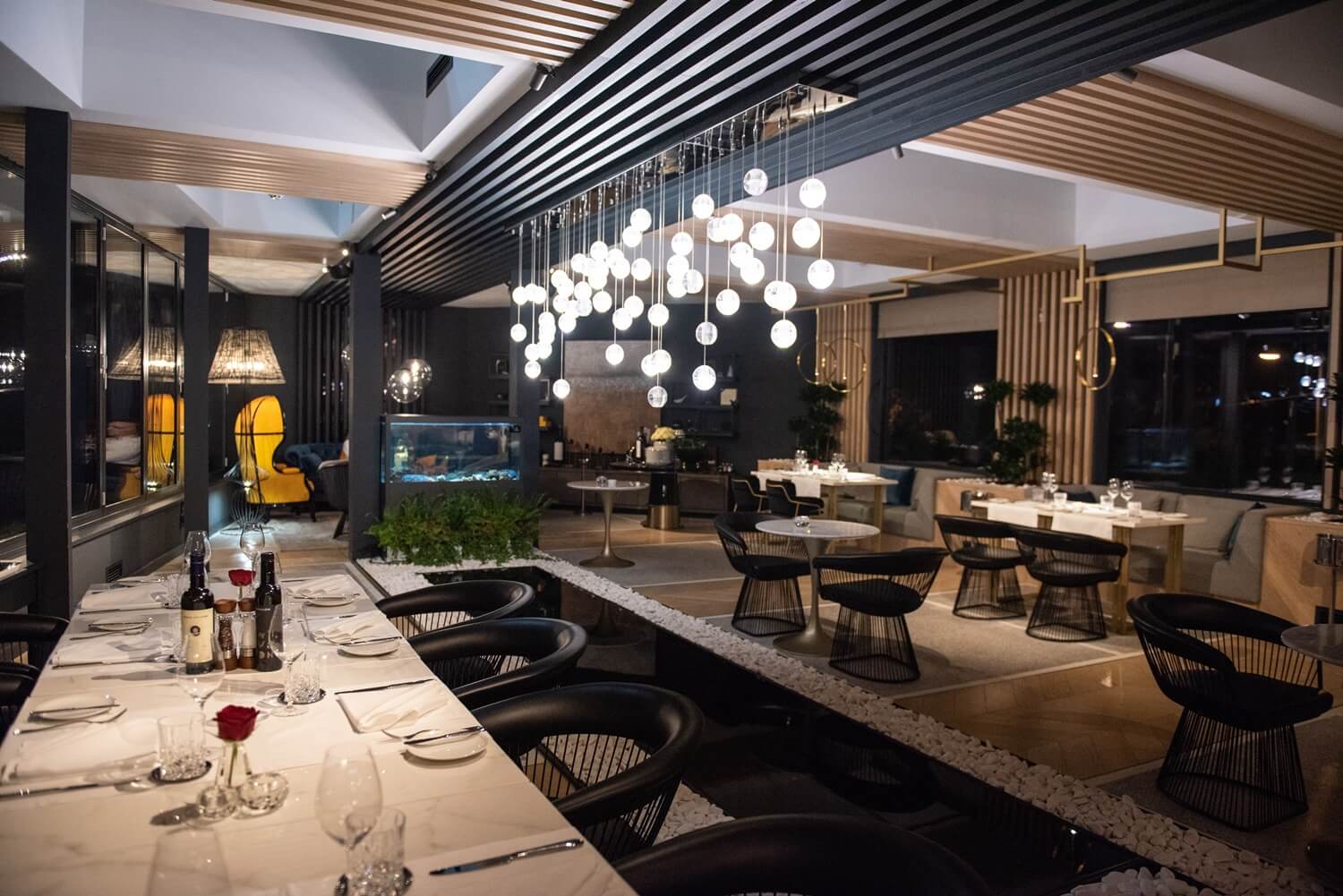 Under the watchful eye of the chef, top culinary masters create magic for the guests of Legat 1903 Restaurant. The restaurant offers perfect Mediterranean specialties, as well as dishes inspired by Italian and French cuisine. Every ingredient is chosen with great care, and after careful preparation, the dishes have an irresistible smell and a winning taste after the very first bite. Whether you choose shrimps, prawns or some of the dishes from the Italian or French Riviera, one thing is certain – your enjoyment is guaranteed.
The entire symphony of taste would not be complete without the restaurant's wine line which contains many famous wines, both domestic and foreign, which perfectly complement the meals.
If you are looking for a place to cool and relax during the hot summer days, try the spacious garden of this restaurant which resembles places found in fairytales. Come and see why the Legat 1903 restaurant is one of the best restaurants in Belgrade.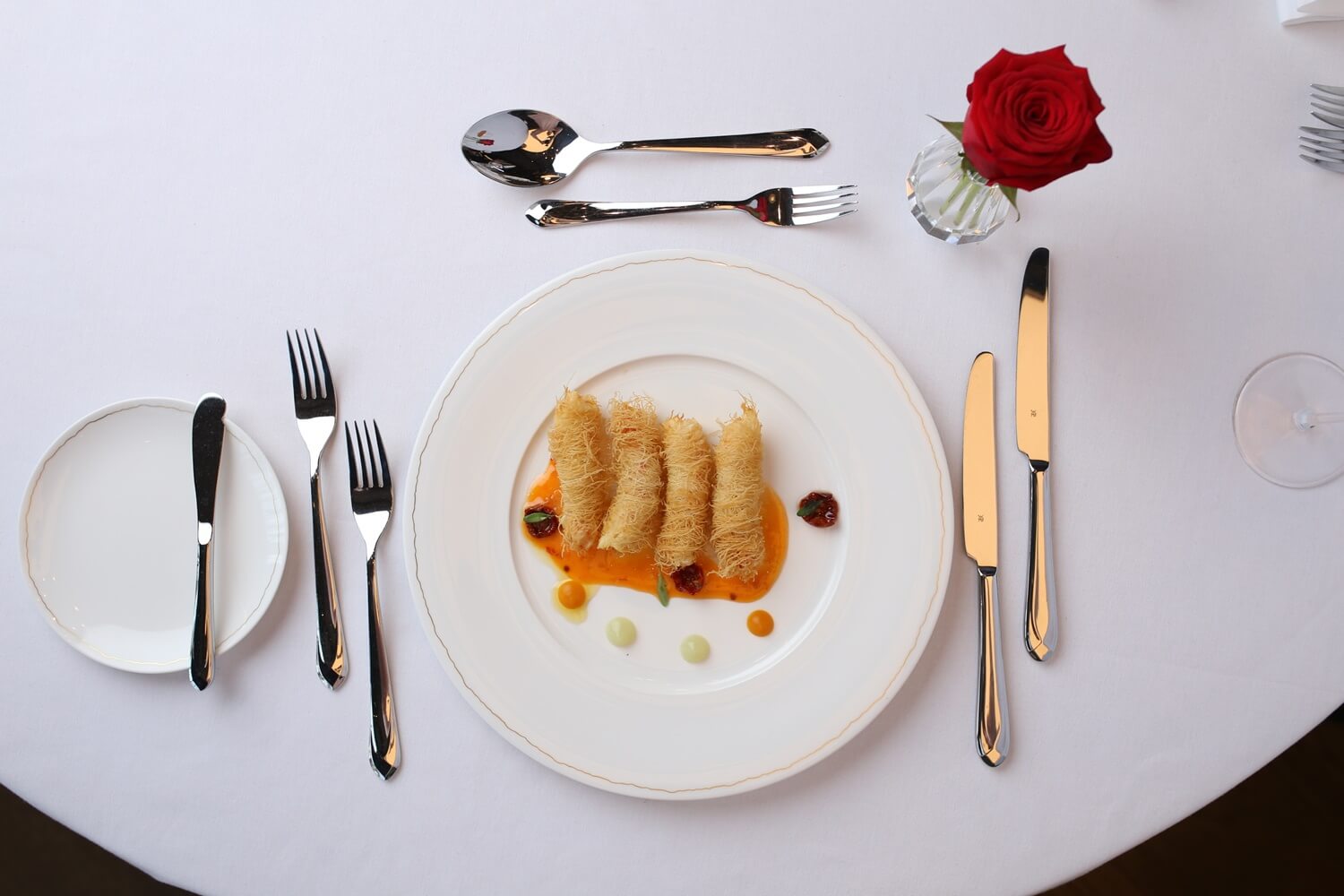 More information: Legat 1903 restaurant
Address: Jasenička Street 7
Working hours: Every day 11:00 - 00:00
Reservation number: +38166002400 (Call, SMS, WhatsApp, Viber)
RESTORAN FRANŠ
Restaurant Franš is the most famous and distinguished restaurant in Belgrade, which managed to earn the reputation of a restaurant with a rich social life courtesy of its service and quality. With its exquisite appearance, a welcoming atmosphere and a large number of dishes of enviable taste, it is at the very top of the best restaurants found in Belgrade.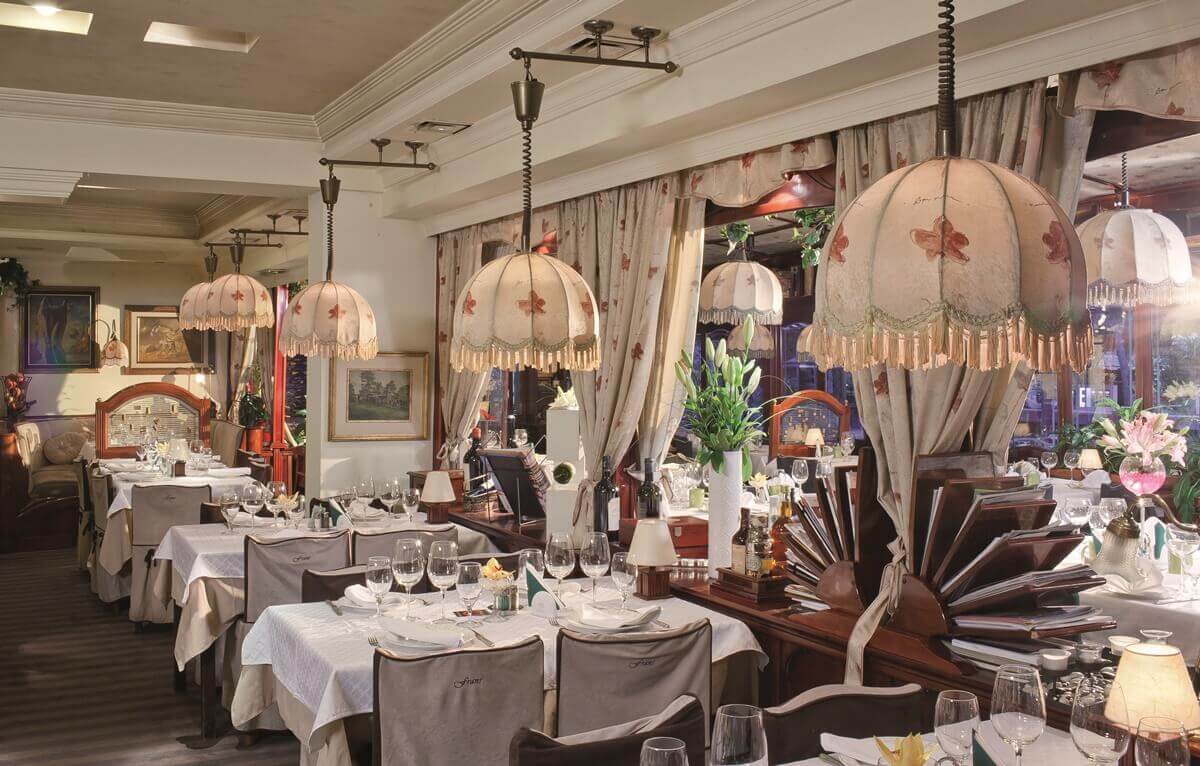 The cuisine of the Franš Restaurant is based on fresh and quality food, but also the top-notch skills of the greatest masters of culinary arts. All dishes are freshly prepared, and no artificial preservatives, chemicals, and additives in their processing are used during the preparation process.
In order to keep the guests of this prestigious restaurant pleased, it offers a large number of the most delicious specialties with meat, different kinds of pasta, as well as fish and seafood. The rich offer of fresh fish from the Adriatic, Aegean, and the North Sea is something that makes this restaurant ideal if you are a fan of the Mediterranean cuisine. There is also a large number of fresh salads and a wine cellar with over 750 types of wine.
How do you get perfection? When you combine an incredible ambiance with an excellent food offer, as well as a large and beautifully landscaped garden - all of which you can find in this restaurant.
See for yourself the quality of the food and enjoy each bite. After all, this is the ultimate goal of the Franš Restaurant.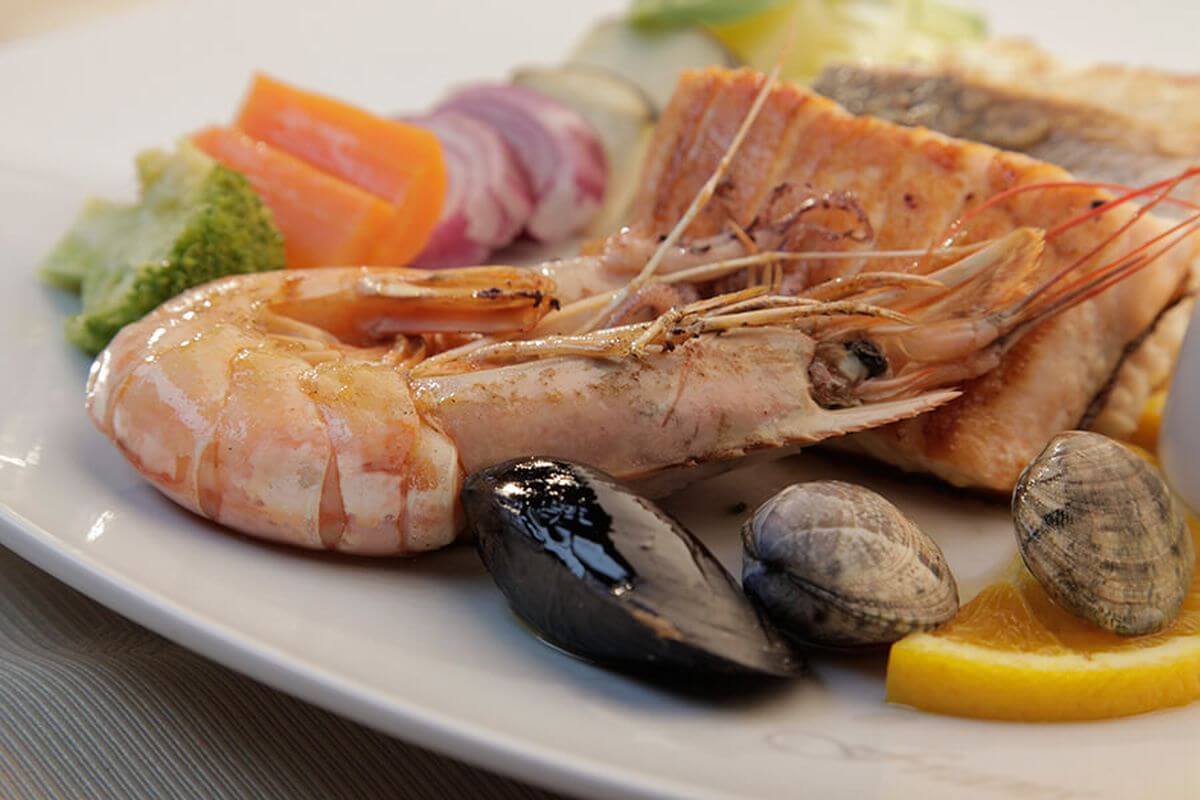 More information: Franš restaurant
Address: Bulevar Oslobođenja 18a
Working hours: Every day 10:00 - 00:00; The restaurant is closed on Sundays
Reservation number: +38166002400 (Call, SMS, WhatsApp, Viber)
RESTAURANT AMPHORA
The restaurant Amphora, with its great gastronomic offer and high food quality, is located in one of the most beautiful places in Belgrade, on the Zemun quay, next to the famous hotel Jugoslavija.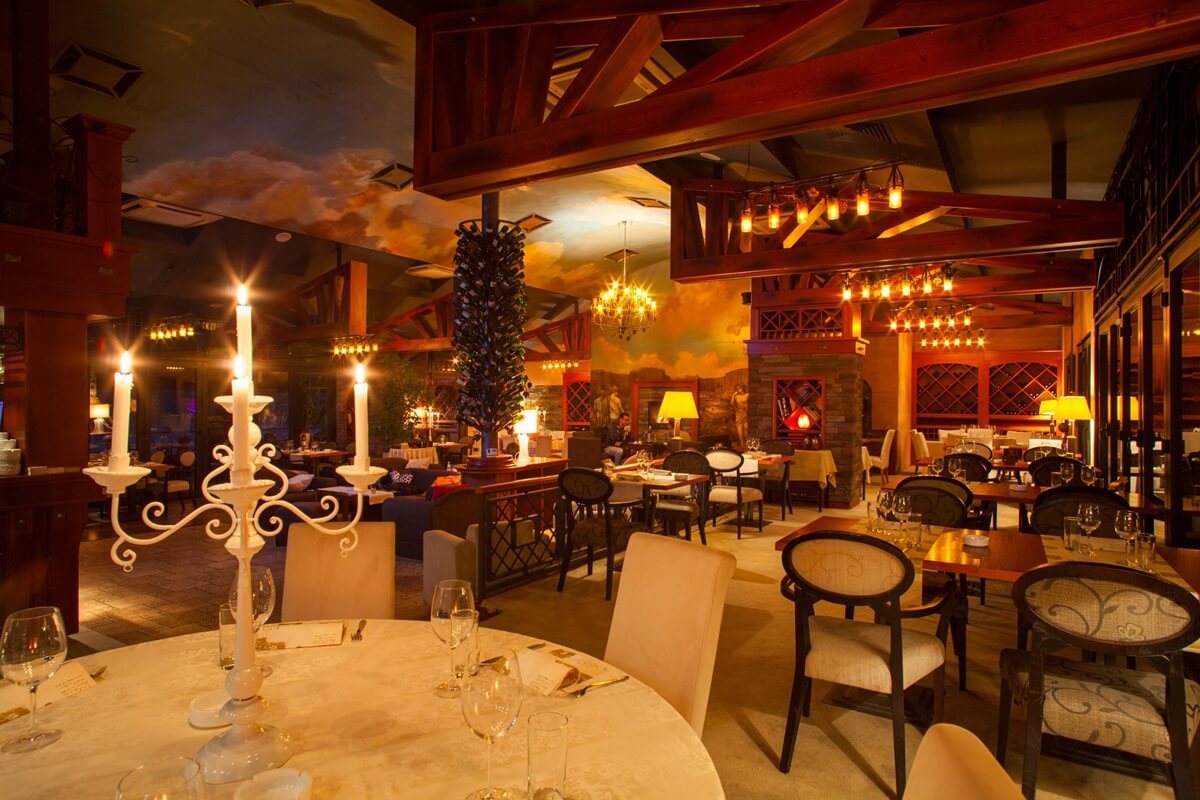 In addition to the beautiful ambiance and the perfect location, this restaurant gained popularity due to its diverse menu which includes international dishes and top quality drinks. There is a large number of dishes with river and sea fish for all lovers of Mediterranean cuisine, and you have to try the famous "Chef's pike-perch".
Every bite is a symphony of taste. In addition, there are various other dishes like the black risotto, different kinds of pasta, but also a wide range of meat dishes.
When you add a rich wine list, which includes a large number of domestic and foreign wines, to this luxurious and tasty dishes, you will get a perfect offer that no true gourmand can resist.
Come and see for yourself all the reasons the Amphora restaurant deserves to be on the list of the best fish restaurants in Belgrade.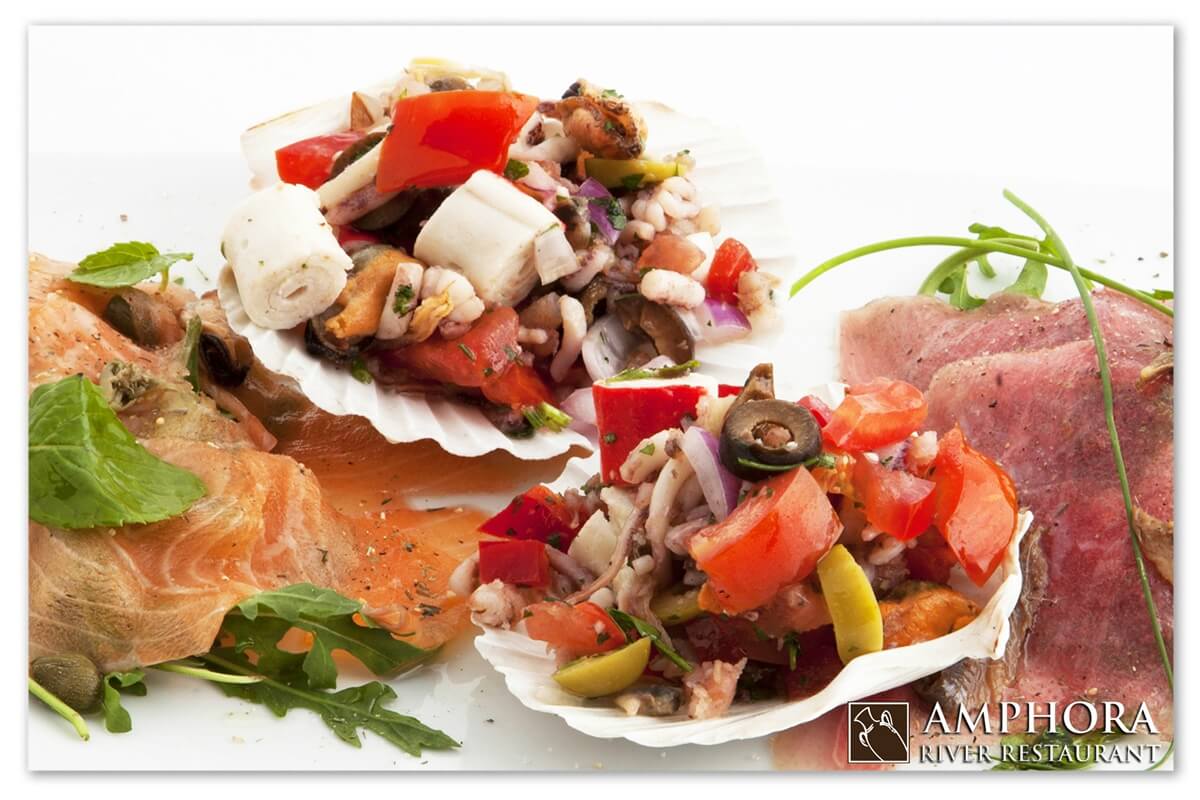 More information: Amphora restaurant
Address: Bulevar Nikole Tesle bb
Working hours: Every day 10:00 - 00:00
Reservation number: +38166002400 (Call, SMS, WhatsApp, Viber)
RESTAURANT FISH & ZELENISH
A place fit for all lovers of Mediterranean cuisine finally opened in Belgrade. A place which represents a perfect blend of true love for food and the finest pieces of fresh fish and seafood.
Fish & Zelenish (greens in Serbian) Restaurant provides a perfect atmosphere for all lovers of low-calorie foods, vegetarians or people who are fasting.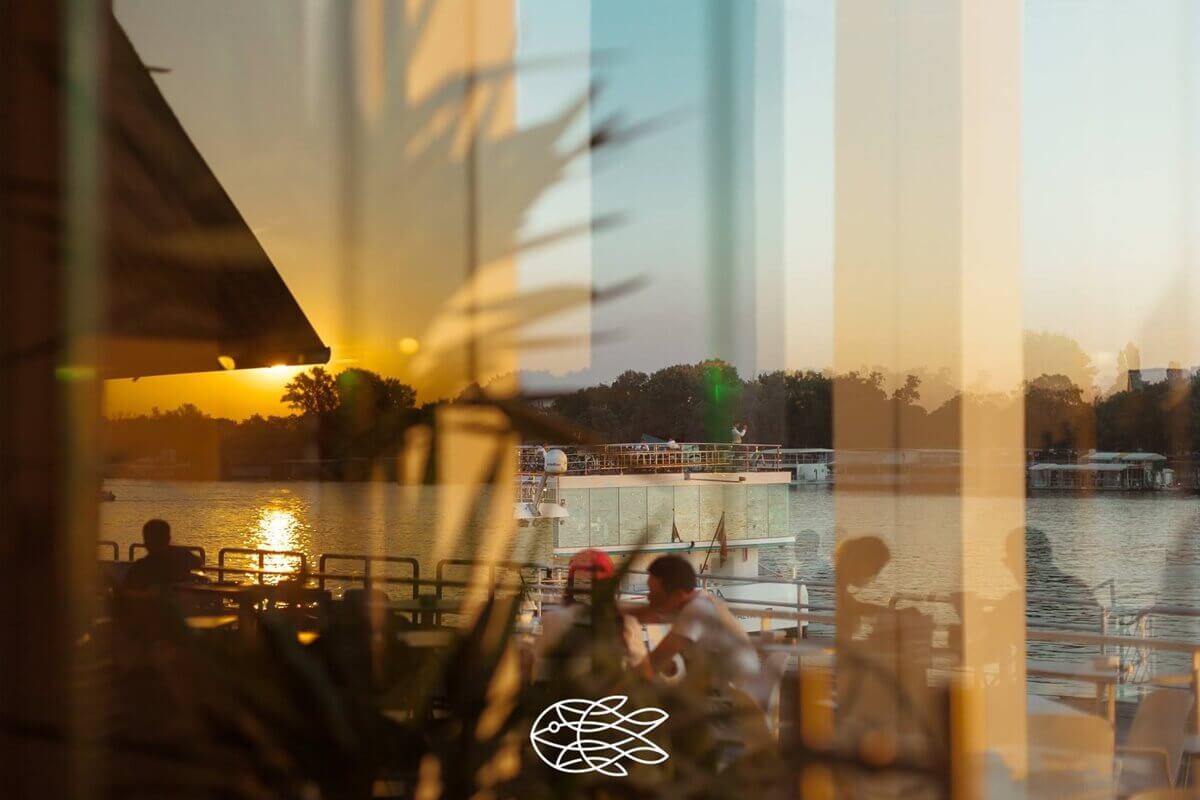 The Fish & Zelenish restaurant menu is authentic, and dishes are prepared in a Mediterranean way. Each ingredient that enters the kitchen of this beautiful restaurant is strictly controlled. The basis of most dishes includes fresh fish, seafood, organic vegetables, and homemade pasta.
When all this is combined with the superb knowledge of culinary masters working in this restaurant, you get an unforgettable taste, and each bite is a paradise for your palate. Olive oil, oregano, and other very healthy herbs provide a great look and taste to the dish.
Choose a quality wine from the famous Fruška Gora basements and monasteries to go with some of the perfectly prepared dishes, and you will get a perfect combination. Each bite will create incredible culinary delight and Fish & Zelenish will become your favorite restaurant when it comes to Belgrade's fish restaurants.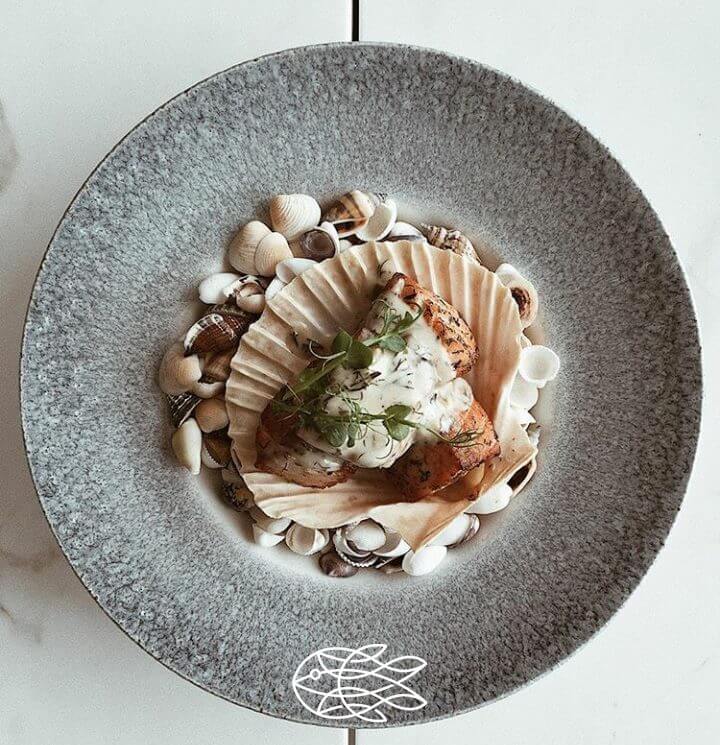 More information: Fish & Zelenish restaurant
Address: Karađorđeva 2-4, Concrete Hall
Working hours: Every day 09:00 - 01:00
Reservation number: +38166002400 (Call, SMS, WhatsApp, Viber)