The best fish restaurants in Belgrade
Although it's not even mid-June, temperatures in Belgrade show that the summer has already begun.
Spring lasted briefly, and hot days are here to stay.
It is the time when we all yearn for sandy beaches, but the holiday is not even in sight. While we are eagerly anticipating it, we dream of the blue sea, walking along the beachside and enjoying the seafood specialties of the coastal taverns.
Still, although a bit exhausting, the summer in Belgrade is by no means boring. Many interesting events, such as the Summer in Skadarlija, are organized outdoors and make us forget about the summer heat. The nightlife of Belgrade is much more diverse, and a lot of rafts on the river are a great way to spend some time outdoors.
For those moments, when you want to enjoy real fish specialties, there are restaurants that with their ambiance and excellent cuisine feel like you're on the shore by the sea. Delicious food and a cold glass of good wine are an ideal escape from everyday life. That's why we present some of the best fish restaurants in Belgrade where you will surely enjoy.
Restaurant Sent Andrea
Zemun Quay is one of the best places to enjoy by the river. In addition to offering many attractions for all generations, it is also the place where some of the best Belgrade fish restaurants are located. One of the best is definitely Sent Andrea Restaurant.
This restaurant is very famous and has a spotless reputation. Websites that are assessing the quality of the restaurants are ranking it at the very top of the best restaurants in Belgrade.
Its interior is decorated in the manner of the Adriatic taverns, with a lot of interesting coastal details. Replicas of ships, fishing nets and shells perfectly complete the entire space. You will have the impression that you have magically teleported into an authentic tavern at sea.
Sent Andrea Restaurant is also proud of the fact that it has two large gardens with a wonderful view of the Danube. Gardens are equipped with large umbrellas that provide thick shade, so they are ideal for enjoying even the hottest summer days.
The crown of this restaurant is its excellent food. Whenever you wish for a taste of the sea, you should come here. All seafood specialties are guaranteed fresh, as all seafood comes directly from the Adriatic fishing nets, every day.
Of course, here you can also try top quality river fish, prepared to perfection.
If you are in a larger society and some of your friends do not like fish and seafood, this restaurant is nevertheless the ideal place for your gathering. On its menu, there is a section called "Safe Land", with various specialties of meat, and a large selection of pasta is also available.
The sommelier will be at your service at any time to recommend you which wine from the extensive wine list will best compliment your meal. All staff will try to give you maximum comfort and make your stay in this restaurant a special experience.
Beautiful and interesting ambiance, impeccable service and a perfect location make Sent Andrea restaurant a perfect place to enjoy and taste top-quality specialties.
Restaurant Kod kapetana
Another excellent fish restaurant in Belgrade is located on the earthy quay. It is the Kod kapetana restaurant, which has been one of the best fish restaurants in Belgrade for years.
Situated on the very bank of the Danube, this pleasant place is a real oasis for a delicious snack.
When decorating the interior of this restaurant, special attention was given to creating a sense of coastal atmosphere.
This has been done very successfully since this restaurant is a replica of taverns that you can come across by the seashore.
The atmosphere is relaxed and welcoming, and the jewel of this restaurant is its garden with an unbelievably beautiful view of the mighty Danube. Especially in the evening, at the sunset.
Apart from the perfect ambiance, the biggest reason why many return to this restaurant is its food.
A huge selection of river and seafood specialties are waiting for you here, and some of them are a trademark of this restaurant. You can not try them anywhere else, because restaurant chefs prepare them by following special and secret recipes.
Although the emphasis is on fish specialties, the restaurant Kod kapetana has a great offer for meat lovers. Some of these dishes are quite unusual, such as venison and another hunting specialties.
Thanks to its diverse menu, restaurant Kod kapetana manages to satisfy even the tastes of the biggest picky eaters.
The helpful and friendly staff will gladly meet all your desires and recommend the specialties of the day.
A visit to this restaurant will be a wonderful experience, which you will remember for a long time.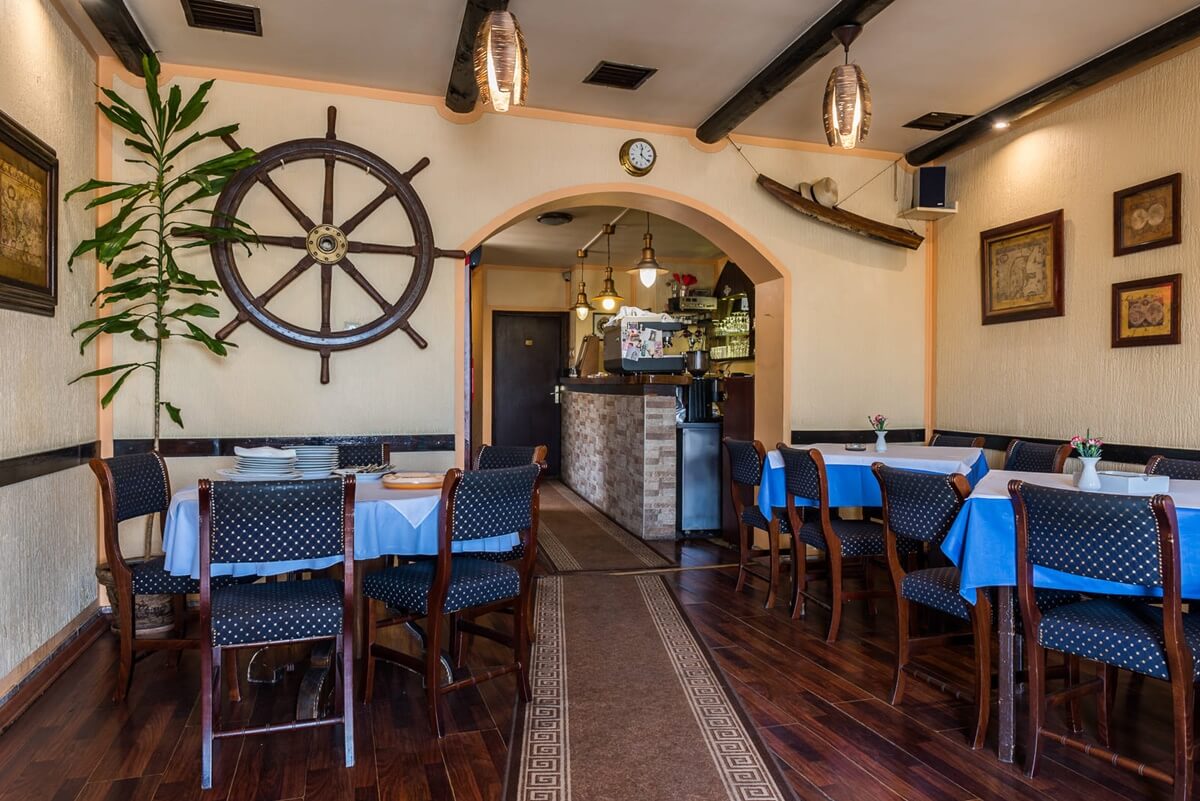 Perhaps your holiday on the beach is far away, but whenever you want to remember the sea, you can recall it at these restaurants.
With their ambiance and the menu, they faithfully reflect the coastal spirit and, for a good reason, they rank as one of the best fish restaurants in Belgrade.
You will enjoy delicious meals and a beautiful view and, for a moment, forget about everyday problems and the summer heat. Book your place and see for yourself why a visit to one of these restaurants is always a wonderful experience.
Once you enjoy the food and the atmosphere of these fish restaurants in Belgrade, we are sure that you will often come back.