Best Belgrade Restaurants With Live Music (2021)
In addition to its numerous historic sites, cultural centers and art galleries, as well as its famous nightlife, Belgrade is also a city with plenty of good restaurants.
The Serbian capital has something for everyone - and dinner at the restaurant with live music is definitely a special pleasure.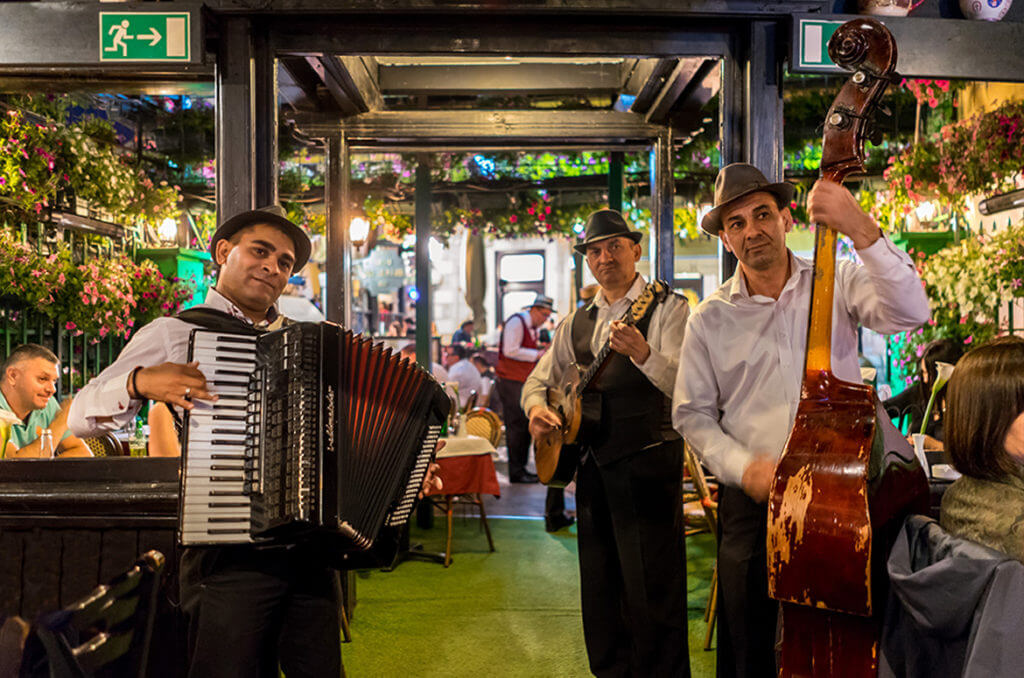 Thus, an ordinary dinner can turn into an unforgettable night out that you will remember for the rest of your life. Good time always starts with a good meal, and a nice beat is just a bonus.
We present the best Belgrade restaurants with live music where you will always have a great time.
AKUSTIK TAVERN
Akustik tavern is the perfect place for anyone who wants to enjoy a superb gourmet experience with the sounds of good music.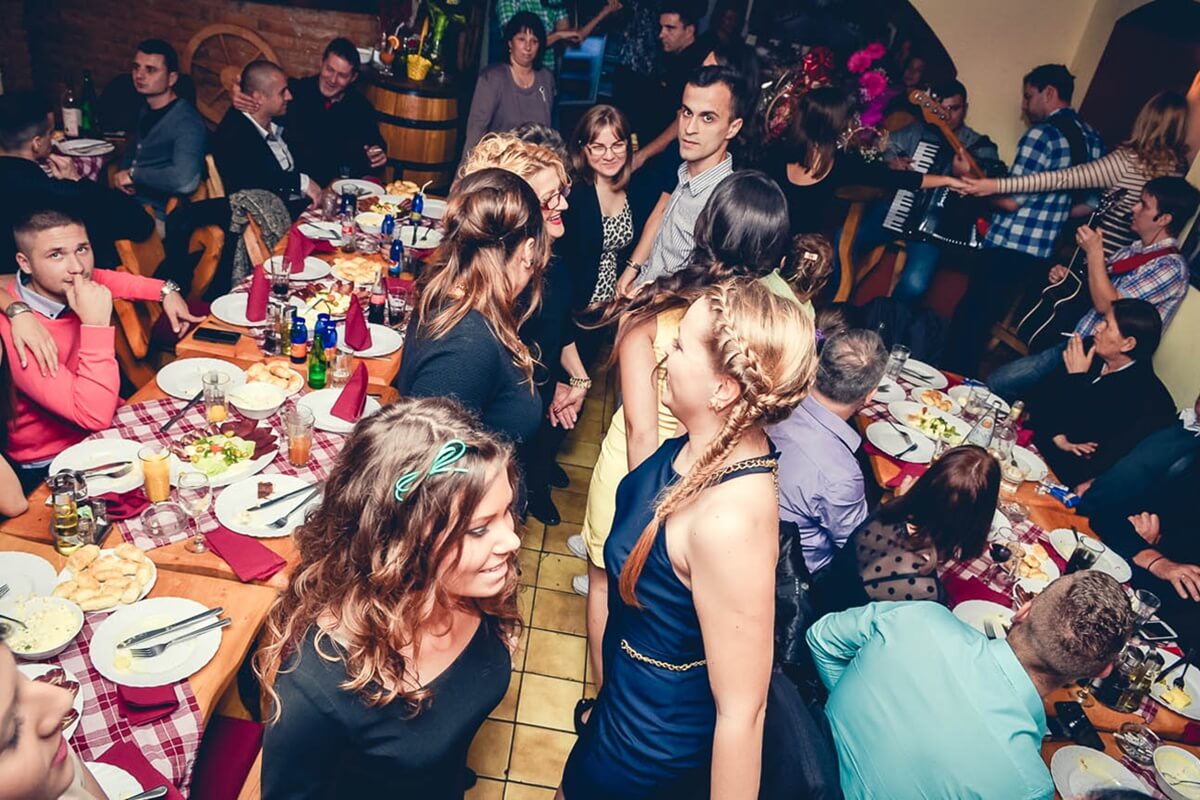 Over the years, it gained popularity and now reservations are required on all days as the demand is really high.
A large selection of dishes prepared according to traditional recipes, a drink list, and a cheerful atmosphere are the reasons why everyone keeps coming back to this tavern.
Akustik tavern has a great music program throughout the week. Sundays through Thursdays, music performances begin at 9 pm and end at 1 am, while at Fridays and Saturdays parties last until 3 am.
DVA JELENA RESTAURANT 
If you have a craving for the bohemian life, there is no better way to satisfy that craving than to visit Skadarlija and the trendy Dva Jelena restaurant.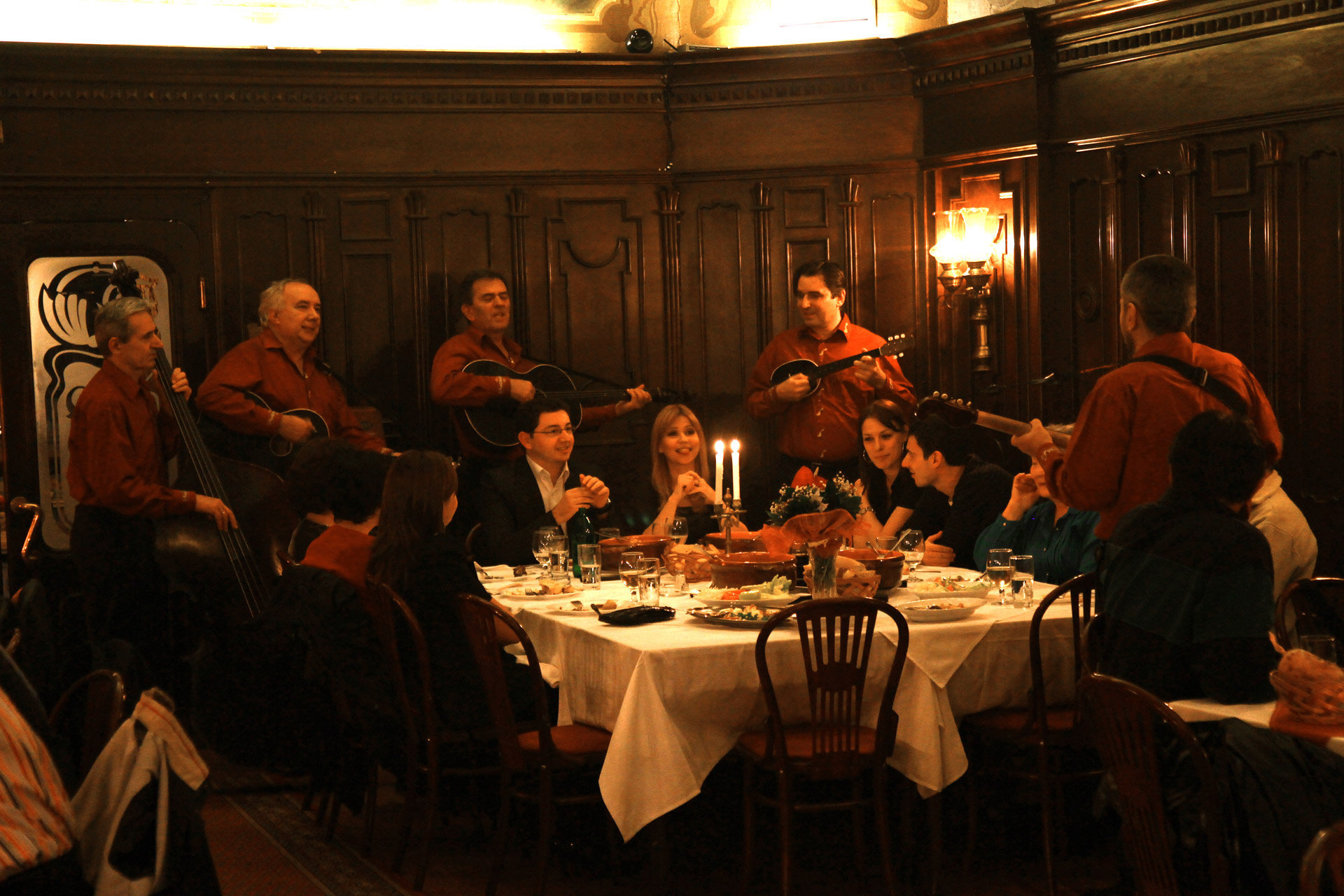 Its menu is known to all gourmands, and in the evening hours, there is a special something for all its guests – old well-known music played on tambourines.
A visit to this popular restaurant is the perfect way to feel all the charm of old Belgrade while enjoying good food and songs of the past days.
The sound of tambourines and old tunes can be heard throughout the Skadarlija, and the true masters of their craft play in this restaurant and are there for you every day of the week.
LITTLE BAY RESTAURANT
Little Bay restaurant is the perfect place for anyone who wants to enjoy classical music and opera arias.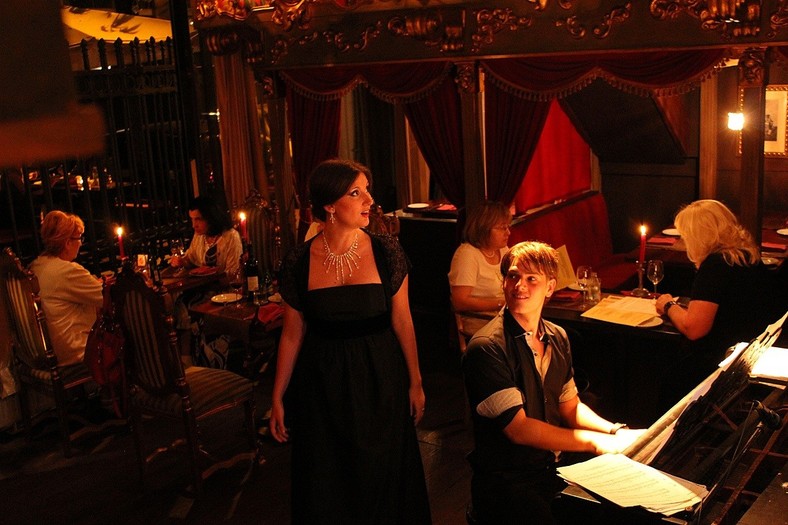 Aside from its quirky, elegant and baroque interior design reminiscent of exclusive theater, this restaurant's menu is also unique and diverse.
Superb food and quality music are trademarks of the Little Bay restaurant, and it is also the only restaurant in Belgrade with a classical music repertoire.
On Thursdays and Saturdays, a special treat awaits you, because the biggest names of Belgrade opera perform at that time and their performance is guaranteed to leave you breathless.
Enjoying delicious dishes with live opera - which you can only experience at the Little Bay restaurant.
TRI ŠEŠIRA RESTAURANT
For all lovers of the bohemian life and a fantastic homely atmosphere, there is the Tri Šešira restaurant. The restaurant, in addition to offering great food and drinks, provides to its guests the opportunity to enjoy live music and the sounds of tambourines every night.
The Tri Šešira Restaurant offers a special experience of old Belgrade, providing all local and foreign tourists with an irresistible ambiance and atmosphere that all lovers of past times covet.
With tambourines and some of the most beautiful old songs, which have long been a part of the folklore, every guest of this restaurant will be able to experience how people used to live.
With a glass of local brandy and real Serbian specialties, you will enjoy with all of your senses.
As this restaurant is highly popular, remember to call and make a reservation on time.
DARDANELI RESTAURANT
Dardaneli restaurant is a great choice for all lovers of good food and the best entertainment.
Although relatively newly opened, Dardaneli gained a good reputation very quickly.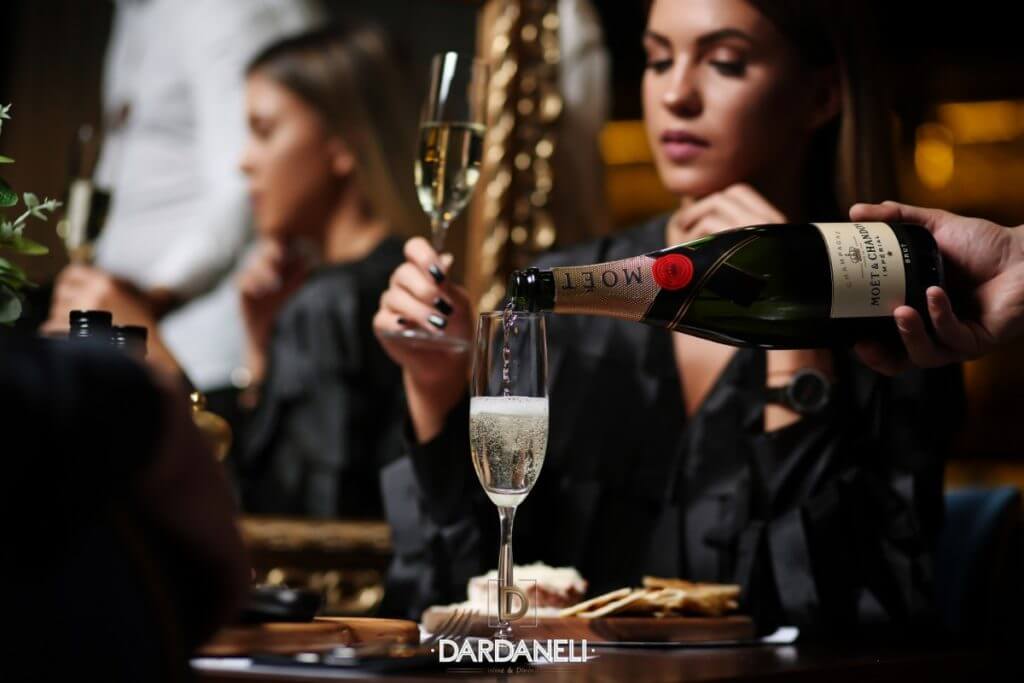 The new concept that the Dardaneli restaurant nurtures proved to be a real refreshment on Belgrade's gastronomic scene.
The combination of top-notch gastronomic offer and great nightlife has made this restaurant a total success among its guests.
You can go out to dinner, enjoy the perfect culinary specialties that this restaurant has to offer, and then hours later, you will have the opportunity to appreciate the sounds of the most famous local pop and rock music hits. Famous singers and bands will make sure you have a blast. The live music entertainment usually starts around 9 pm and lasts until 2:30 am.
Due to the ideal combination of perfect environment and atmosphere with excellent food and music, Dardaneli restaurant quickly became one of the best establishments in Belgrade.
Remember to book your spot in this beautiful restaurant on time and smoothly enjoy everything Dardaneli has prepared for you.
DŽUMBUS RESTAURANT
When you want to experience all-inclusive pleasure, Serbian culinary specialties, the perfect atmosphere and also have a great time, visit one of the new but also one of the best places in the city - the Džumbus restaurant.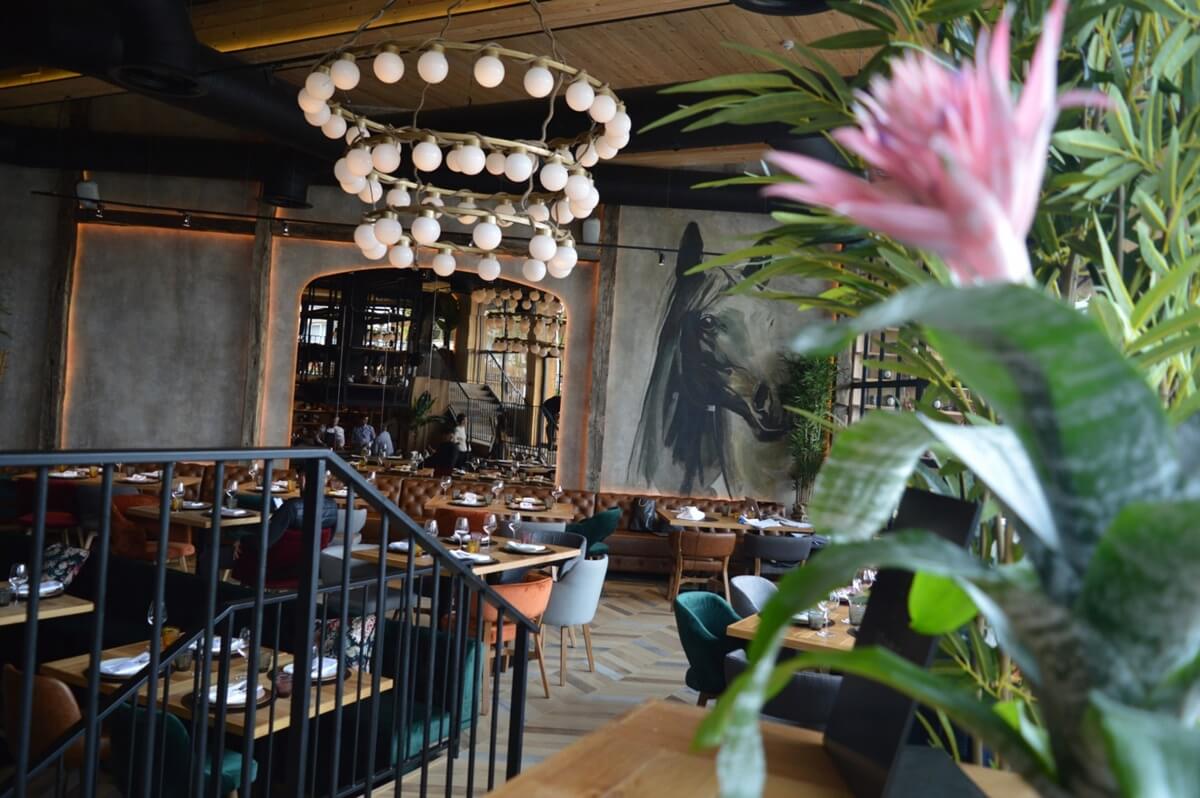 Džumbus restaurant offers to its guests a perfect blend of fine cuisine and luxurious ambiance. It also has the first Rakia Ice Bar in Belgrade.
When you add live music performances to all of this, you will realize that there is no better place to spend your time from the Džumbus restaurant.
You can listen to the best of the best of folk and country music with the performances of famous acoustic music bands. Enjoy the best music from 9 pm to 2 am.
The famous Balkanto band is a frequent performer at this restaurant, which boasts a rich musical repertoire. The band members like to say that they perform everything from "Nirvana" to "Silvana" (Serb folk music singer), thus guaranteeing the enjoyment of anyone who chooses to spend the evening in the Džumbus restaurant.
With its excellent offer of drinks, food, and great music, restaurant Džumbus has placed itself high on the list of the best Belgrade restaurants.
This is why you need to book your spot on time if you want to be part of the fantastic atmosphere at the Džumbus Restaurant.
TABOR RESTAURANT
Tabor restaurant is already a well-known place for all lovers of confirmed and recognized gastronomic excellence. It boasts two decades of successful business, countless guests from all walks of life both from the country and around the world.
At the Tabor restaurant, you have everything in one place. Starting from the beautiful ambiance and a truly homely atmosphere, through the excellent gastronomic offer, all topped with some of the most beautiful songs.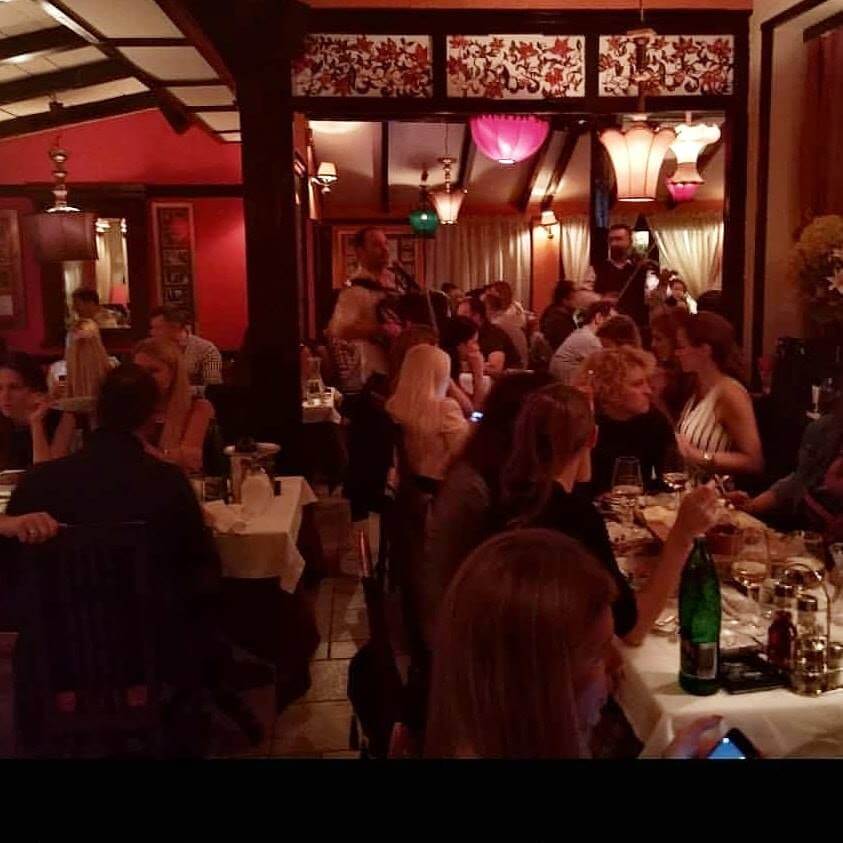 That's why many famous writers, actors, doctors, and athletes spent their most important and intimate moments in their lives at this restaurant.
Although the time brought about many changes, the quality was something that remained part of the Tabor restaurant. Quality music has no shelf life and it is the same with traditional dishes found on the menu of this restaurant.
For all lovers of real coffee, good conversation, and beautiful women, the Tabor restaurant is a great choice for a pleasant lunch or dinner with friends, family or business partners. Don't miss out, reservations are free. The live music entertainment starts around 9 pm and runs late into the night until 2 am.
TESLA RESTAURANT
The distinguished Serbian scientist Nikola Tesla is definitely someone who deserves to be written and talked about.
A restaurant was opened in Belgrade in his honor, and it bears his name - the Tesla restaurant. It is ideal for lunch with friends, an afternoon break, or as a start into a lively night out.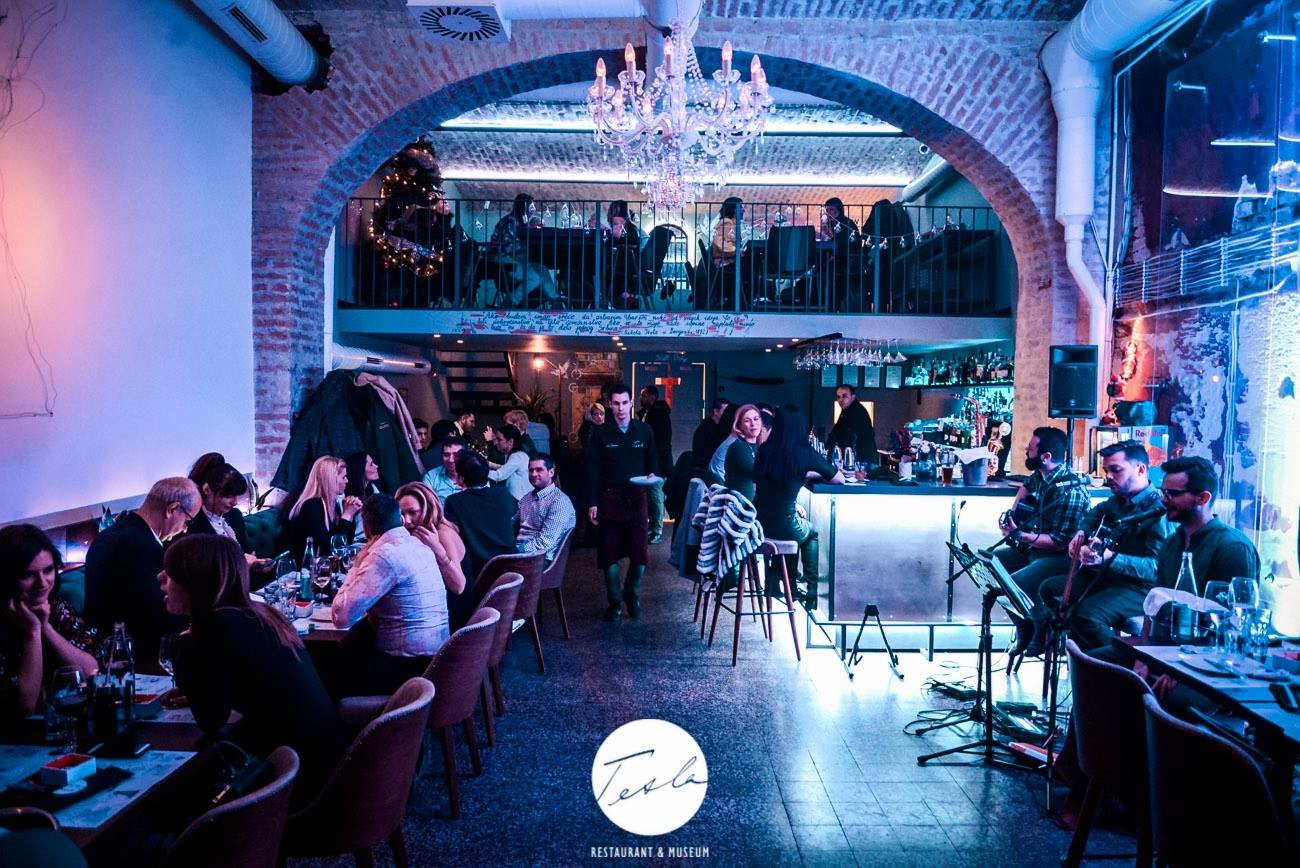 Tesla restaurant boasts a variety of flavors and local and international dishes and a diverse music program.
At Tesla restaurant you can hear famous pop and rock hits, but not only that. There are also frequent guest appearances by renowned local performers, DJs, as well as various promotions and themed parties.
This restaurant museum is a unique place in Serbia where you can bring your friends or guests from abroad and visit the time this Serbian genius lived and worked in. You can get to know his life and all that he created through the digital tours that are organized at the Tesla restaurant.
STARA KAFANA RESTAURANT 
The Stara Kafana restaurant is a perfect place for a family gathering, for a meeting with both old and new friends, as well as a place to celebrate the most beautiful moments in life.
This tavern nurtures the spirit of tradition and good taste. When you add great music to it all, you know that your enjoyment is guaranteed.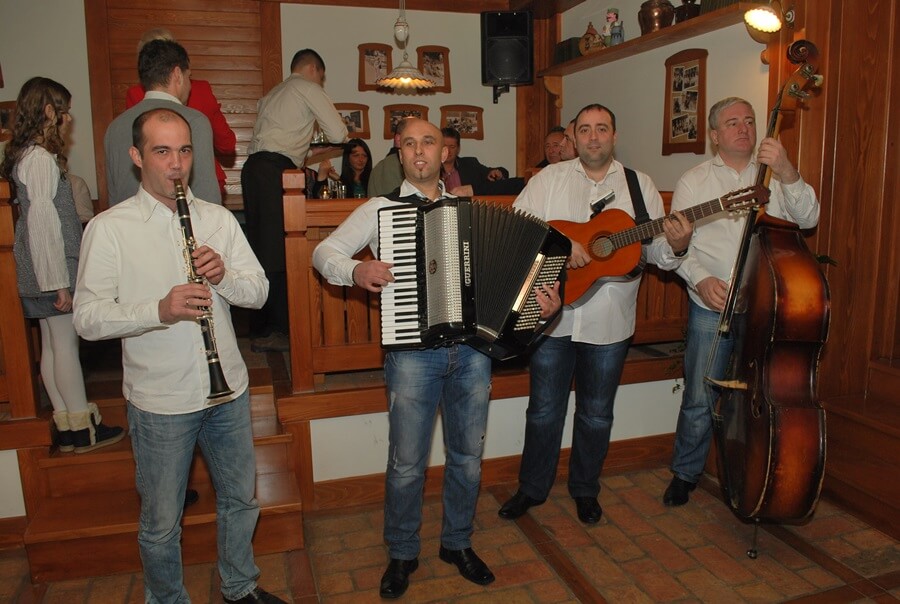 Experienced caterers have made sure that you feel at home in the Stara Kafana. Try one of the many drinks found on its drink list, wake up your senses with delicious meals and relax next to the crackle of a burning fire in the tavern's fireplace.
The owners of the Stara Kafana have made sure that their guests can enjoy the sounds of the most beautiful taverns songs in the evening. Live music shows start at 8.30 pm and last until 1 am.
With perfect wines and the most delicious food, relax with quality music performances of folk, pop and tavern music. Also, tambourines are often part of the restaurant's music program.
An electric and jolly atmosphere was built into the walls of the Stara Kafana restaurant, so every night spent there is true enjoyment in everything life has to offer. Reservations are free and mandatory so do not miss the opportunity to have a real bohemian experience.
MAGAZA RESTAURANT
Magaza restaurant is a place of hedonism... Hedonism in every sense of the word... Whether you want to enjoy great cuisine, excellent drinks or indulge in the best sounds and songs then this is definitely the place that will meet all your expectations.
Located in one of the most beautiful places in the city, right on the riverbank, the Magaza restaurant has a lot to offer to its guests. Enjoy delicious dishes prepared with a great deal of attention and love, all topped with excellent music performances of some of the most experienced local performers.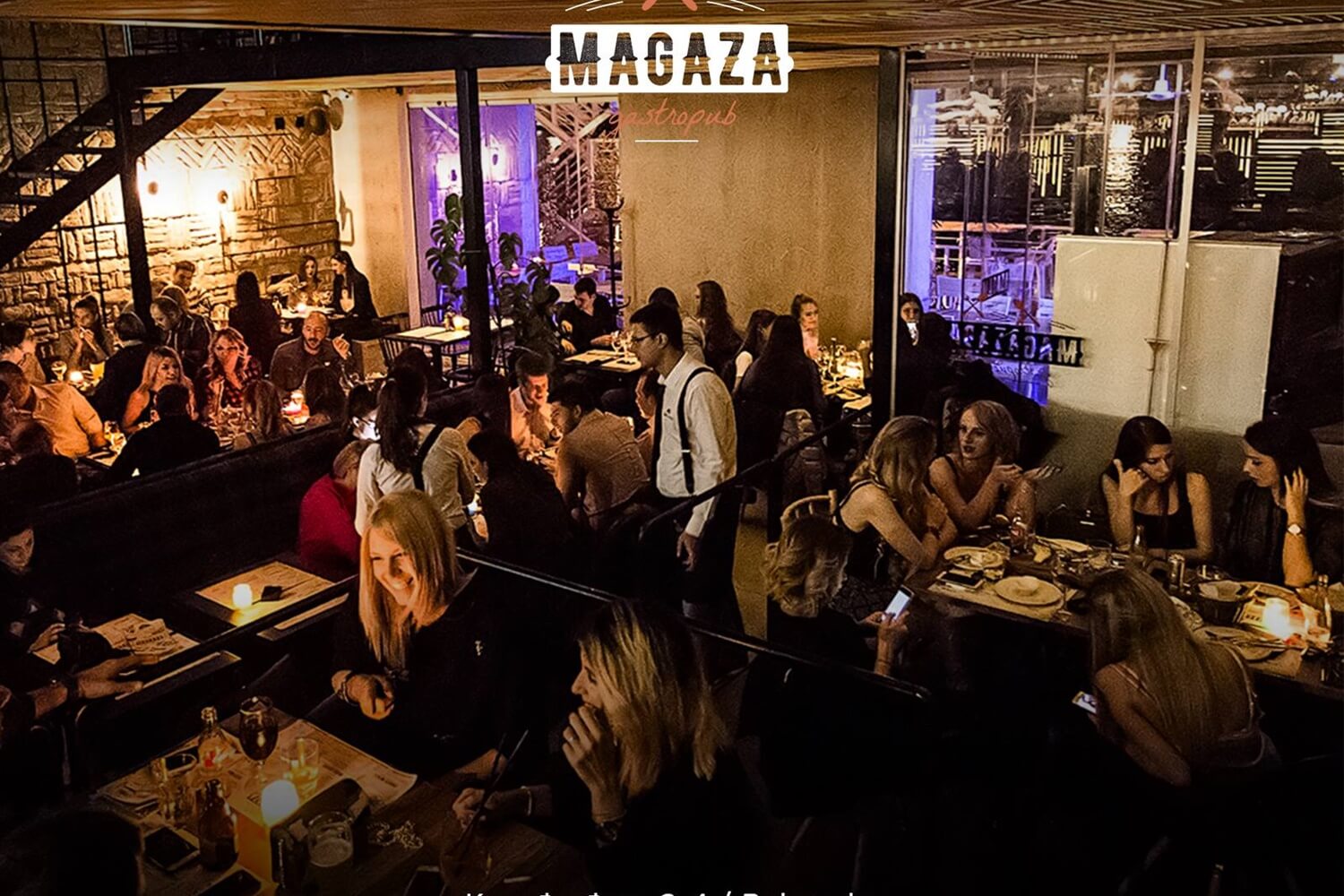 Beautiful ambiance, excellent service, and food similar to those found in world-famous restaurants have brought Magaza restaurant to the top when it comes to Belgrade's gastronomic scene. Anyone who wants to spend a few relaxing hours in the cozy homely atmosphere with friends, relatives or business partners should come to the Magaza restaurant.
Enjoy with all of your senses next to a beautiful view that will relax every part of your body, after visiting this beautiful restaurant you will feel fulfilled, satisfied and happy. Come and enjoy yourself, because this is exactly what the Magaza restaurant is - the kingdom of hedonists and a place where true lovers of good food always like to come back.
KOMITET RESTAURANT 
The Komitet restaurant boasts a new interesting concept for the Belgrade catering scene. If you love to try the best gastronomic flavors and do not want to think about the time, then this is the perfect place for you. You can find quality food and excellent music program all in one place.
The Komitet restaurant appreciates its guests and therefore strives to provide perfection and maximum enjoyment. This is a place where you can taste the most delicious meals or drink famous cocktails. The restaurant is divided into two parts, which allows you to simply enjoy your favorite drinks in the club section or if you change your mind because the great aromas coming from the kitchen have awakened your appetite, you can simply move to the restaurant section of the Komitet.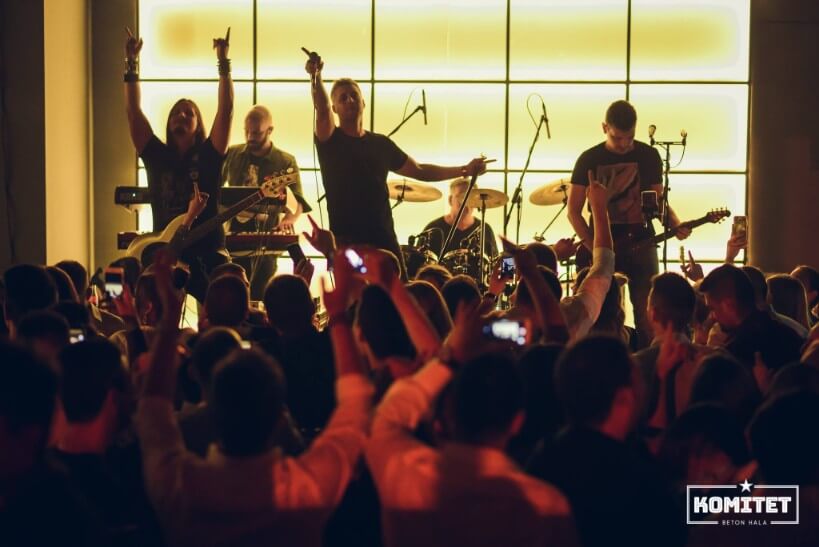 If you like the atmosphere and extend your stay, don't worry... You don't even have to go anywhere else, because the Komitet restaurant has prepared great music performances for all its guests, which will allow you to enjoy yourself until the early morning hours. You just have to come and see why this is one of the most visited restaurants in Belgrade, and the experienced caterers will take care of everything else.
KALEMEGDANSKA TERASA
This is a restaurant located in the heart of the city, the place with the best flavors, where the hours go by quickly. And all thanks to excellent service, top culinary chefs, but also great music and the best performers. During a nice dinner, you can enjoy the sounds of a piano or tambourine orchestra.
The Kalemegdanska Terasa restaurant has a lot to offer its guests, from the diverse menu that many world-class restaurants could envy, to its experience in running and organizing celebrations, as well as selecting only the best musicians who make all guests feel truly special and motivate them to eagerly anticipate every new visit to this great restaurant.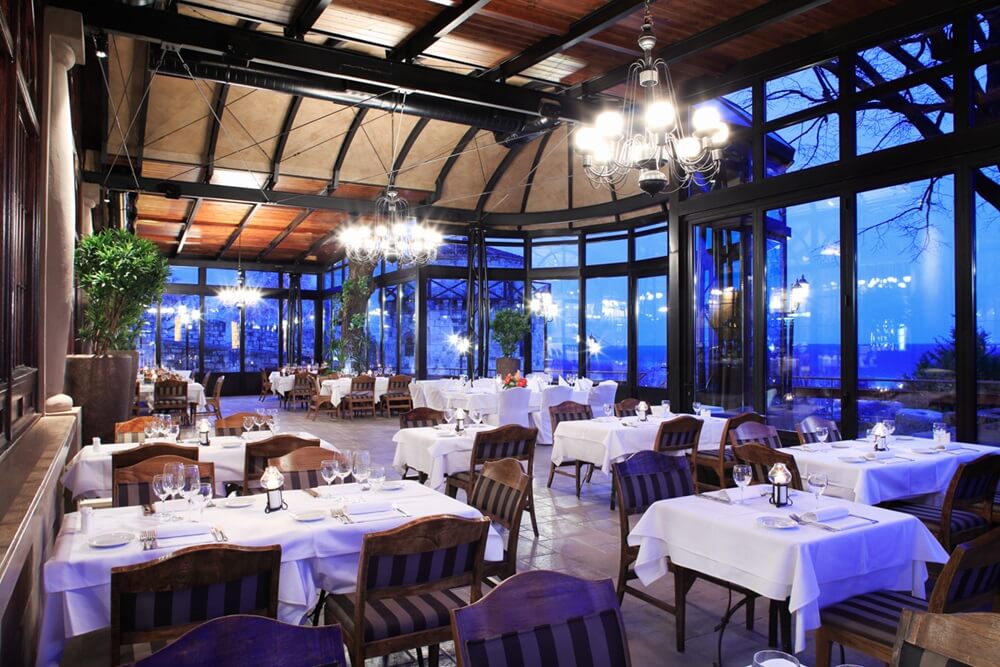 If you want to come to a place where true satisfaction of guests comes first, where the menu contains the most beautiful traditional dishes and where everything will be subordinated to your maximum enjoyment then the Kalemegdanska Terasa is definitely the right place to do it.
Do not miss the opportunity to enjoy the wonderful view of the two rivers, in addition to the excellent gastronomic offer, and to let your thoughts flow freely. Whether you decide to have a business meeting, family lunch or a dinner date with a loved one, this is a place where you can fully enjoy yourself, where everything goes smoothly, because the energy of this restaurant is positive, unique, and unforgettable.
If you love good food, going out, and music, why don't you do it all in one place?
Dinner at one of these restaurants offering live music performances can turn an ordinary evening into a most beautiful memory. With excellent music, every meal becomes even more delicious, and if you get caught up in the moment and you wish to extend your night out, the site gdeizaci.com will help you find the best places to do it.
You should bear in mind that all of the above-mentioned restaurants require a reservation, especially in the evening. Reservations are free of charge but mandatory. You can book your table by calling the following number: 066 / 00-24-00 or you can do it online.