Top 10 Best Restaurants in Belgrade
If you are looking for a restaurant which will charm you with its atmosphere, perfect ambiance and most importantly excellent food, you are at the right place, as we will guide you through the best culinary offer of Belgrade.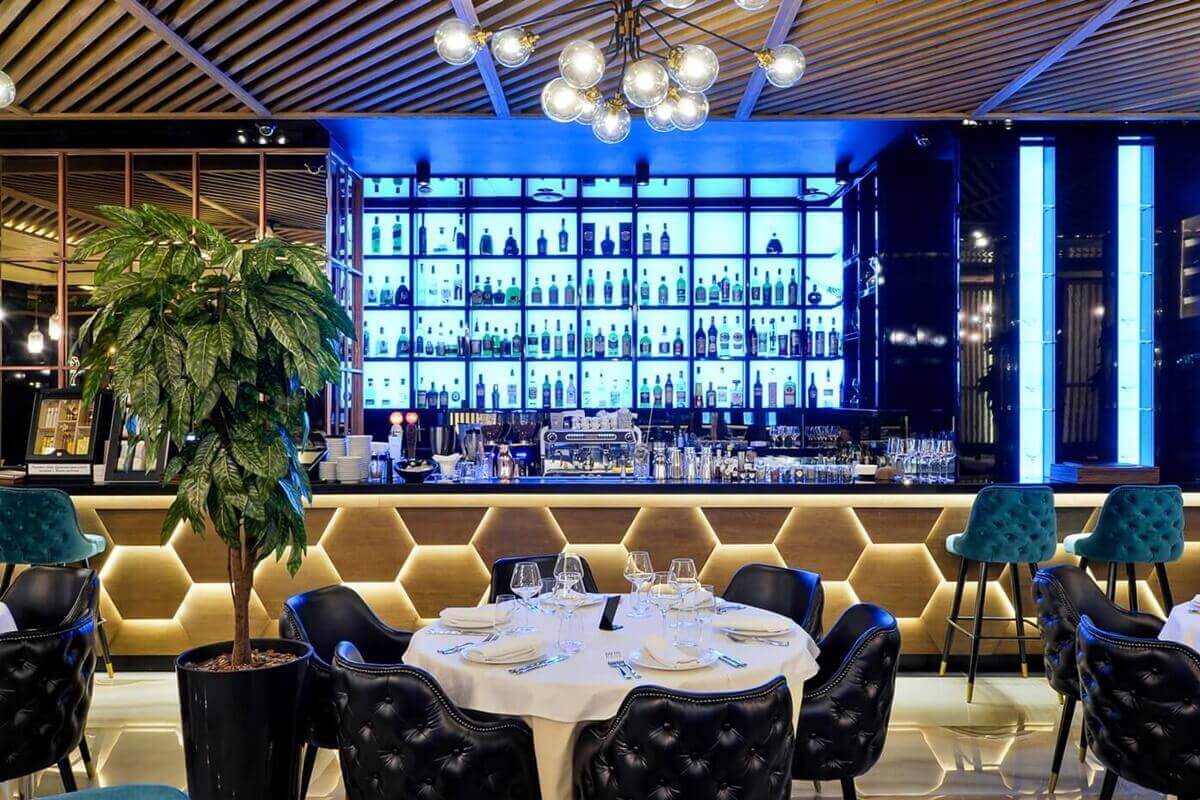 Everyone who comes to Belgrade gets the impression that there are many restaurants in the city, but only some of them deserve to be in the top 10 best Belgrade restaurants everyone must visit.
1. RESTAURANT LEGAT 1903
Restaurant Legat 1903 is a place in Belgrade with a culinary offer you cannot miss. If you are looking for a restaurant that can satisfy all of your expectations, Legat 1903 - with its harmonious interior, warm atmosphere, and the most delicious specialties - is the right place for you.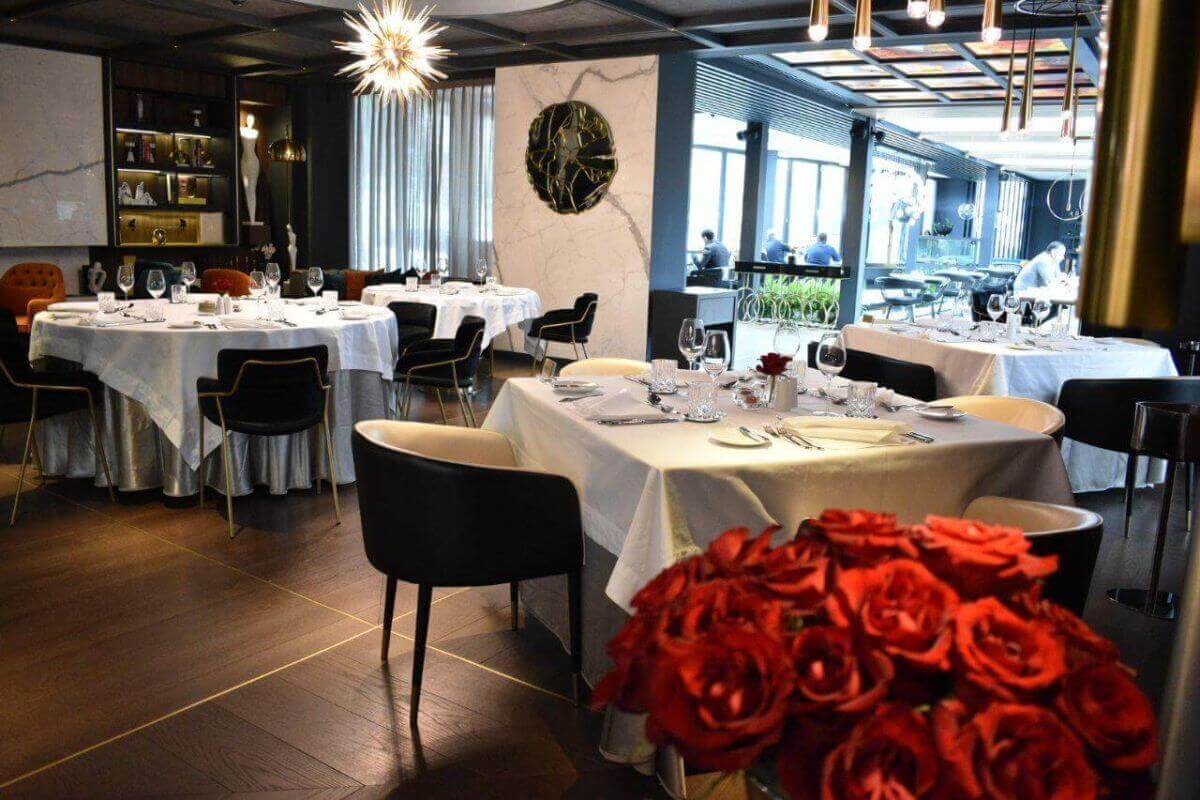 Carefully selected dishes prepared by the experienced chef Bojan Lacmanović will let you taste magic and you will definitely enjoy each bite. The combination of Mediterranean, Italian and French cuisine along with traditional specialties prepared from carefully selected ingredients provide the greatest possible gastronomic satisfaction.
To make the magic complete, there is a unique wine list with over 200 different types of wine from all around the world. If you need a place where you would like to celebrate the most important moments of your life, Restaurant Legat 1903 has an excellent hall with a capacity of 40 seats. In the summer months, the restaurant can accommodate 40 guests on its beautiful terrace. In addition, it has its own parking lot which can accommodate up to 50 vehicles. 
You will find a perfect staff, food, and atmosphere at the Legat 1903 restaurant. So come and let all of your senses enjoy everything that the Legat 1903 restaurant has got prepared for you.
Reservation for Restaurant Legat 1903: +38166002400 (Call, SMS, Whatsapp, Viber)
2. RESTAURANT MOKUM
Mokum Restaurant is situated in the center of the city and is guaranteed to have a breathtaking effect on you. The beautiful view that stretches from this restaurant is something that makes it stand out. Mokum Restaurant is located in Jug Bogdanova Street, at the very top of the Amsterdam Hotel. Through its "glass" walls, you can pretend to hold the entire Belgrade on the palm of your hand.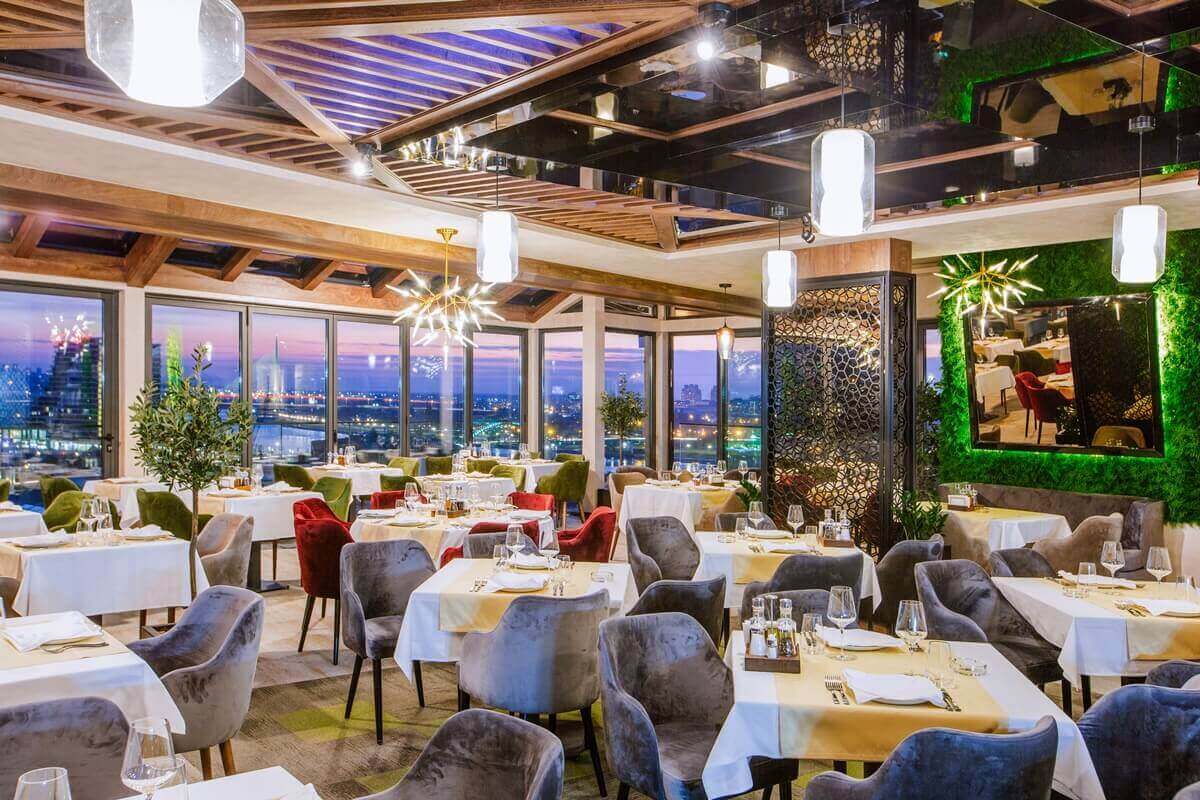 In addition to the perfect view, the Restaurant Mokum also has a large number of carefully prepared specialties, whose quality can be compared to the dishes in world-renowned restaurants. The dishes are skillfully prepared and elegantly served. The skilled chefs working at the Mokum Restaurant prepare the most delicious dishes with meat, creamy pastas, steaks, but also delicious fish specialties by using the highest quality ingredients.
What distinguishes Mokum from other restaurants is a completely unique concept in the form of two different atmospheres, depending on the time of the day. During the day, it is an ideal place with a perfect atmosphere for business and family lunches, and in the evening, when the night falls, Restaurant Mokum offers a brand new experience. Enjoy a beautiful sunset, perfectly selected food and wine and romantic moments that you will remember for the rest of your life.
Reservation for Restaurant Mokum: +38166002400 (Call, SMS, Whatsapp, Viber)
3. RESTAURANT DESPACITO
An exclusive restaurant like the Despacito definitely deserves its place on the list of the best Belgrade restaurants. Situated in the beautiful part of New Belgrade, this restaurant has an ideal location. Far away from the center and the noise and crowd, and yet well connected with all parts of the city. It will not take you more than 15 minutes by car to reach any destination in the city.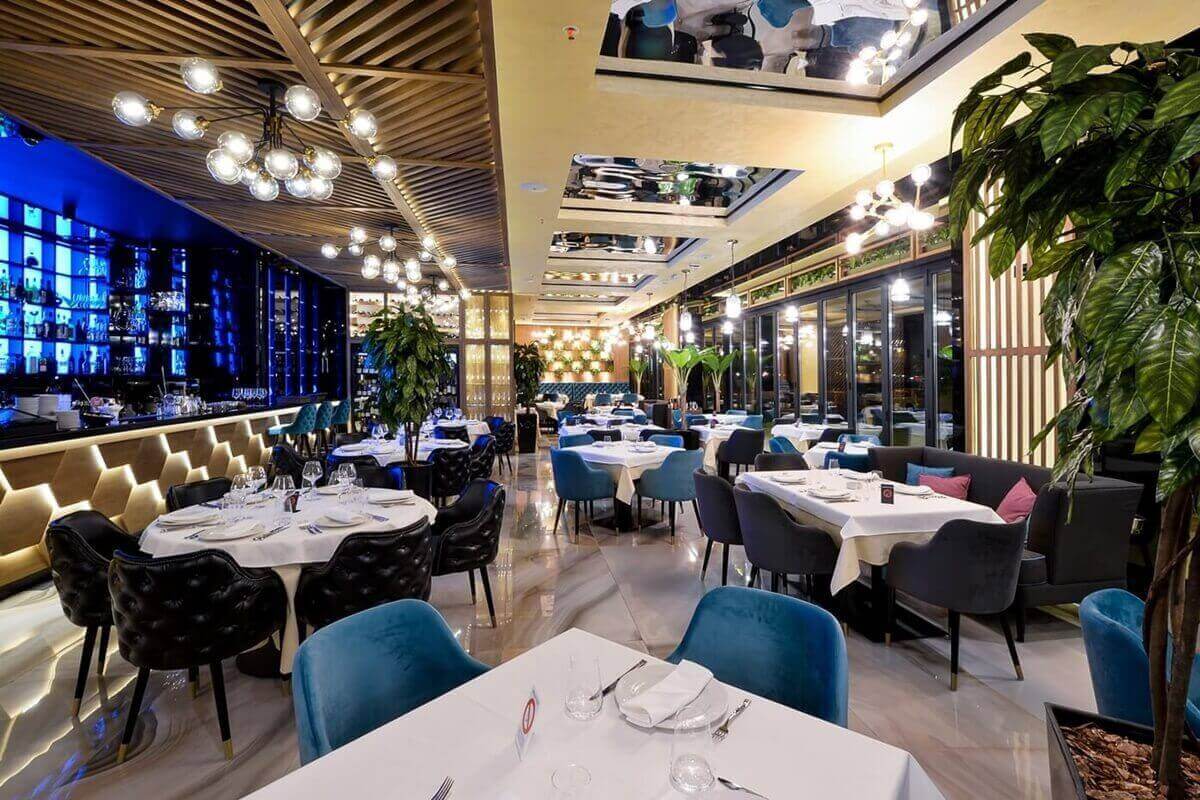 The Despacito Restaurant has a simple, yet modern interior. Perfectly combined details provide a pleasant and comfortable setting. This restaurant is a great place for business meetings, as well as long, relaxing family lunches. In the warm summer months, you can enjoy the flowers and greenery that decorate the beautiful garden of the Restaurant Despasito.
You can find a large number of international specialties on the menu of the Restaurant Despacito, and we recommend that you try the perfectly prepared first-class fish and homemade pasta prepared for you by the excellent culinary masters working at this restaurant.
If you need a place to celebrate birthdays, baptisms, weddings or any other celebrations, the Despacito Restaurant is the right choice. This restaurant can accommodate up to 120 guests. One half of the restaurant is reserved for non-smokers.
Another great advantage of this restaurant is free parking for its guests, so you can park your car without worrying about your vehicle while you are enjoying the perfection that is the Restaurant Despacito.
Reservation for Restaurant Despacito: +38166002400 (Call, SMS, Whatsapp, Viber)
4. RESTAURANT KALEMEGDANSKA TERASA 
Perfect ambiance, excellent food, and a breathtaking view – this is how Kalemegdanska Terasa Restaurant can be best described.
For many years now this restaurant has been a place where people come when they want to experience the spirit of history which is perfectly combined with a modern ambiance.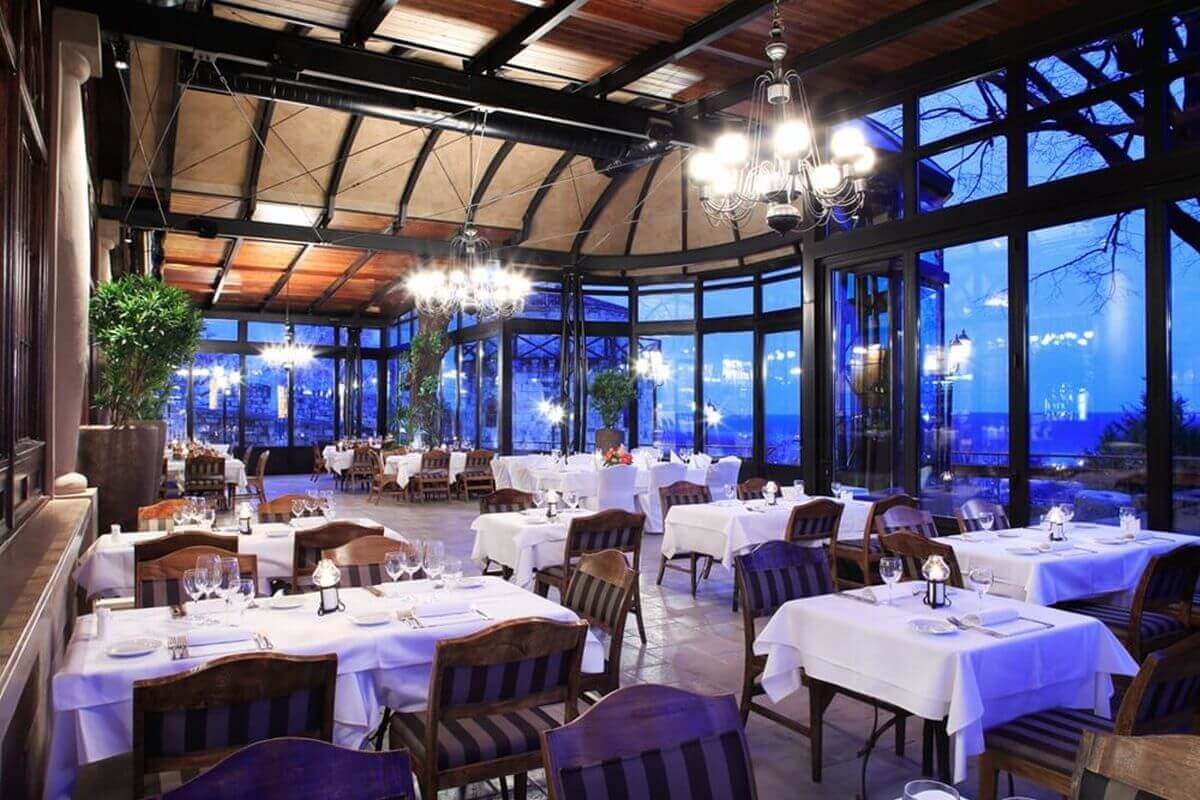 Restaurant Kalemegdanska Terasa is one of the most beautiful places in Belgrade in all categories. One cannot choose what makes this restaurant stand out, whether it is the restaurant's nicely decorated interior, its tasty specialties or its perfect view of the place two rivers meet.
After passing through the famous Kalemegdan fortress you will be greeted by the sight of this fantastic building. The restaurant Kalemegdanska Terasa offers specialties from different types of meat, perfect appetizers, cheeses, and salads, and there are also the obligatory Mediterranean delicacies like the risotto and seafood dishes. Treat yourself with a glass of quality red wine, and after lunch, do not forget to try some of the creamy desserts found on the menu of this beautiful restaurant.
If you like to have a night out, the live music program will make your stay in Kalemegdanska Terasa restaurant a truly fantastic experience. Every visit to this restaurant is a perfect combination of pleasant experience and enjoyment both in the food and in the perfect atmosphere. So do not hesitate to visit one of the most beautiful places in the capital – the Restaurant Kalemegdanska Terasa.
Reservation for Restaurant Kalemegdanska terasa: +38166002400 (Call, SMS, Whatsapp, Viber)
5. RESTAURANT LANGOUSTE
When it first opened 20 years ago, it was immediately plain as day that Langouste Restaurant would be the favorite place of true lovers of Mediterranean food. Even today, two decades later, this restaurant remains a place where you can enjoy the perfect specialties and a pleasant atmosphere.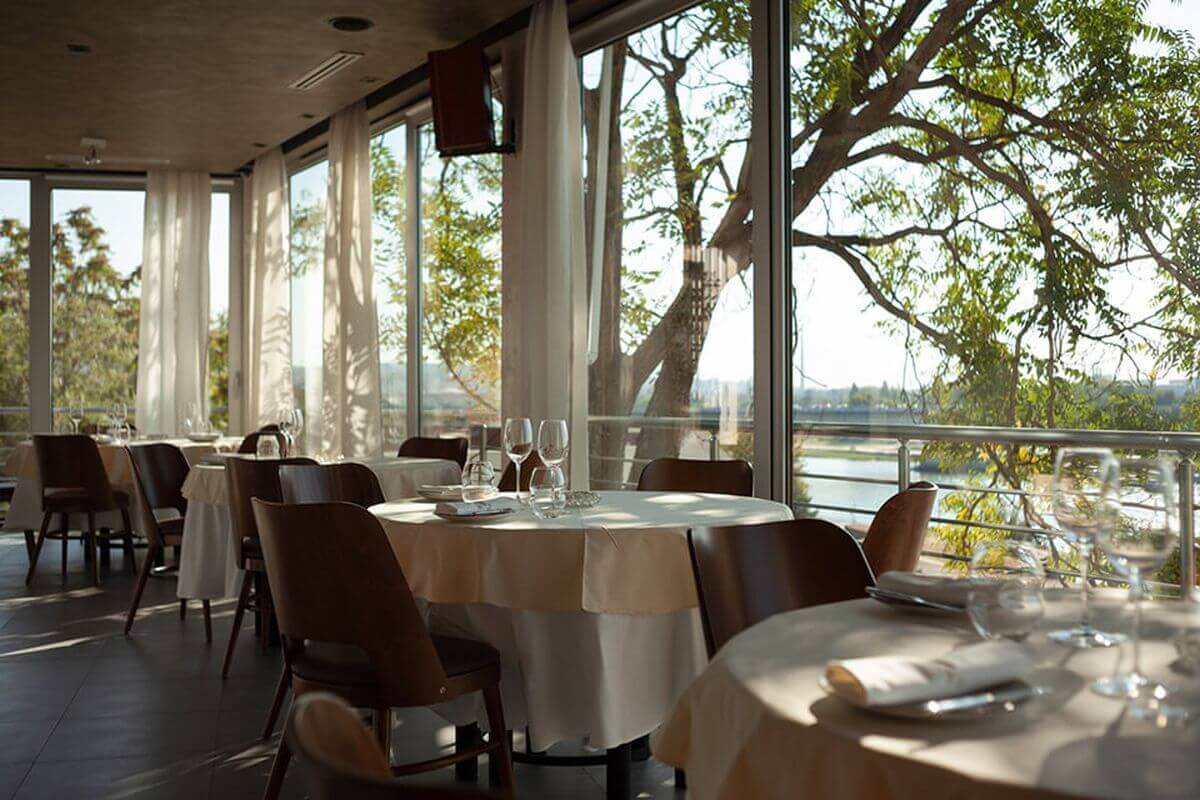 Langouste Restaurant can be easily compared to world famous restaurants. It is very close to receiving a Michelin star, the most prestigious award in the world of culinary arts. You can try some of the dishes in this restaurant which cannot be found in any other Belgrade restaurant. These are specialties like the tiger prawns, lobster, steaks, or beefsteaks.
Nevertheless, in order not to solely rely on Mediterranean food, the perfect culinary masters enrich the restaurant menu from time to time with various traditional dishes, which are perfectly suited for a family lunch, business dinner or a romantic evening. Restaurant Langouste also provides music nights to lovers of good music, so in addition to perfect food, you can also enjoy perfect music.
Located in Kosančićev Venac, the Restaurant Langouste is a place where your enjoyment is guaranteed, a place from where you can see the beautiful Belgrade, the Danube, the Sava, and the wonderful Belgrade bridges.
 Reservation for Restaurant Langouste: +38166002400 (Call, SMS, Whatsapp, Viber)
6. RESTAURANT FRANŠ
The restaurant that every city has to have, a place with a metropolitan look, and which lets its guests what kind of restaurant it is at first glance. Restaurant Franš is located in Autokomanda, in one of the most elite places in the city. It has an imposing exterior, while its interior is a perfect blend of elegance and modern elements. Excellently lighted works of art of famous painters hang on the walls of Franš Restaurant.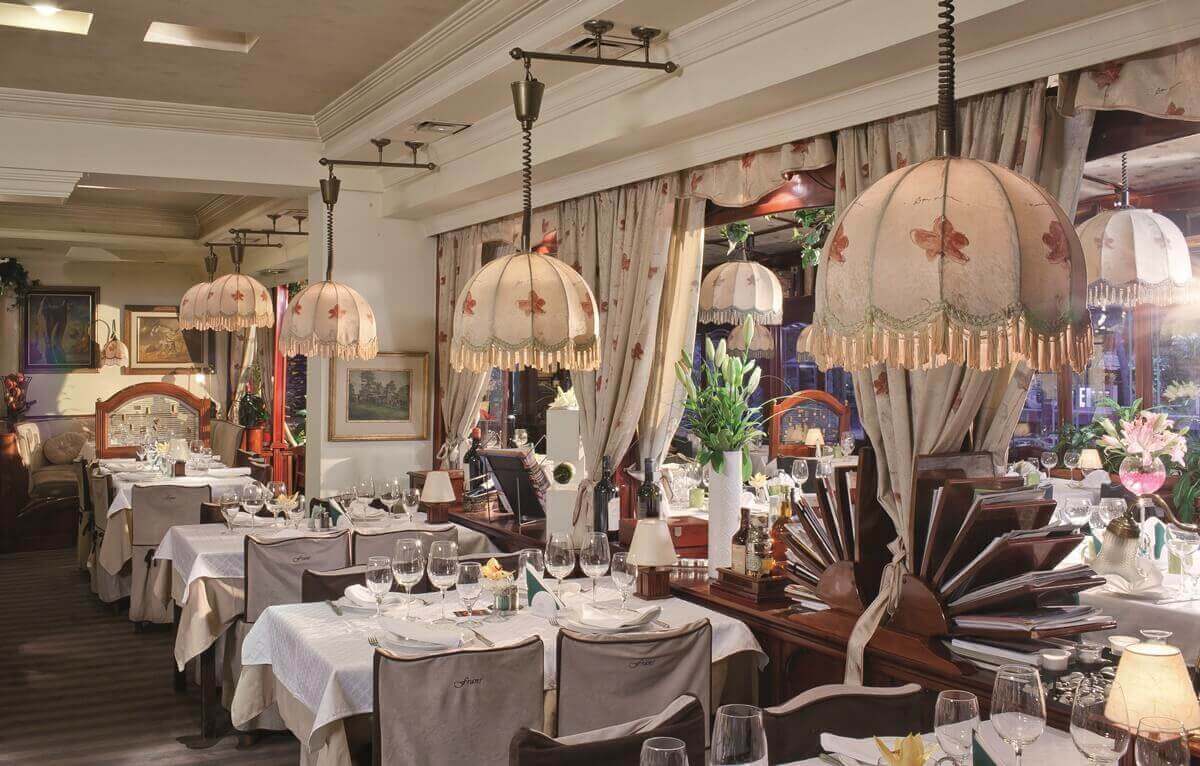 If you love fresh air, there is a beautiful large garden that can accommodate as many as 270 guests. The oasis of greenery, interesting amphorae, and fountains will make you feel like you are in some faraway place – not a restaurant only a few meters from the city center.
In addition to enjoying the perfect ambiance, you can try a great number of international dishes, but also specialties made from truffles, turkey, grilled dishes, and there are also delicious vegetarian meals. This restaurant also offers creamy and delicious treats, but also fresh fruits, salads, and chocolate delicacies. With your perfect meal, you must try some of the finest wines from different parts of the world.
If you visit this luxury restaurant, you are guaranteed to feel special at least for a moment, as if you are in some wonderful fairy tale.
Reservation for Restaurant Franš: +38166002400 (Call, SMS, Whatsapp, Viber)
7. RESTAURANT LITTLE BAY
Restaurant Little Bay is an unusual restaurant characterized by classical music. It is unlike any other restaurant you can visit in Belgrade. Little Bay Restaurant is a part of the restaurant chain with the same name, owned by Dragiša Piter, a man who has made his greatest wish come true by opening a restaurant in his hometown dedicated to classical music.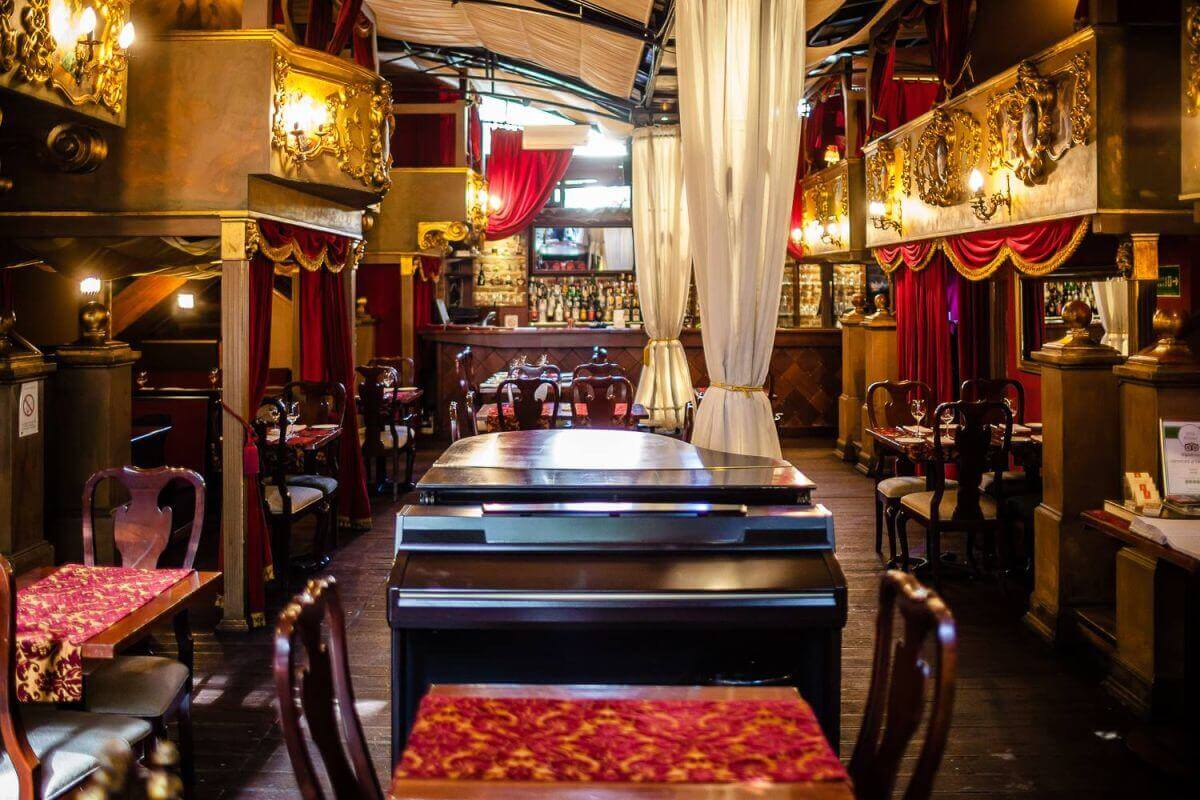 If you want to be part of a special atmosphere, if you want to enter a magical world, where you will enjoy the baroque interior and the portraits of classical music artists, then Little Bay restaurant is the right choice for you.
Heavy red curtains combined with golden motifs will make you feel like you are in a beautiful French castle. Apart from this, this restaurant also has secluded theater boxes, named after some of the most famous composers of classical music.
If you're a fan of classical music and you know how to appreciate quality music, this is where you can enjoy the performances of the most famous Serbian opera singers. In addition to all that, the Little Bay Restaurant offers a wide selection of gastronomic specialties from all countries of Europe which will awaken all your senses.
If you want to escape from everyday life and enjoy a completely different world, book your table at the Little Bay Restaurant on time.
Reservation for Restaurant Little Bay : +38166002400 (Call, SMS, Whatsapp, Viber)
8. RESTAURANT TRI ŠEŠIRA
Restaurant Tri Šešira is a must-visit place for all fans of real Serbian taverns and bohemian life. This is one of the oldest taverns in Belgrade. This restaurant has been part of the famous Belgrade bohemian quarter, known as Skadarlija, since 1864.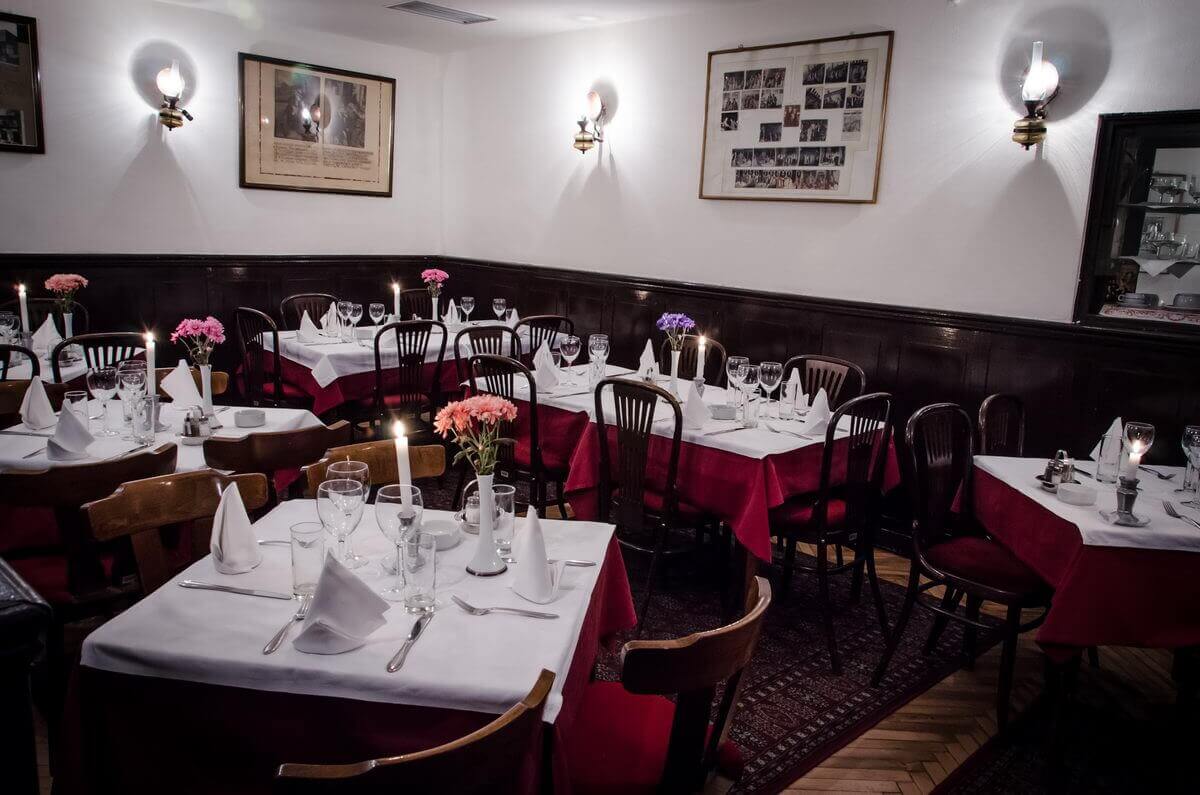 This restaurant has always attracted many celebrities, actors, writers, as well as politicians and other people from the public scene of Serbia. Some of the regular guests of the Tri Šašira Restaurant include Branislav Nušić, Čiča Ilija Stanojević, Đura Jakšić. Apart from them, this restaurant was also visited by George Bush, Willy Brandt, Juan Carlos, and other world famous people.
If you have guests to whom you would like to show the history, culture and national gastronomic offer of Serbia, the right place to take them is the Tri Šešira Restaurant. The top chefs will try to fulfill your every gourmet desire, and the enjoyment will be complete with the sounds of the most beautiful old-town songs and with a glass of homemade brandy.
Reservation for Restaurant Tri šešira: +38166002400 (Call, SMS, Whatsapp, Viber)
9. RESTAURANT SALON 1905
Restaurant Salon 1905 is a place straight out of fairytales. Restaurant Salon 1905 is a perfect combination of romance, elegance, and luxury. It is located in the former Belgrade Cooperative Building.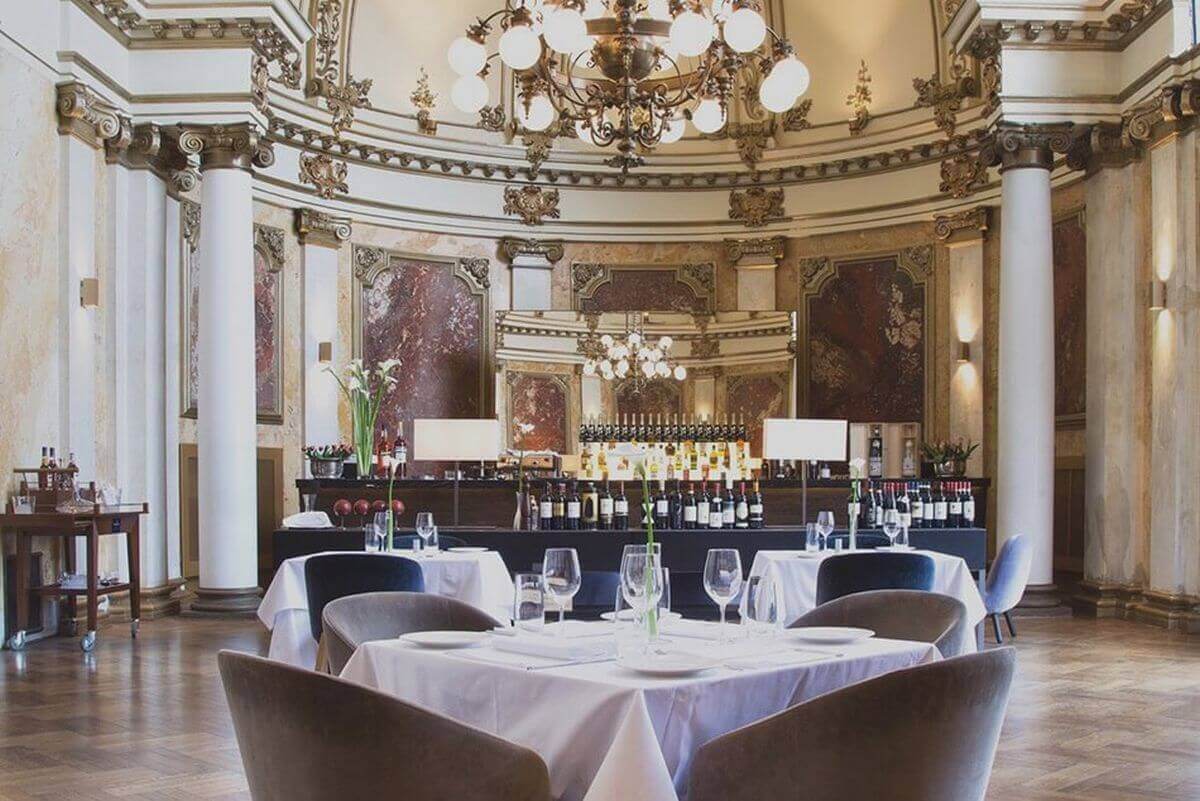 What makes this restaurant stand out is a completely incredible ambiance with perfectly combined natural materials. Marble, bronze, and gilt are part of every detail of this restaurant. If you want to spend the most important moments of your life in a completely incredible ambiance, the Salon 1905 restaurant is the right choice for you. Sophisticated pieces of furniture, impeccable tablecloths, professional waiters and bartenders will definitively delight and charm you.
Try the unusual specialties that top culinary masters prepare for the guests of Salon 1905 Restaurant. The foie gras, veal cutlets, best tartar beefsteak, ravioli with rabbit meat are just some of the perfect dishes that you can try at this restaurant. Do not miss the creamy desserts that will melt in your mouth. Every bite is like the taste of nirvana.
Reservation for Restaurant Legat 1903: +38166002400 (Call, SMS, Whatsapp, Viber)
10. RESTAURANT AHH RIBA
If you have been craving the smell of the sea and the tastes that only it can provide, now there is a place in Belgrade where you can satisfy your cravings. Restaurant Ahh Riba offers a wide selection of Mediterranean specialties for all lovers of true seafood flavors. Excellent culinary masters use only the best quality fish to prepare the excellent dishes for the guests of the Restaurant Ahh Riba.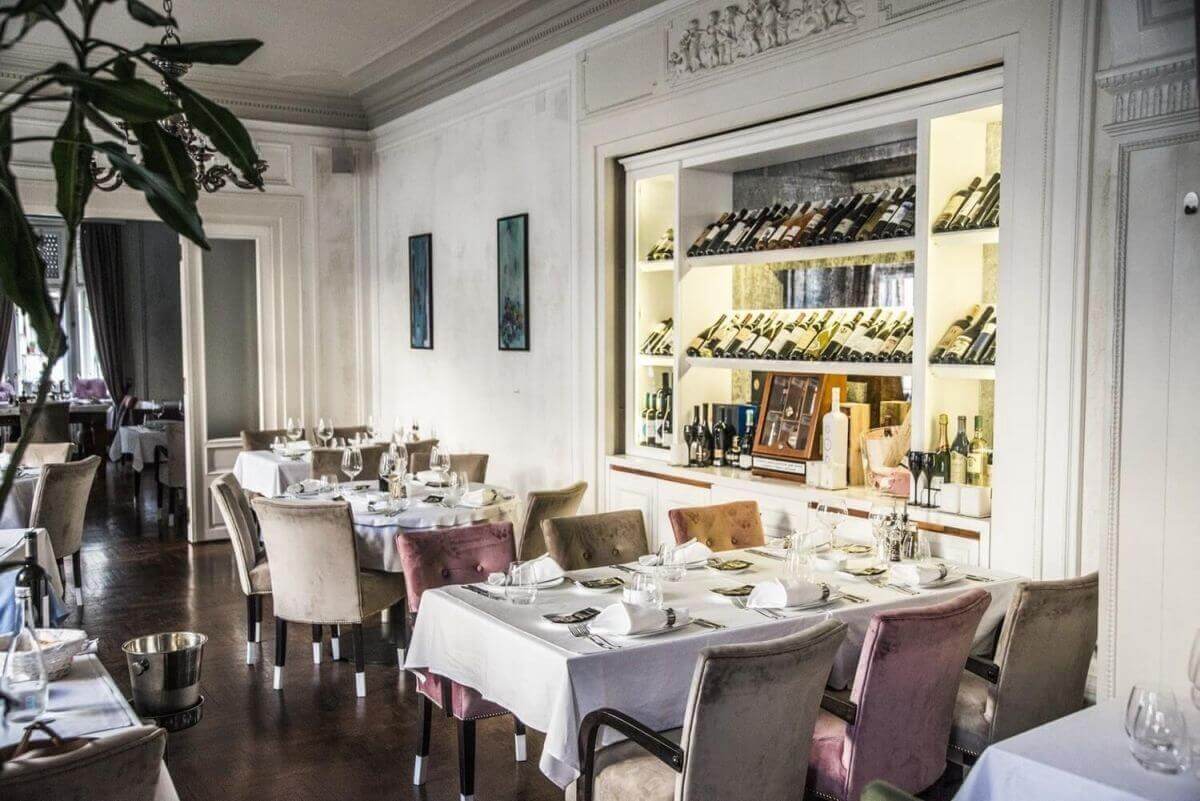 Belgrade finally has a restaurant with the highest quality of fish specialties.
The very name of the restaurant speaks of the deliciousness of the fish dishes (Ahh Riba – Ahh Fish in Serbian). This is exactly what you will say if you decide to try the swordfish fillet or the sea bass at this restaurant, but also many other specialties found on its menu. In addition to the perfect food, there is also a great selection of excellent wines that will complement the taste of these delicious dishes.
In addition to unique gastronomic pleasures, the Ahh Riba Restaurant is characterized by a pleasant and relaxed atmosphere, which makes it a great choice for any occasion. Treat your business partners, spend a pleasant afternoon with your family, or the most intimate moments with your partner in this restaurant. Ahh Riba Restaurant is simply a place you must visit.
Reservation for Restaurant Legat 1903: +38166002400 (Call, SMS, Whatsapp, Viber)